It may be a bit overwhelming right off the bat to immediately jump into a complex red wine. Sweet red wine is an excellent entry point for any newbies to wines. These wines are nice and smooth, making them a real treat when entering the world of wine drinking. Fortunately, you have numerous great sweet red wines to choose from both on the internet and at local grocery shops.
When seasoned wine lovers or wine connoisseurs discuss sweet wines, the center of their discussion is typically on the type of wines commonly served during dessert. Sweet red comes in various types. However, the most prominent ones are Madeira, Port, and Marsala.
There are also specialty wines, such as the following:
Demi-sec

Sec

Dessert

Late Harvest

Dolce, and more
The reason for the production of these specialty wines is to complement sweet desserts.
In this article, we've listed down some of the best red wines on the market today that both longtime and new wine drinkers will enjoy every sip.
Apothic Red Blend
The highly popular Apothic Red Blend is a sweet red wine that will to the palate of new wine drinkers right away since it has just the right amount of sweetness. You can enjoy this bottle of wine with both dinner and desserts. Also, you'll have a pretty good idea of what you can expect once you start to shift to drinking drier reds. The superb blends of Apothic Red include the following:
Merlot

Cabernet Sauvignon

Zinfandel

Syrah
Moreover, the flavor profile of this zin-driven cork goes perfectly with it. When you drink it, take tiny sips to allow a blast of dark fruit to hit you, which will remind you of black plums and cherries. After the blast, you'll experience a crisp burst of berry flavor together with hints of cocoa and vanilla. \
Apothic Red Blend's acidity balances its sweetness effectively. Nevertheless, there is no denying that with every sip of this flavorful wine, you will relish its silky sweetness.
Cupcake Red Velvet Wine
Another superb option you have is the Cupcake Red Velvet Wine. There are many reasons why this grocery store-favorite is for those craving sweet red wines. The winemakers use their aged-old wisdom and expertise to produce a red wine that's sweet and easy to drink that attracts beginners. Also, they took their time in crafting this bottle that appeals to wine neophytes.
Cupcake Red Velvet is velvety smooth. And when you take a sip, you'll be greeted with a mouthful of tasty, bright red fruit, suggestive of cherries and raspberry. The finish of this sweet red wine consists of a subtle vanilla flavor that is obtained from the oak where it ages. 
Even though the amount of sugar Cupcake Red Velvet Wine contains is extraordinary, it has a level of acidity that balances it pretty nicely. As one would expect, this impressive cork does not have too much complexity in it. However, since it tastes fine, combined with a somewhat reasonable price, it is a good bottle of wine to enjoy at any time of the day.
Jam Jar Sweet Shiraz 2017
Not to be outdone, South Africa has a budget-friendly representative for this best sweet red wines list. Jam Jar is a Shiraz with a semi-sweet taste combined with a bright red color. It has unmistakable and highly noticeable berry flavors and aromas that include blueberry, raspberry, and blackberry.
Aside from these, the vibrant, rich hue of the Sweet Shiraz 2017 comes with a hint of dark chocolates. It also offers a nice acidic and sweet balance. This semi-sweet wine is a good place for any beginner to wines to start with.
You can best enjoy Sweet Shiraz 2017 on its own. Nevertheless, you further enhance the flavors of this delightful sweet red wine by pairing it with an array of palatable foods. These include aged cheeses, blue cheeses, grilled meats, and lamb with Moroccan spices. Moreover, you can also take the wine as an aperitif.
Cleto Chiarli Lambrusco Grasparossa di Castelvetro Amabile
Italy is the home of Cleto Chiarli Lambrusco Grasparossa di Castelvetro Amabile. The sweet red wine is crafted from the Emilia Romagna-grown sweet Lambrusco grapes. This red, similar to all other Amabile wines, has a semi-sweet flavor. Still, it boasts a fruity and rich scent that spans a fusion of grape aromas. There is no doubt, the Cleto Chiarli Lambrusco Grasparossa di Castelvetro Amabile is one of the best fruity and sweet wines available out there. 
Most wine aficionados prefer to enjoy this superb bottle on its own. However, taking it with Italian cuisine makes it even better. Furthermore, you can opt to serve the wine with foods as well such as lasagna, cured meats, and pizza.
Chocolate Shop Chocolate Red Wine
If you're a beginning wine drinker looking for the absolute sweet red wine, the Chocolate Red Wine should be on top of your list. It only contains 12.5% alcohol, as well as an enchanting medium-red hue. This cork's most prominent flavors are dark chocolate and cherry complemented with cool undertones of cocoa powder that will surely immerse your senses. Meanwhile, the finis of this wine is smooth and known to produce a residual sugar finish. 
Aside from its chilled format, you can also serve Chocolate Red Wine at ambient temperature. Of course, this will depend on your preference. Likewise, it is a superb bottle of wine to consume with your favorite sweet desserts.
New Age Red
New Age Red hails from the Mendoza Province, of Argentina. This fruity, sweet red wine comes in an innovative package that's designed elegantly. What new wine drinkers will especially like about it is that it only has 6% alcohol content.
The bold bottle design of the wine truly befits it as it is a smooth mixture of freshness and raspberry and cherry flavors. Along with that, it has a pleasant blend of violet and rose aromas. Also, it is made from grape varietals that include 30% Malbec and 70% Bonarda. 
Because New Age has a well-defined combination of freshness and aroma, you can best enjoy this sweet red wine served chilled. It works nicely as an aperitif as well and as a lovely wine for dessert.
Carletto's Ricco Dolce
Carletto's Ricco Dolce may be a high-quality cork, but it is a reasonably priced sweet red wine. This wine by Carletto features a brilliant combination of raspberry and nectarine flavors along with a sweet aroma, thus making it one of the best fruity and sweet wines we have today.
It has that bubbly character coupled with a refreshing taste that Ricco Dolce is known for and fascinates a lot of wine connoisseurs. This refreshing beverage is generally made of 30% Malvasia Rosso and 70% Brachetto. Its alcohol content is quite low, coming in at 6.5% ABV.
Nonetheless, this best sweet red wine is an outstanding dessert wine. Moreover, sommeliers will recommend beginners to drink Carletto's Ricco Dolce with cheesecake, chocolate, crème Brulee, and fruit salsa.
Ramos Pinto Fine Ruby Port
There's no arguing with the fact that the Port is one of the sweet red wines in the world. It is also one of the most popular since millions of wine connoisseurs across the globe enjoy it enthusiastically. The Fine Ruby variety of Ramos Pinto is noted for having a more robust attack. Meanwhile, the freshness it delivers is more overpowering than the Tawny varietal. 
Moreover, the Ramos Pinto Fine Ruby Port is one of the most inexpensive ruby ports available in the market today that includes a blend of blackberry, raspberry, plum, and cherry aromas. 
To best enjoy the Ramos Pinto Fine Ruby Port is to take it at room temperature, between 16 to 20 degrees Celsius. The reason behind that is its fresh and rich flavor. It pairs well with sweet desserts, along with crackers and cheese.
Terra d'Oro Zinfandel Port
Terra d'Oro Zinfandel Port originates from the foothills of the Sierra Mountains in sunny California. This sweet red wine is a strong variety, boasting a 19% alcohol content, which is nostalgic of earlier ports. 
Recognized as one of the most renowned ports of Terra d'Oro, the taste of this Zinfandel is sweet and savory. Also, it features various aromas from berry fruits, sugar dates, and orange peel along with an undertone of chocolate sweetness. It has hinds of cocoa, coffee, and raisins as well. 
Although the Terra d'Oro Zinfandel Port pairs wonderfully with blue cheeses in general, it especially goes very nicely with the stilton cheese. You can pair this rich, sweet red wine with toasted walnuts as well.
Graham's 20-Year-Old Tawny Port
The characteristic that Ports are known for is their sweetness, which this top sweet red wine evokes. Graham's 20-Year-Old Tawny Port got its name from Oporto, the town that the bottle came from. This sweet cork falls under the tawny category even though it leans a bit toward the dry side. The port has a nutty quality to it and features aromas of dried fruit, coffee beans, green tea, and intertwining caramel. 
Graham's 20-Year-Old Tawny Port is also a perfect dessert wine, Hence,  it pairs great with vanilla ice cream and crème Brulee. Wine connoisseurs suggest serving the port slightly chilled and in port glasses to emphasize its rich aroma and complex flavor.
Wine Buying Guide
You can't deny the fact that wine and food are natural and incredible partners. They match very well because they complement and lift each other to a tremendous level of flavor. 
Nevertheless, the biggest challenge here is determining how to perfectly pair them. There are certain questions you need to ask yourself to discover this. Your answers to them can help you decide which is the best food and wine combination.
What Flavors Do You Have A Liking For?
Wines produced from a single grape family share basic characteristics. For example, Merlots possess variable degrees of fruit aromas viz. raspberry, black cherry, cassis, and plum, as well as some spicy notes.
Still, even wines that originate from the same variety can differ slightly because they obtain some of their qualities from the wine-making process. Some merlots have this char or smoky flavor that they take from the toasted barrels where they aged in.
On the other hand, Pinot Grigio features a tart and dry Old World style. Although Pinot Gris is produced from the same variety of grape as its equivalent, Pinot Grigio, it has a full-bodied, sweeter, and off-dry New World style.
So, avoid making the error of overlooking a variety just because you do not like some bottles. You never know, you may be missing out on its wide range of character or styles.
What Are The Other Taste Attributes That You May Have to Consider?
Acidity and bitterness that come from grape tannins are components of the qualities of wine flavor. These represent the overall impression of the experience of red wine, and this may influence your decision significantly.
Wine experts often talk about structure, and this indicates a blend of alcohol sweetness, acid, and tannins. These are, of course, the fundamental flavor elements of wine, as well as adequately potent to produce a three-dimensional impression in your mouth. As a rule of thumb, the structures of good wines are more palatable and delightful. 
Meanwhile, finish refers to how long the taste and texture of a wine linger or remain after you have swallowed it. Although every wine out there, from red to white, comes with a measurement of alcohol content known as ABV, only a handful can create unpleasant sensations of hotness in your mouth. Often, you can experience this in wines with high levels of alcohol content.
Have You Considered The Food Being Served?
Usually, full-bodied wines like Cabernets are Merlots are a great accompaniment to rich dishes. On the other hand, the more fruity Sauvignon Blank, Pinot Gris, or Pinot Grigio are the ideal choices for grilled fish and other lighter foods.
More complex wines will enhance or complement an extensive range of food flavors. Meanwhile, relatively simple wines will work splendidly as aperitifs on their own.
Although there are certain types of wines that will generally pair nicely with a certain type of dish or food, the sauce used in the food preparation will have a lot to do with a good wine pairing. The same goes with the underlying fish, fowl, meat, and other protein. 
For example, the perfect dishes to pair low tannins-loving off-dry wines are spicy ones. On the other hand, the tannic red Cabernet Sauvignon can be paired wonderfully with rich, fattier foods, such as red meat and the likes.
When Will You Drink The Wine?
Yes, it is true that a lot of remarkably superb wines have expensive price tags. Likewise, some of the classy and best wines in the world do not come at a lower price. But according to research, a high price tag does not necessarily mean that the quality will be just as high or equal to some of the best wines in the world today. In fact, most of them are quite reasonable. The research also shows that the scores of a lot of expensive bottles on the market are not exceptional.
Do Not Depend On Uniformity or Consistency
Even the top wineries out there cannot produce reliable quality from one vintage to another. Keep in mind that there is a possibility for wines to falter from one year to the other. Hence, take the time to taste a wine first before making the mistake of placing an order based on the previous enthusiasm you have experienced for an old vintage.
Furthermore, avoid making the mistake of believing that all the varieties produced from a specific winery are as good as a certain type just because that winery has a track record of maintaining consistency within a varietal.
Some of the most notable wineries throughout the world offer a wide array of varieties. a lot of brands still have excellent scores across their lineup, but countless others do have diverse qualities.
Best Sweet Red Wines
The most common reasons why sweet red wines are sought after are the following:
An introduction to wine

A "transitionary wine" from white wine to red wine
Even though red wines that fall firmly under the "sweet" category are significantly more difficult to find than their sweet white counterpart, they are nonetheless obtainable.
In the wine world, "sweet" is the straightforward opposite of dry. Most of the world's best red wines are commonly executed in a dry style, and they contain low levels of residual sugar (RS) combined with a high tannin content. These properties are accountable for the substantial perception of the dry taste profile.
Whenever you are searching for any of the best sweet red wines out there, the opposite is what you should want. Still, it can be quite challenging to know if a red is either dry or sweet. There are more than a few things that you can look out for that will help you determine if what you have in your hands is a sweet red wine.
Sweet or Fruity?
Generally, when we talk about sweet wines, confusing them with fruity is very easy.  While the sweetness of a wine is characterized by the taste buds located on the tip of your tongue, the fruitiness of a wine is often an aromatic perception.
Keep in mind that you can only physically taste four sensations:
It is very possible to smell thousands of scents. Hence, the fruitiness of a wine is the mixed efforts of aroma and flavor.
The amount or presence of tannins can also have an influence on the fruitiness of the wine, and that is by helping to tame it. If a wine is too dry or tannic, it will bind the fruit on the palate. Therefore, it will mask many of the perceptions and aromas of fruit.
For this reason, it is extremely possible to notice more fruits in low-tannin wines immediately. Many of these wines are also sweeter because they inevitably have more leftover sugars.
What makes a Sweet Wine "sweet"?
Wines can be easily classified as:
Sweet

Dry

Off-dry (semi-sweet)
More often than not, the amount of residual sugar in a certain wine will significantly define the level of sweetness of the bottle.
bear in mind that the whole fermentation process operates on the sugars that happen naturally in the grape and transforms them into alcohol. This process is aided with yeast. To make the wine sweeter and at the same time reduce its alcohol content, all that needs to be done is to prevent the fermentation process before all the sugars are fully transformed.
Consequently, the amount of alcohol in a certain red wine can provide you a good idea regarding the amount of residual sugar it contains. So, all you have to do is to take a look at the ABV (alcohol by volume) that is printed on the label of the wine. Wines usually fall somewhere between 5.5% and 23% ABV.e
When it comes to table wines, low alcohol content means that the wine will be sweet. Hence, it signifies that the residual sugar content in the wine will be significantly high. Although there are a few exceptions to this, it is still an outstanding general rule that you can follow.
That is the main reason why you will typically see German Rieslings come with alcohol levels in the range of 8% to 12% ABV. This indicates that the wine has a considerably high level of residual sugar.
Sweet Red Wine Categories
Under the dessert wine category, you will find the most popular, and ultimately the best sweet red wines on the market today. 
Sweet red wines are aptly referred to as stickies in the land Down Under. These can make use of a variety of grapes, and numerous winemakers have developed them into success stories. Port, the profoundly sweet fortified wine will likewise do its best to fill the expectation of a sweet tooth.
Under the dessert wine category, you will find the most popular, and ultimately the best sweet red wines on the market today. 
Sweet red wines are aptly referred to as stickies in the land Down Under. These can make use of a variety of grapes, and numerous winemakers have developed them into success stories. Port, the profoundly sweet fortified wine will likewise do its best to fill the expectation of the sweet tooth in you.
The slightly sweet, sparkling Lambrusco from Italy is an inexpensive red wine that has successfully lured a lot of wine lovers across the globe for several years. It is created to be consumed young and is available in most markets.
Meanwhile, Germany's Dornfelder grape is regularly made into a slightly sweet and lighter-styled wine. Even though it is not exported excessively, you can still find it in the US markets. Therefore, it is worth your try if you are on the hunt for a sweeter style of red wine.
Additional List of Sweet Red Wines
As we have mentioned in the previous part of this article, the majority of sweet red wines out there fall under the "dessert wine" category. With that in mind, here are some other top-notch red dessert wines which are worth searching for whenever you are out shopping for the best red wines in the market today:
Banfi's Rosa Regale
Banfi's Rosa Regale is a sparkling sweet red wine that hails from the well-known Italian region of Piedmont. This wine has gained a super loyal following. It has a delicate bouquet of rose petals and offers sensuous flavors of fresh raspberries and strawberries. Also, it is not only sweet by extremely subtle as well. Its effervescence is softer than that of champagne, yet it yields a persistent and delicate pink froth. This is definitely a sparkling red wine you must consider pairing with chocolate-based desserts, fresh fruit, and pecan pie.
Winery Cabernet Franc
Inniskillin is the best producer of ice wine in Canada. They have consistently committed themselves to create ice wine known as Cabernet Franc. It will be a tremendous irony to stay that this sweet red wine features red berry fruit, particularly strawberry and raspberry. Cabernet Franc is a pragmatic explosion of extremely concentrated fruit carried out with unmatched sophistication.
Always Remember to Examine the Wine Label
When you go out to shop and search for one of the best wines available in the market today, always remember that the vital clue in the label is its alcohol content. For the best sweet red wines, it is either one of two extremes in alcohol content.
In terms of wines, such as the highly popular sweet ports, you must look for an especially high level of alcohol content. But for other dessert wines like the German Riesling or Lambrusco, search for wines that have an ABV range between 8% to 11%. If you try to go any higher, it only indicates that you are searching at a drier red wine.
Wine Regions
A lot of the wine regions in the world are unexpectedly some of the best vacation spots we have. Of course, you can practically travel all over the wine world by simply giving your local wine store a little visit.
But this article will not be complete without providing you with a list of some of the areas where the best wines are produced. So without further ado and in no particular order, here are some of the best wine-producing regions in the world:
Australia
Australia is supposedly the most notable force when talking about the New World wines and has an exceptional reputation for providing value for your money as well. It may be the world's smallest country, but the land Down Under also supplies the U.S. market with plenty of higher-end, extensively grown specialty wines such as Shiraz and Chardonnay. The region also offers Cabernet, Merlot, and Sauvignon Blanc, to name a few.
Italy
Italy's claim to fame is its remarkable collection of native wine varietals. In fact, a lot of them are making their way to many wine stores across the United States. Two of the well-known varietals that hail from Italy are Pinot Grigio and Prosecco. 
Nevertheless, Italy's Pinot Grigio is slightly dry, tart, and light. On the other hand, Prosecco is a sparkling wine that is not as modest as the majority of dazzling wines out there. Prosecco is characteristically known for its enhanced fruitiness and softer bubbles.
Spain
If you want wines that give the best values in the world of wine today, Spanish wines satisfy the criteria, even though these wines can hurt your pockets. Spain is famous for producing a comprehensive collection of high-quality wines at a somewhat reasonable price. Still, Spanish varietals are yet to be popular in the US market.
Spanish wines, such as Grenache and Tempranillo in reds, and more, emphasize the traditional varietals of the country.
Chile
Chile is one of the largest exporters of wine to the US, and the cost of each wine is below 10 pounds per bottle. Prevailing varietals in theSouth American country include Chardonnay and Cabernet. Nonetheless, Chile has an exceptional reputation for offering some of the finest Sauvignon Blancs the world has ever seen and tasted as well. Carménère, among others, is one of the leading varietals from Chile. And we are now seeing them make their way to the United States.
California
California is one of the most populous regions of the US. Even though it is now facing an increasing number of serious competitors for the American wine palates, this region is still an excellent source of wine in the country. The signature grapes of California are the well-liked red and white varietals in the United States. These are:Merlot, which is characterized by a big and bold style
Chardonnay, which is in the more buttery and woody style for the varietal
Argentina
Wines produced from Argentina are gaining recognition in the United States slowly but surely. Most Argentine wines begin from the Mendoza region in the western part of the country. Argentina is one of the leading producers of wines in the biggest-selling varieties, such as Cabernet and Chardonnay.
The country is also manufacturing varietals progressively that are less common and quite unique to the nation. The best examples of these, based on the topic being discussed in this article are the red wines Bonarda and Malbec.
New Zealand
It seems that New Zealand has overtaken Australia when it comes to the production of red wines. The country's biggest producer of Sauvignon Blanc is Marlborough. However, New Zealand also manufactures other wine varieties like the Pinot Noir in the country's colder region.
Some of the best red wines from New Zealand have started to earn world recognition. Although it is not as much as the Sauvignon Blanc of the country.
France
When you think about wine, France is probably the first country that will come to mind. France has a reputation for being the most popular wine country the world over. Likewise, it is the official role model of most of the New World wines we have today. For this reason, French wine remains a dominating force, as well as commands plenty of respect and boasts some of the most expensive wines in the world.
Bordeaux is a French wine that blends far better than any other wines from many regions. This is the main reason why it is difficult to compare head to head with wine varieties.
French wines often got their names after the region where they are produced instead of the usual naming for grapes. Perhaps, this is one of the reasons why determining French wine varietals is pretty tricky.
Wine Lingo
To a certain extent, wine terms are unusual. However, all terms that you will come across with have a specific meaning or the other.
Here are some of the common wine lingoes you may have come across in this write-up and wondered what their meaning is.
Astringent
Astringency is the result of a substance that exists in grape stems, skins, and seeds. This is known as tannin and use in making wines. Furthermore,  this is found in oak barrels where wine is stored.
Likewise, the level of the stems, seeds, and grape skins determine the wine's color to a great extent. After a while, tannins may be softer or less astringent.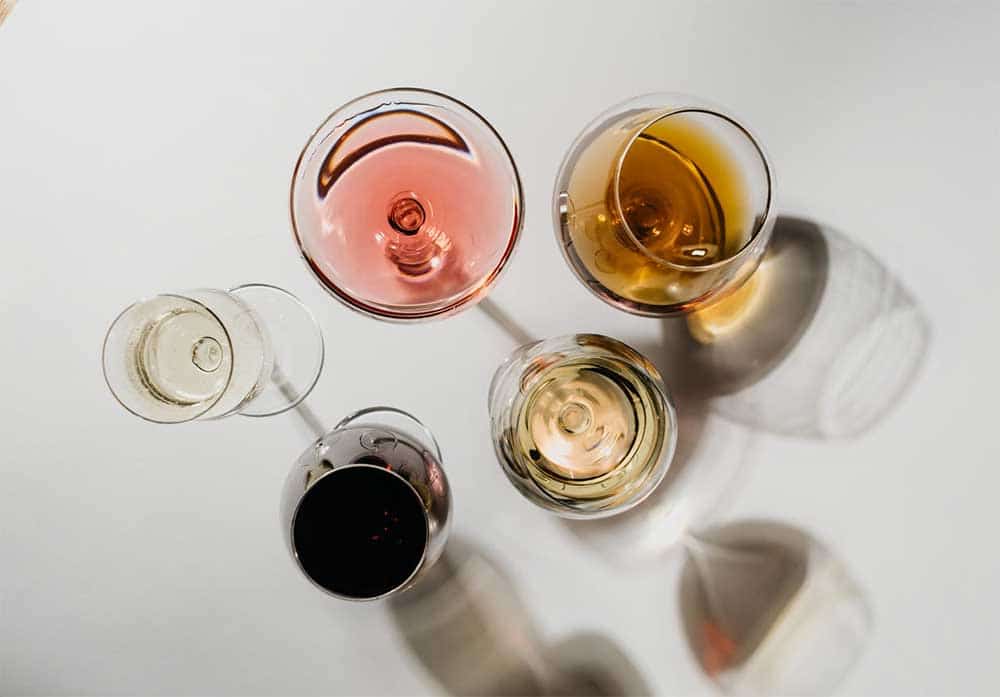 Aroma
This refers to the grape or the fruit redolence of varietal characters and young wines. It normally weakens sooner or later as a bottle bouquet, i.e., the characteristic smell of wine develops.
Acidic
Tartaric acid is one of the natural elements of wines is, and the tartness it contributes to the wines is significant. A sharp-tasting wine can sometimes be attributed to as refreshing. Exceptionally tart wines are referred to as acidic.
Body
This term indicates the "heaviness" or weight of the wine on the palate. It is often used with alcohol content. It contributes significantly to how thick or thin the consistency of uniformity of the liquid.
Balanced
This is the state in which all the distinct elements in a wine like alcohol, tannins, acid, and fruit, blend and adapt with one another in a way where no element overshadows the others.
The perfect balance has to do with a particular style and type. Complex wines, for example, have various flavors and aromas.
Bouquet
"Bouquet" applies to the odor or essence of the wine acquired through aging and fermentation. The nose takes in everything that has to with the smell of a certain wine.
Off-dry
This term refers to a wine that is a little sweet.
Dry
When a wine is said to be "dry," it is a sign that there is a profound lack of sweetness.
Finish
This is that impression of the aromas, mouthfeel, and flavors that linger in your mouth after you have swallowed a mouthful of wine.
Estate bottled
The wine producer did one of the following things:
They grew the grapes used in producing wine all by themselves

They severely controlled the winery's product
Even though this term has legal weight when printed on the label of the wine, experts opine that this is a long overused term. Likewise, it is nothing more than marketing ploy.
Reserve
This wine lingo refers to the distinct characteristics of a bottle that is assumed to have acquired further aging in the bottle, at the winery, or even both. Spain and Italy take special care when applying this term as it is regulated by particular designations that need a certain length of aging.
In countries like the U.S. where it is not controlled, the term "reserve" is nothing more than an insignificant marketing strategy.
Palate
This applies to the properties of the wine that are perceived when it is still in your mouth.
Stylish
This is a term used for marketing.
Structure
The structure has to do with the degree to which the components of a certain wine, such as acids, tannin, alcohol, and sugars, balance one another to produce an enjoyable feel in your mouth. Good structure supports the wine to age especially well.
Varietal
This terminology refers to a wine named after the most significant variety of grape that is utilized in producing it.
FAQs About Sweet Red Wine
What is a good sweet red wine for beginners?
If you are unsure of what red wine you like, there are numerous sweeter red wines you can try out. And if you still have not refined your palate, a good place to start would be the Il Duca Rosa Imperiale. This wine comes with sweet strawberry notes and red berries.
What kind of wine is sweet?
If you are looking for sweet wine, you should start with the bubbly Moscato. There is also the Riesling wine and Zinfandels you can try if you are fine with very sweet wines that have low acidity.
What type of wine is sweet and fruity?
Without a doubt, Moscato wine is an excellent choice if you want a sweet and fruity wine. This type of wine often has orange and fruity flavors. Still, there are plenty of different variants since all winemakers create their own signature wine using different fruits and additional ingredients.
Conclusion
The best sweet red wines are refreshing beverages that you can drink on their own. Nonetheless, pairing it with your favorite dishes or food is the best way you can enjoy them. The best partner for red wine is meat dishes, but it does pair pretty nicely with other types of foods.
In terms of wine pairing, there are no strict rules you have to follow. That means you have all the freedom to drink your red with any dish you want. The key here is to enjoy the experience and make sure that your palate is fully satisfied with every bite and sip you'll take.