It's not only on the west coast of the US that you will find excellent wineries but you will also find great wines being produced in the Midwest. In this article, we are going to take a look at Ohio's wine scene, in particular the wineries in Geneva.  
1 – The Winery at Spring Hill
The Winery at Spring Hill is in the Lake Erie and Grand River Valley wine appellation. It is a sophisticated winery with friendly and knowledgeable staff who are happy to answer any questions you may have about the wine produced at this winery.  
They offer a wide selection of wines, both red and white. Try their Vintner's Select Riesling which is a light white wine with flavors of pineapple, apricot, lemon, and lime. Their Merlot is a dry red wine with smooth tannins and tastes of bramble fruits and pepper.
If you are visiting with someone who isn't keen on wine, the winery also serves craft beers and alcoholic ciders. 
The Winery at Spring Hill offers an excellent food menu so you can pair your wines with dips and bread, a cheese plate, soups, salads, pizzas, and burgers. There is even a plant-based burger for the vegans amongst you. 
Throughout the year, the winery offers special events such as wine classes, barrel club meetings, and concerts.
2- Ferrante Winery and Ristorante
The Ferrante family has been producing wine since 1937. In the 1970s, they built this state-of-art winery and now have 40 acres of vineyards producing high-quality wines. The winemaker is a family member and continually develops new techniques to produce better wines. 
Try their 2020 Reserve Pinot Noir which is garnet red, with flavors of cherry cola and aromas of raspberry. Mom's Apple Pie Riesling stands out. It is a semi-sweet white wine with flavors of caramel, cinnamon, and apple pie.
The winery offers a full lunch and dinner menu to accompany your wine. 
Join their wine club for shipments twice a year, discounts on food at the restaurant and in the gift shop, exclusive access to private events, and more.
3 – Old Mill Winery
The setting of this winery is very attractive, and it has a relaxed atmosphere. It is housed in a rustic mill that was built in the 1860s and in the summer, you can enjoy your wine on the outdoor patio.
Their wine selection is extensive and includes Cabernet Sauvignon, Fredon, Geneva Rouge, Geneva Blanc, Chardonnay, and a selection of rose wines. 
They have a full menu including appetizers, salads, wraps, pizza, pasta, and sandwiches. You can even enjoy wine slushies with your meal. 
4 – Hundley Cellars
This is a family-owned vineyard and winery and they put their heart and soul into their business. They are located in the heart of the Grand River Valley and their tasting room looks over fields, forests, and vineyards.
It is the perfect place to relax with a glass or two of wine. In the summer, you can enjoy the outdoor deck, while in the winter, sit by the fireside indoors. 
Hundley Cellars offer tastings of either sweet to semi-sweet wines or off-dry to semi-dry. You get a flight of 7 wines, and they offer snacks to accompany your wine, such as flatbreads and a cheese and meat board.
On Saturdays and Sundays, there is live music.
5 – Laurello Vineyards
Laurello Vineyards is in Geneva's Grand River Valley. It is a boutique winery that creates single-varietal wines and Old World-inspired blends. 
The grapes used in this winery are grown in northeast Ohio. They offer a range of both red and white wines that have been aged in French oak barrels. They also produce ice wines, and some have won awards. 
Try their Cosmo Super Tuscan red blend. It is medium-bodied with aromas of dark chocolate and dried red fruits. It is soft and silky and has flavors of candied cherries.
From noon, until 5 p.m., they hold wine tastings when you can try a flight of four wines. They offer food to accompany your wine including appetizers, pizzas, and salads. For most of the year, they have live music to accompany the tastings. 
6 – South River Vineyard
This vineyard has a winery which is in a 100-year-old church. The winery opened in 2002 and provides a relaxing space to enjoy your wine with a spectacular view over the vineyards.
You are welcome to stroll through the vineyards and then enjoy a glass of wine on the veranda or inside on a cold day, sitting by the fireplace. They don't have a full menu but they do offer a bread and cheese plate to accompany your wine. 
Try their 2018 Exodus which is a dry wine and a blend of Merlot and Syrah. It has notes of blackberry, vanilla, and dark chocolate. The 2017 Semillon is smooth with flavors of honey, figs, and herbs, with crisp acidity.
They also produce ice wines such as Blush Ice Wine which is smooth and velvety with tastes of tropical fruits and honey.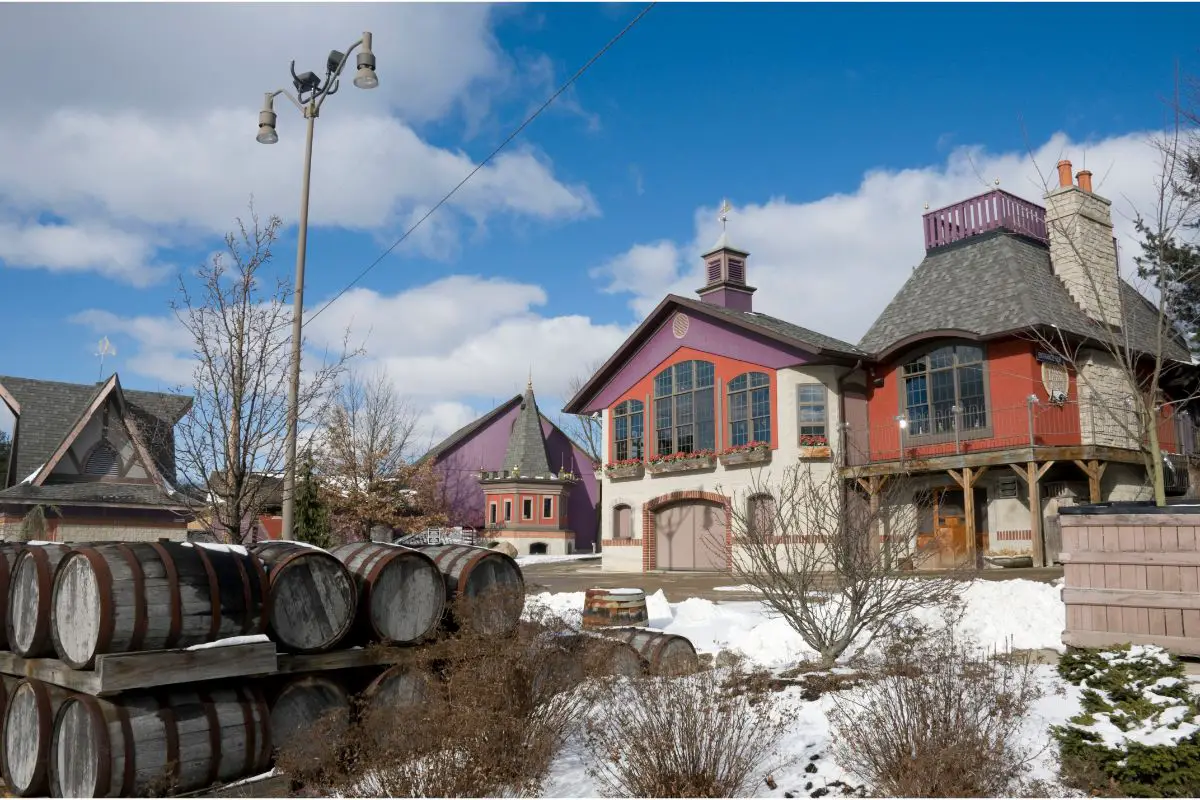 7 – Kosicek Vineyards
This Harpersfield winery has been around for a long time. It was opened in 1929 by a Slovenian immigrant and it is now run by the family's third generation. The grapes they use to make their wine are locally grown and they now have an impressive wine collection. 
The red wine selection includes Bourbon Barrel Cabernet Sauvignon, Petite Syrah, and Merlot, while the white wines include Estate Riesling, Estate Stainless Chardonnay, and the semi-sweet Traminette.
They also produce ice wines such as the Brix Estate Vidal Blanc which has flavors of honey apricot, and tropical fruit. 
If you like to eat while you drink, which is always a good idea, the winery offers food such as a bread dipping plate and flatbread pizza.  
8 – M Cellars
M Cellars is in the beautiful Grand River wine appellation region and produces top-quality handcrafted wines. 
If you are looking for a complete wine experience, this is the winery for you. You can first take a walk around the vineyards and then learn about the winemaking process from an expert member of staff.
Then you can enjoy a wine tasting either inside or outdoors on the patio. You can select red, white, or sparkling wine by the glass or the bottle. The winery offers food to accompany your drinks including a meat and cheese board, dips, and a dish of burrata and roasted peppers.
Join their wine club for exclusive access to their wines, priority access to limited releases, discounts, invitations to special events, complimentary tastings, and member rewards.
9 – Benny Vino Urban Winery
This winery is in a lovely location overlooking the Grand River Valley. It produces handcrafted wines, and its white wine collection includes Villaggio Blanco, Pinot Grigio, and Riesling, and its red wines include Malbec. Merlot, and Cabernet Franc.
You can order cheese and meat boards to accompany your wine and there is also pizza on offer. 
Try their Pinot Grigio which is a refreshing, dry, white wine that is light-bodied and has flavors of citrus and tropical fruits. Their Cabernet Sauvignon is a dry, full-bodied red wine with oak notes. 
10 – Virant Family Winery
This is a family winery that has been operating for three generations. They make wine the old-fashioned way. `Their wines have a fresh and crisp taste with a fruity aroma and a delicious aftertaste.
They offer 11 different wines including Riesling, a strawberry wine, and ice wine. Their Ruby's Peach white wine is a sweet wine with a fresh peach taste and summery aroma. Their Cabernet Franc is a dry red wine with a hint of oak and a peppery berry flavor. 
On Fridays and Saturdays, you can enjoy food with your wine, such as steak, shrimp, ribs, and chicken. 
The winery will host weddings, showers, and other parties.
11 – The Lakehouse Inn Winery
The Lakehouse Inn Winery offers a complete experience. Not only can you try their delicious wines but you can stay there in luxurious accommodation. It is a great base to explore the many wineries in Geneva wine country but don't miss out on trying the inn's own wines.
They source their grapes locally from Grand River vineyards and produce their wines in small batches ensuring great taste and quality. You can choose from red, white, rose, and sparkling wines.
They also have unusual wines on offer such as their apple wine which is made with local apples and produced in small batches. They even have sparkling apple wine.
You don't have to leave the inn to get a good meal as they have a farm-to-table restaurant, the Crosswinds Grille. There is even a spa at the inn so you can get a little rest and recuperation. 
12 – Deer's Leap Winery
This winery is run by Robert Bostwick. an award-winning winemaker with 35 years of experience. It has a wide array of wines including Cabernet Sauvignon, Geneva White, and some fruit wines, including cherry, pear, and blueberry.
It also has a host of interesting and different wines such as Chocolate Strawberry Wine which is a strawberry wine infused with chocolate. Their Liquid Gold is an ice wine from the Vidal grape variety which is naturally frozen on the vine. It is rich and sweet with a full-bodied finish.
The winery has a covered deck where you can enjoy your glass of wine and a showroom where you can see their wine collection.
On offer is a full menu including appetizers, burgers, pasta, pizza, subs, and wings to pair with your drinks.
13- Harpersfield Vineyard
This winery is located in the Grand River Valley and specializes in cultivating premium grapes to produce their wines. They have a lovely outdoor tasting area surrounded by the vineyard which is a lovely place to enjoy your wine.
 They produce Cabernet Franc, Pinot Noir, Pinot Gris, and Chardonnay, and offer homemade flatbreads and a cheese tray to accompany your wine. On Saturday evenings, they have a live band.
Final Thoughts
As you can see, the Geneva wine country has many exciting wineries offering a wide selection of quality wines. There are wineries to suit all tastes and we hope that our choices will enhance your wine tour of the area.