If you are interested in fine wines, you won't go far wrong choosing a sparkling wine, whether it is a brut or an extra dry white wine. Of course, at the top of the tree is French Champagne, but the Italian Franciacorta is also considered to be a fine wine. It is comparable to Champagne, but it comes at a more reasonable price. 
The original name of Franciacorta was Franzacurta which means both free land and the area of Northern Italy where the wine is produced along the foothills of the Alps.
Both Champagne and Franciacorta are produced in fairly low yields and both are made with a second fermentation in the bottle. Franciacorta is not produced as much as Champagne because  Champagne is known all over the world, while Franciacorta is less well known. However, they both can be produced as brut and as extra dry.
In this article, we are going to take a look at the difference between brut and extra dry sparkling wines and the best food to pair them with.
Main Differences Between Brut vs Extra Dry Wine
Brut is usually considered to be an aperitif and main course pairing, while extra dry sparkling wine is usually served with dessert or after the meal

Brut is crisp and dry with a slight hint of acidity, while extra dry does have a richer taste and is more fruity and sweeter

Brut has about 1.5% of sugar content while extra dry wine has up to 2% of sugar content
What Does Dry Mean?
Grapes have a fairly high sugar level, but these are reduced during the fermentation process. A dry wine is a wine that is low on residual sugars and isn't particularly sweet when you drink it. Levels of dryness can vary. You can have dry wine, extra dry, and brut, which is the driest.
What Impacts the Level of Sugars in Wine and What Makes Wine Dry?
Perhaps you are wondering how the fermentation process makes a wine sweet and another one dry. Well, the simple answer is that the yeast eats away at the sugar. If the fermentation process is stopped early, the wine will be sweeter, but if it is stopped later, the wine will be dry. Of course, there are many times you can stop the fermentation as there are different levels of sweetness and dryness. If a wine needs to be very sweet, sugar is added to make the wine even sweeter. Despite fermenting for longer, a dry wine can still taste fruity and have a tinge of sweetness. 
Does Anything Impact How We Experience Dry Wines?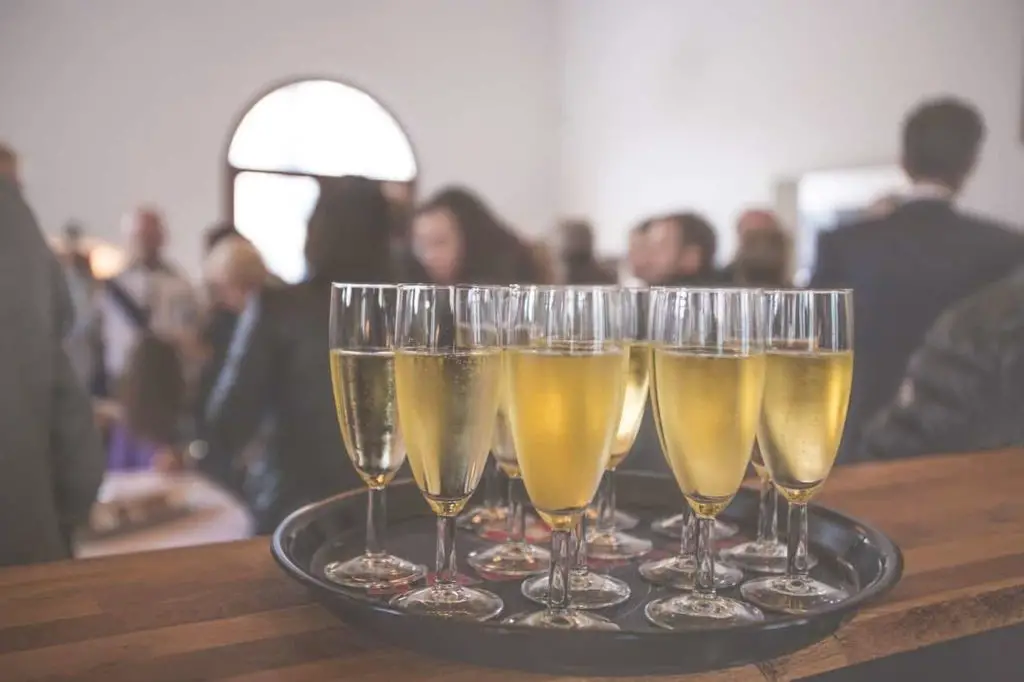 The simple answer to this question is yes. The dryness of the wine can be impacted by the aging process, the fruity flavour of the grapes, the alcohol level, and the acidity of the wine. These features can make the wine taste sweeter than it should be.
The main factors impacting the dryness of the wine are as follows:
Carbonation can lift the flavours and make the wine less dry

Ripe and fruit higher in sugar will make a dry wine taste sweeter

A high alcohol content will make the wine less dry

Aging in oak barrels makes the wine taste sweeter as it adds such tastes as caramel, vanilla, and toasted oak

Low levels of acidity make a dry wine sweeter
How Popular are Dry Wines?
Dry wines are popular in Europe, but not so much in the US, probably because the American diet is generally sweeter than the diet in Europe. However, some of the most popular and prized wines are dry. Generally, the finest wines range from dry through to brut.
What is a Common Misunderstanding When it Comes to Dryness?
Some people imagine that a dry wine leads to a dry mouth, but this is not the case. In fact, a drying sensation is usually caused by tannins, which can be found mainly in red wines, not white. Tannins are natural compounds that give astringency and structure to the wine.  On the other hand, dry white wines can be refreshing and crisp. They don't taste that sweet but have a sharper flavour.
What are Dry, Extra Dry, and Brut Wines Best For?
All types of dry wines are best served with savoury dishes. They are generally thought of as being dinner wines. Demi-sec and sweet wines are usually served with desserts, fruit, or a cheeseboard. However, a fruity dry wine can suit fruit and cheese and even some desserts, usually fruit-based ones.
If you are a wine lover, you will enjoy the taste of dry, extra dry, and brut wines. If you want to taste signature vintage wines, they are your best options. However, very dry wines might be difficult to handle if you don't drink a lot of wine. 
What are the Differences Between Dry, Extra Dry, and Brut Wines?
The main difference between these wines, and in fact other wines as well, is the number of residual sugars left in the wine. Let's look at all types of sparkling wines, from the sweetest to the driest. 
Doux wines: These are the sweetest of all sparkling wines and Champagne. In fact, you won't find a doux Champagne. These wines have over 50 grams of sugar per litre, which is the highest amount of residual sugar in any sparkling wine. In France, these wines are called Doux, but in Italy, they are called Dulce. In general, they are dessert wines and they are heavier than dry wines. 

Demi-Sec: Demi-Sec wines are a little less sweet than Doux wines. They have between 35 and 49 grams of sugar per litre. They too are considered to be dessert wines and they go well with fruit, cheese, and desserts. Quite often, these sparkling wines are blends from such places as France, California, and South Africa. Many sparkling rose wines are Demi-Sec.

Dry Wines: These wines don't have too much sweetness but there are some residual sugars there are 17 to 32 grams of sugar per litre.

Extra Dry: These wines have 12 to 17 grams of sugar per litre. You will find that a lot of non-sparkling wines are dry as well, including Chardonnay, Pinot Blanc, and Sauvignon Blanc.

Brut: Brut is the driest of wines, only having up to 6 grams of residual sugars per litre. You will find many sparkling wines and in particular, Champagne is brut, as are some rose wines.
What Should I Consider When Deciding Between Extra Dry and Brut Wine?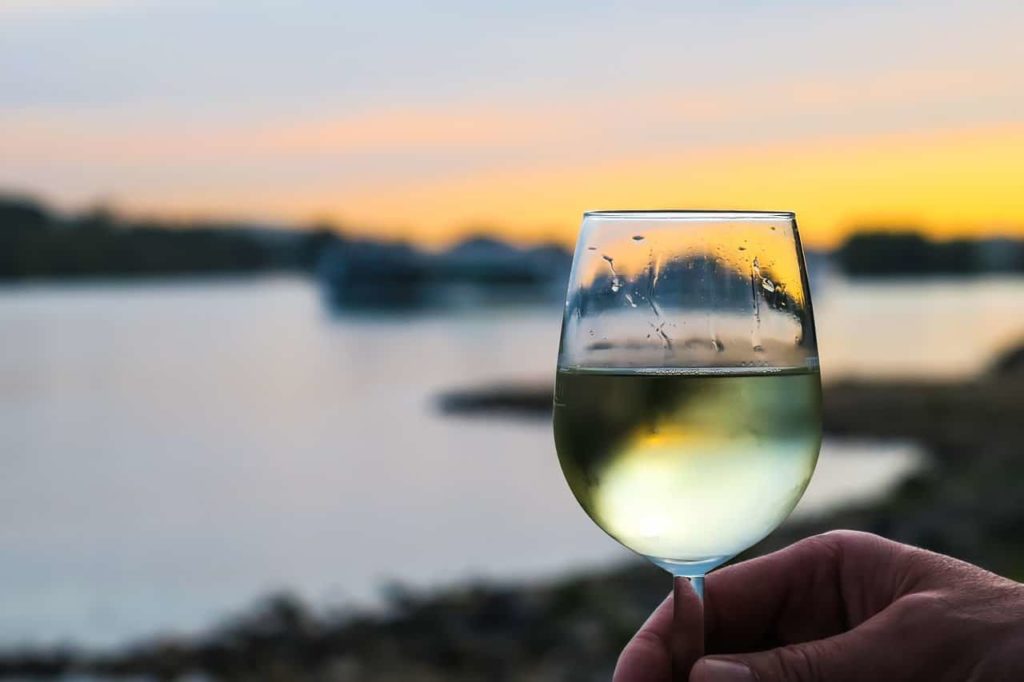 We are next going to take a look at extra dry vs brut wines. We need to consider other factors when comparing them. In addition, we will look at when you would choose one over the other.
Deciding between the two can be difficult. If you don't drink a lot of wine, you might think that brut is sweeter than extra dry, but it's the other way around. 
Both Champagne and sparkling wine are popular for special occasions like weddings, anniversaries, and parties. Perhaps you feel that Champagne is a little pricey for big events. If so, consider sparkling wines which are more affordable than Champagne. 
Be careful if you are buying something that says it's Champagne but doesn't come from France. Champagne only refers to wine produced in the Champagne region of France No other sparkling wines can take this name. 
Is Brut or Extra Dry More Common?
At special events, Brut is mainly used as it is thought to be more special. A lot of people prefer to have a very dry sparkling wine than a sweeter one. Dry champagne is sweet, extra dry has a hint of sweetness, but with a brut, you barely get a taste of sweetness. In reality, it  is subjective as people have different tastes, but if we want to pin down the most common sparkling wine, we would say it is brut. 
What is the Overall Experience with a Brut vs Extra Dry Wine?
 We have already mentioned that extra dry sparkling wine is sweeter than brut, but there are other differences that we'll take a look at.
Brut is crisp and has a touch of acidity. It is the level of residue sugars that decide the acidity of wine and the lower the sugar level is, the more acidic the wine. As brut has very little sweetness, it is more acidic than an extra dry sparkling wine. 

Extra dry sparkling wine will taste a little sweet to those who are used to brut. It also tastes a little fuller and richer because of the sugar content. It is a bit smoother than brut and isn't quite as fizzy.
What About the Level of Carbonation?
Fizz is impacted by the levels of sugar and acidity in sparkling wine. The less residual sugar in sparkling wine, the more pronounced the bubbles will be. If you want sharp and defined carbonation, go for brut. If you are looking for soft and subtle fizz, extra dry would be your choice.  
What are the Best Food Pairings for Brut vs Extra Dry Wine?
When it comes to deciding what food to serve with each sparkling wine, you will find that there are differences between brut and extra dry. 
Brut sparkling wine or Champagne goes well with savoury dishes. It is too dry to serve with desserts. Brut pairs perfectly with both smoked salmon and battered fish. It can cope with heavier dishes. It matches chicken and meat or vegetable kebabs. It will also go well with vegetarian dishes, such as egg florentine and pasta. As it is white wine, it probably won't go so well with heavier meats like beef and lamb. Brut is a good choice for acidic dishes such as a salad with a sharp vinaigrette. In addition, you can serve it with fruit or a cheeseboard. It goes best with hard and aged cheeses.
Extra dry sparkling wines are a little more versatile than brut. They have a touch of sweetness, but not enough to bar them from savoury dishes. They go well with Italian food, especially pasta. Try extra dry if you are having a meal with a cream-based sauce. It matches perfectly. You can also pair it with light seafood, a cheeseboard, or fruit. You could also serve it with a light dessert, in particular something with fruit like poached pears.
What are Some Common Flavours in Extra Dry vs Brut Wines?
Flavours will vary because of the regions and wineries wines come from. However, extra dry sparkling wines tend to be more fruity than brut sparkling wines or Champagne. Extra dry wine also has a softness about it. Brut can have a fruity flavour as well, but it is sourer than extra dry. Brut can have a taste of lemons and limes, while extra dry can have a flavour of strawberries as they have a hint of sweetness about them.
The main differences between these two sparkling wines are the level of tartness and sweetness. Extra dry is a little sweeter and tastes more fruity. Brut, particularly Champagne, is dry and has crisp acidity. 
What Other Factors Should I Consider When Deciding Between Brut vs Extra Dry Wine?
It can be difficult to decide if you want a brut or extra dry white wine particularly if you haven't sampled many in the past. Here are a few more factors you might want to consider.
What Kind of Sparkling Wine do you Want?
If you are celebrating a special occasion, you might want to get the best which is, of course, brut Champagne from France. The wine is slightly acidic, drier than extra dry, and is crisp with amazing bubbles. 
If you feel like Champagne is not within your budget, a good alternative is Prosecco which can come in extra dry or brut. The extra dry version will be a little sweeter, but will still complement many dishes.  
If you are having a party just with appetisers, either brut or extra dry sparkling wines will fit the bill. Both can be used to make a toast. 
Think About Flavour Notes
You have an idea of what flavours you like. This can point you in the right direction when trying to choose between extra dry and brut. Those who like fruity flavours like berries and stone fruits should go for extra dry, while those who like a tangy fruit flavour such as citrus should go for brut. 
What's the Occasion?
The occasion at which you are serving the sparkling wine can play a big part in whether you choose brut or extra dry. If you are having a formal dinner to celebrate an anniversary, wedding, or birthday, you may want to choose brut. If it's a really special occasion, Champagne could be the way to go. 
If you are just holding a party with finger food, it's okay to use an extra dry sparkling wine. There are many choices out there from different countries. For example, you can have Cava from Spain and Prosecco from Italy. 
If you know your guests well, you can make a decision based on their tastes. Some may like a touch of sweetness while others may choose an acidic and crisp wine.
What's Your Budget?
The price of sparkling wine can have a bearing on your choice particularly if you are having a large gathering. Brut tends to be more expensive as most of it is Champagne, although you can get others like Prosecco which is more budget-friendly. 
However, you don't have to go for brut. Many extra dry sparkling wines are of excellent quality but are at a more reasonable price.
Do you Have Any Extra Dry and Brut Wines to Recommend?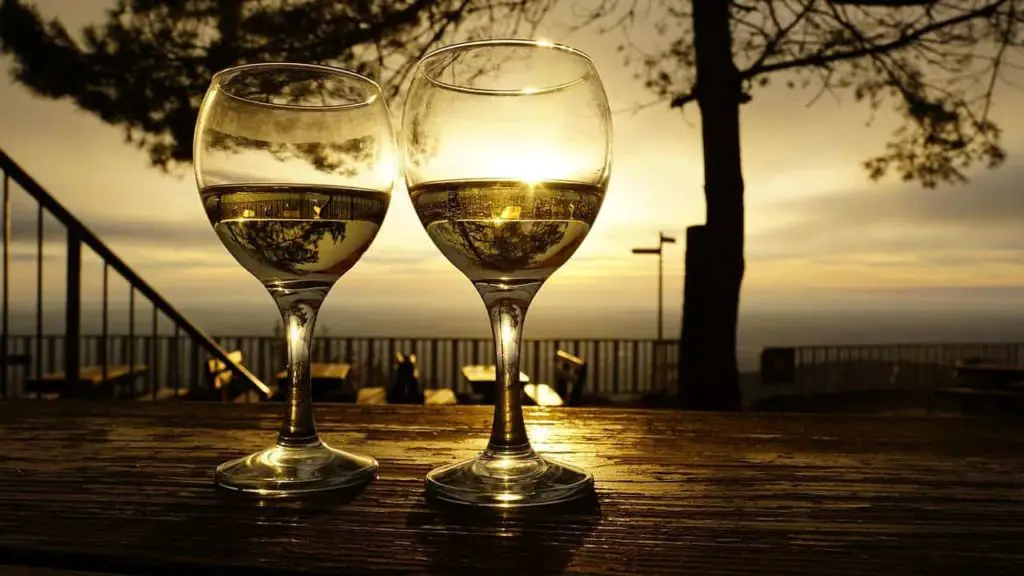 Perhaps you're not sure how to choose a good extra dry or brut sparkling wine, but we are here to help you. Below are some of our choices.
For extra dry sparkling wines, consider these:
Prosecco, such as La Marca Luminore Prosecco. This is an excellent sparkling wine for a picky crowd. It gives a nice balance of acidity and softness and should go well with either a meal or a party. It has flavours and aromas of white flowers, a little citrus, pears, and stone fruits. It can be served with pork, chicken, fish, seafood, and vegetarian dishes. It will also go well with appetisers.

Cava such as Freixenet Extra Dry Cava Cordon Negro. It is a good option to choose if you don't want to spend too much money. It is a very reasonably priced sparkling wine that has delicate flavours. It would also go well with either a meal or appetisers.
If you are looking for a brut wine, try one of these:
Champagne such as Tattinger Brut La Francaise. This champagne is highly affordable and is certainly not as expensive as a Dom Perignon. It is a delicious sparkling wine with a hint of citrus. In addition, it is an elegant wine which is surprising as it isn't non-vintage. Other excellent brut Champagnes include Moet & Chandon and Bollinger.

Rose sparkling wines are also popular and they are usually brut. An excellent example of a decent rose sparkling wine is Schramsberg Brut Rose 2016. It is perfectly suited to savoury dishes, such as pork, fish, chicken, and vegetarian dishes. This particular sparkling wine has hints of cinnamon, vanilla, and hazelnut, as well as grapefruit and watermelon. 
FAQs About Brut vs Extra Dry Wine
Is there a lot of sugar in brut wine?
Because brut is a sparkling wine, it doesn't have as much sugar in it as in a red or white still wine. The amount of sugar in different brut wines does vary as to where it was produced, but generally there is half a tablespoon of sugar in each glass of brut sparkling wine. In effect, this is 2 grams of sugar which is very little. This makes brut a good choice for savoury dishes and appetisers.
What is healthier, Champagne or wine?
As long as you drink in moderate amounts, both Champagne and sparkling wine are good for your health. That means just one or two glasses a day. They both contain antioxidants that help with heart health and protect against cancer and strokes. However, Champagne is a little healthier than wine because it contains less sugar. Too much sugar is bad for your health. 100 mls of champagne has just 90 calories, while 100 mls of wine has 100 calories.
What food pairs well with brut Champagne?
Champagne is very dry with barely a hint of sweetness so it goes well with most savoury dishes apart from red meat. Why not try shrimps and other seafood with it, chicken, pork, cheese, pasta, risotto, egg dishes, mushroom dishes, fruit-based desserts, or nuts.