OK, picture this: it's hot – so hot the thermometer is suffering from heat stroke and the dog looks as if  it's had one.
You can't find any solace in the shade and even the paddling pool is tepid. Are you tempted to put an ice cube in your glass of warm red wine?
Don't faint – I'm not recommending it. But you are perfectly entitled to drink you wine any way you want to – out of the freezer or at boiling point. You will be amazed how many people ARE putting ice in their wine. I did a little sleuthing on the web and found pages of people doing it – some sheepishly admitting it and some brazenly defending it.
The success of the Magner's Cider over Ice campaign has hit some of our winemakers with the impact that the ice berg hit the Titannic. Gallo Family Vineyards is looking to market its rosé wines as a long drink over ice in the UK.
John Gabriel from Chicago remembers that in the early 1980s he worked in the Four Seasons Clift Hotel restaurant in San Francisco as a waiter. When Ernest and Julio Gallo came in for lunch on Saturdays, as they frequently did, they brought their own chardonnay and cabernet, by the case, as the restaurant did not serve Gallo Wines. One of the Gallo brothers always asked for ice to put in his glass.
Gallo are not the only winemakers promoting this phenomena. So are the Piper-Heidsieck Champagne House.
Piper-Heidsieck is hoping to reinvent the way we drink champagne this summer by promoting the idea of serving its bubbly over ice. The idea originated in the South of France as Piper-Heidsieck Piscine (the French for swimming pool). Now the champagne house is trying to widen the appeal of its fizz in the UK, by suggesting drinkers plunge some ice cubes into their glasses here.
As part of the campaign, some fashionable city bars will also be serving the Riviera-style drink in special red curvaceous, stemmed glasses rather than the traditional flutes.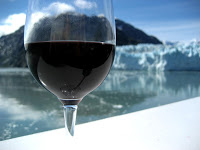 Britons are soon to be offered a Rosé over ice from the Stormhoek stable. Couture – a blend of Pinotage, Shiraz and Cabernet Sauvignon – launches in June in a major UK retailer at £6.99. It is packaged in a tall, colourful, modern, and chic bottle, its developers say, and its secret recipe and different serving techniques, including draught on tap for the on-trade, they believe give the product an edge in all market sectors.
Knox from Stormhoek credits his wife Dianne for the idea: "I've watched my wife drink Rosé for years and the one thing she's always complained about, was that it tasted watered down when she put ice in it, so I made Couture especially for her!"
"The ongoing popularity of Rosé, the success of Magners Cider 'over ice' and a survey we conducted in South Africa, gave us the idea to take Graham's 'secret' and develop it,"says Jason Korman, CEO of Stormhoek Vineyards. "You can serve it many different ways, on ice and even as a mixer – we see it as part of a trend where Rosé can be consumed like a cocktail, making it an even more sophisticated drink."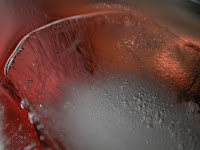 60,000 consumers at Taste London 2007 will witness the launch of Couture, where an Interactive Ice Bar filled with huge blocks of multi-coloured ice, will have a mixologist serving Couture in its four guises: wine glass, tumbler, martini glass and champagne flute. The brand launch will be supported by pre-event video trailers on www.youtube.com and on its website, which launches this week.
The national campaign will see a Couture branded ice-cream van, with film crew and ice bar, trav el around the UK visiting supermarkets and wine specialists,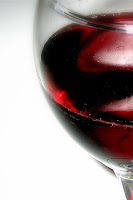 sampling its secret blend to thousands of consumers.
In addition, the consumer campaign will be supported by radio, TV and a link up with a top San Francisco global cosmetics company which has "a similar vision, and sense of 'play' and entertainment," according to Catherine Monahan from Orbital Wines, owner of the Stormhoek brand.
www.stormhoek.com reckons that this is the first wine that has been specifically made to taste better with ice. They acknowledge that the purists will all be having heart attacks, of course but say "We just wanted to do something fun and sexy. Conventional wine brands are generally neither. So we had to ditch convention."
I'm not a wine snob but I like my wine neat! Personally the thought of putting ice cubes in wine worries me that it will dilute the wine. Even a single cube of ice in a glass of red will be enough to diminish its good fruit flavour, leaving behind an awkward blend of thin, austere acidity and tannins. I suppose you could always get those plastic ice cubes and plop them in the wine as they don't melt – that way you could cool it down without losing any of the flavour. Someone suggested popping frozen grapes in the glass . . . but then it looks like a fruit punch!