Solvang in California is one of the state's best grape and wine-producing areas. It has even gained an excellent reputation the world over. If you are interested in visiting a winery or two,  you may be unsure where to start as there is an array of wineries on offer. To help you, we are going to take a look at 13 wineries that we think are worth visiting.
1 – Lucas & Lewellen Vineyards
This is a family vineyard that offers wines that are both of high quality and value for money. They produce red blends, vintage reds, roses, and whites and you can visit their Toccata Tasting Rooms where you can sample their traditional Piedmont wines all produced on-site. 
Their wide collection includes a delicious 2017 Cabernet Sauvignon with hints of chocolate and Indian spices and a 2020 Chardonnay with citrus and caramel notes and a buttery finish. 
They have a wine club which, if you join, you will get regular shipments, discounts, complimentary tastings, and invitations to exclusive events.
2 – McClain Cellars
McClain Cellars is another family business. They grow, harvest, and produce their wine in Santa Ynez Valley. 
They have a lovely tasting room with relaxing couches and a 36-foot-long fire pit. You can book a private tasting for your group if you wish and light snacks and charcuterie and cheese boards are on offer at extra cost. You can also book a popcorn tasting or an olive oil and vinegar tasting. They also have wine appreciation classes where you can learn about your favorite wines.
McClain Cellars has a wine club offering shipments every three months, complimentary tastings, invitations to special events, and more. 
3 – Casa Cassara Winery & Vineyard
Casa Cassara Winery and Vineyards were established in 1992 in the Santa Rita Hills and the Santa Ynez Valley. In 2020, they were awarded the Solvang Winery of the Year accolade. 
Some of their best wines include 2019 Cabernet Sauvignon, 2017 Bennie's Blend, 2019 Super Tuscan 'Fratello', 2018 Grenache, and 2021 Rose sparkling wine. 
If you enjoy classic wines, this winery is for you. Come and visit them and have a tasting. They are open all week except for Tuesdays.
They have a wine club that offers regular shipments, discounts, and complimentary tastings.
4 – Royal Oaks Winery
The tasting room at Royal Oaks Winery is cozy and relaxed and there is an outdoor patio for warmer days. As well as offering wine tastings, you can also book a wine and chocolate pairing. 
Royal Oaks Winery stocks a selection of sweet and dessert wines ranging from Moscato to Concord. They also have drier more traditional wines such as their 2017 Chardonnay and 2017 Cabernet Sauvignon. Fruity wines are on offer such as Black Forest, Blueberry Royale, and Cherry Amour that are worth tasting.
Join the club for regular shipments, complimentary tastings, and invitations to special events. In addition, if you reorder your shipment within a certain time frame, you get 30% off.
5 – Lion's Peak Vineyard
This is a family-owned winery that offers top-quality wines. They use sustainable and natural winemaking techniques which makes them stand out from other vineyards. They specialize in handcrafted, limited-production wines such as Lion's Estate Cabernet Sauvignon and Viognier Late Harvest. 
Lion's Peak Vineyard has a stylish salon tasting room with comfortable chairs that helps to enhance your experience. You can choose from a standard red or white flight or a flight of red and white premium wines. You can order a cheese platter to accompany your wines and they also offer a chocolate and port pairing.
Join their wine club for three annual shipments, complimentary tastings, and discounts. You also get invitations to special events such as wine and cheese pairings. 
6 – Cali Love Wine
If you are looking for a fun and different experience, visit Cali Love Wine. You can just walk in for a tasting and they are open until 10 pm, with Karaoke starting at 6 p.m.
Their wines are hand-made from grapes sourced from local vineyards. Their wines are fun and wild and have been given exciting names. Try Wild Thing which is a peach mango sparkling wine, Stardust which is a brut rose, and Gold Label, a Grand Cuvee.  
They will host special events like bridal showers and birthday parties.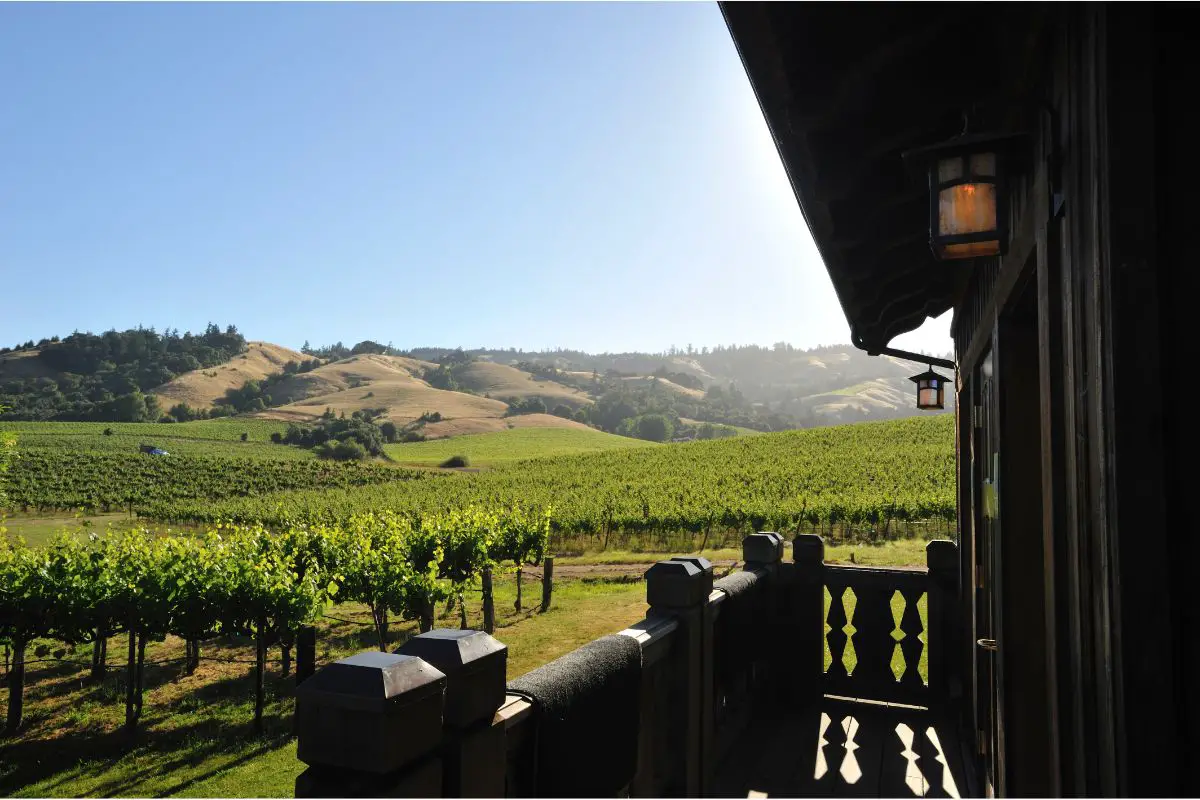 7 – Consilience & Tre Anelli
If you love classic European wines, you will love Consilience & Tre Anelli. They are based in the center of Santa Ynez Valley overlooking the town of Solvang. They offer Italian, French, and Spanish-style wines which all pair well with food. 
They have a comfortable and spacious tasting room where you can taste their three brands, Consilience, Marienello, and Tre Anelli. There is a choice of two tasting flights with six wines in each. The sample wines do change so it is worth visiting the winery more than once. If you join their club, you will be offered a tasting of limited-production wines, unique varieties, and library wines. They also offer complimentary olive oil and vinegar tastings. 
8 – Buttonwood Farm Winery & Vineyard
The vineyard is planted on the hilltop overlooking the tasting room. They focus on Bordeaux and Rhone-style wines such as Semillon, Sauvignon Blanc, Syrah, Grenache, Pinot Noir, and their famous 2019 Classic Cuvee which pairs well with a barbecue or meatloaf.
They have an orchard and grow vegetables such as pumpkin, fantastic tomatoes, peppers, and onions. They also have a herb garden. They serve food in their tasting room from Fridays to Sundays with food sourced from their farm. Wine tasting, however, is available every day. 
Their wine club is worth joining. Unlike many clubs, you can choose which wines you want in your regular shipments. You also get discounts, can reorder your shipment wines with 30% off and have complimentary wine tastings. 
9 – Kaena at The Ranch
Kaena at the Ranch offers a great choice of wines. They have over 90 wines with 18 varietals. Try their 2018 Reserve Merlot which has exotic aromas of vanilla, sandalwood, cherry, blackberry, and plum, along with earth, chocolate, and nutmeg. The 2019 Sauvignon Blanc bursts with tropical fruit notes of guava, passionfruit, pineapple, and lemon. 
Tastings are held in a large barn with an outdoor patio and also in their town tasting rooms.
Join their wine club for regular shipments, discounts, and complimentary tastings. 
10 – Lincourt Vineyards
Lincourt Vineyards is a family-owned business, founded by Bill Foley in 1996. It is one of the most highly regarded wineries in Solvang and it produces premium, high-quality wines. It crafts world-class wines which feature Burgundy and Bordeaux varieties. It also specializes in small bottlings of handcrafted wines that showcase each vineyard. 
The Lincourt Gruner Veltliner is worth trying. It has notes of kiwi and white peach, with a complex minerality. On the nose, you have bright lemon-lime zest. 
Wine tasting includes a flight of five seasonal estate wines. The wines do change so it is worth visiting more than once. 
Join the LIncourt Cellar Wine Club and have complimentary wine tastings, and regular shipments. Discounts and invitations to special events are also offered. 
11 – Alma Rose Winery & Vineyards
Alma Rose Winery & Vineyards are situated on the north-facing sloping Santa Rosa Hills. The wines are layered and rich, benefiting from the cooler Pacific Ocean breezes. 
They specialize in Rhone varietals such as Pinot Noir and Chardonnay, as well as sparkling wines. Most of the wines are produced in small batches of less than 400 cases. 
Their tasting rooms are stunning. There is a 1000-square-foot courtyard and indoor and outdoor seating. They offer a flight of 5 different wines which change regularly so it's worth going more than once. Cheese plates are available for purchase. 
If you are interested in seeing where the grapes are grown, you can visit the vineyards which are only a few miles away from the tasting room. 
If you join the Alma Rose Winery Club you can customize your shipments, get complimentary tastings, and attend exclusive club-only events
12 – Dascomb Cellars
Dascomb Cellars is one of the oldest wineries in Solvang, having been around for nearly 50 years. It is a boutique winery and is family-owned. They specialize in hand-made wines. Try their 2018 Cabernet Sauvignon, 2019 Chenin Blanc, or their Vintage Port. Their 2018 Petit Verdot has scents of black cherry and blackcurrant with flavors of cassis and cherry, with oak on the finish. 
At your wine tasting, you are free to pick wines according to your taste. 
They have several different clubs with discounts on shipments, complimentary tastings, and access to library and exclusive wines.
13 – Rusack Vineyards
Rusack Vineyards are in a beautiful setting on the rolling hills of Ballard County. They produce top-class hand-made wines. Their top wines include the 2018 Chardonnay, the 2017 Reserve Pinot Noir, and 2the 018 Zinfandel. In addition to their vineyards, they work with select growers who meet their high standards. 
To enter Rusack, you drive via a winding road through the vineyards. On their Canyon Service Deck, a redwood deck is constructed around four ancient oak trees. Here you can have a wine tasting or order wine by the glass or bottle. The seating is comfortable and there is table service. Charcuterie plates and caviar can be ordered. 
Join their club for regular shipments, discounts, complimentary tastings, and early invitations to club events. 
Final Thoughts
Hopefully, this article has given you a taste of the wineries in Solvang, California, and that you have found one or more that you would like to visit. As you can see, there is a variety to choose from, some traditional, others hipper, some with hand-crafted small-production wines, and others with big choices. All offer tastings which are exciting as you get to try different wines and they all have wine clubs that will save you money and open you up to a whole new world of wine. Enjoy your wine adventure in Solvang.