Those who enjoy a glass or two of wine may well have visited a winery to taste the wines. And to take a tour of the production facilities If you live in the San Diego area or are visiting on vacation, you will be pleased to hear that there are plenty of wineries for you to visit.
In this article, we are going to tell you about 12 of these wineries, all of which we believe are well worth a visit. 
What is a Winery?
A winery is, to put it simply, a place where wine is produced. It may have vineyards attached and use its own grapes or it may purchase grapes from other vineyards.
Many wineries are open to the public for tastings and tours of the production facilities but some aren't. Now, let's look at some of the best wineries in San Diego.
1 – Charlie & Echo 
Charlie & Echo is a small winery that produces hand-crafted wines from its own vineyards. They pride themselves on being environmentally friendly and they do all they can to reduce their carbon footprint.
They even share some of their sales income with environmental groups. 
They offer wine-tasting experiences at the winery and there is an opportunity to pair the wines with artisan snacks. You can also buy bottles of wine to take home.
Try their 2020 Rainfall, a dry sparkling Riesling that has aromas of jasmine and lanolin, and flavors of lime peel and Mayer lemon. It is produced with wild yeast, isn't filtered, and is made with little intervention.
It pairs well with spicy food and is also good as an aperitif.
Join their wine club for reward points towards purchases, 20% off wine, a complimentary glass of wine each week, and an invitation to the Wine Club Appreciation Party.
2 – Koi Zen Cellars
Koi Zen Cellars offers tastings with a flight of 6 of their wines. They also hold wine-making classes.
Try their 2018 Merlot Paco Robles. It seems light when you first take a sip but then the complexity and depth build. It is full-bodied with flavors of dark fruits such as blackcurrants, blackberries, blueberries, dark cherries, and plums.
The tannins are smooth with a hint of dried herbs, and a clean finish. It complements beef dishes and a cheese board.
Join their wine club for discounts, members-only wines, shipments 4 times a year, and complimentary tastings.
3 – Malk Family Vineyards
Malk Family Vineyards is, as it says, a family-run winery and it has, in fact, been around for almost 100 years. It is a small winery that produces limited single and handcrafted wines of high quality. 
Since the wines are in limited supply, joining their wine club is a good idea. You will receive regular shipments and discounts on the wines.
Try their 2019 Cabernet Sauvignon which has plum, blackcurrant, cassis, and black cherry on the nose, giving way to dark chocolate and graphite on the palate. It is fruit-forward and has balanced tannins.
It pairs well with rich foods with an intense flavor like steak.
4 – Pali Wine Co.
Pali Wine Co. has been operating since 2005 and apart from this winery, they have two others. Tower 15 Winery and Neighborhood Winery. 
Visit them for a tasting flight of either 4 or 6 pours. You can order food to accompany your wine, such as a charcuterie board, artisan cheeses, salads, small plates, like black bean chili, and desserts. 
Try their Tower 15 2021 Chenin Blanc. It is a beautiful amber-gold color with an aroma of honey and chamomile tea and ripe yellow apple and marmalade on the palate. It pairs well with fish, seafood, chicken, and soft cheeses like Brie and Camembert.
Join their wine club for deliveries, discounts, and priority invitations to events at the winery.
5 – Bernardo Winery
Bernardo Winery is well established, having been in the business since 1889. They produce a wide variety of wines from locally sourced grapes such as Chardonnay, Petite Syrah, Sangiovese, Syrah, Viognier, and Zinfandel.
Over the years, they have developed a loyal base of visitors and are happy to introduce more to their wines.
You have a choice of three experiences at Bernardo Winery. You can visit for a tasting, and you don't have to book. You can also come for Sunday Brunch on the kitchen patio or have a meal in the kitchen restaurant.
Food is mainly Italian and includes pizza, pasta, and bruschetta. For these, you have to make a reservation. They are open from Wednesday to Sunday.
In the Tasting Room, you can order flights of wine, or have a glass or bottle. You can also do a traditional wine tasting with members of the staff telling you about the wines and the winemaking procedure. `
In their courtyard, you will find shops and art galleries.
Join the Amari Wine Club which includes deliveries, discounts on wine, kitchen discounts, and complimentary tastings.
6 – Blue Door Urban Winery
Blue Door Winery is in 2 locations, one in San Diego and the other in Julian. They have a sustainable approach to winemaking, using natural yeast and traditional methods. Their winemaking facility is open to the public so you can have a tour.
This is particularly interesting in the fall when the wine is being made. You can even help to make the wine. 
Join the Blue Door Wine Club for shipments, a 20% discount on all wines, 10% off merchandise, and complimentary wine tastings.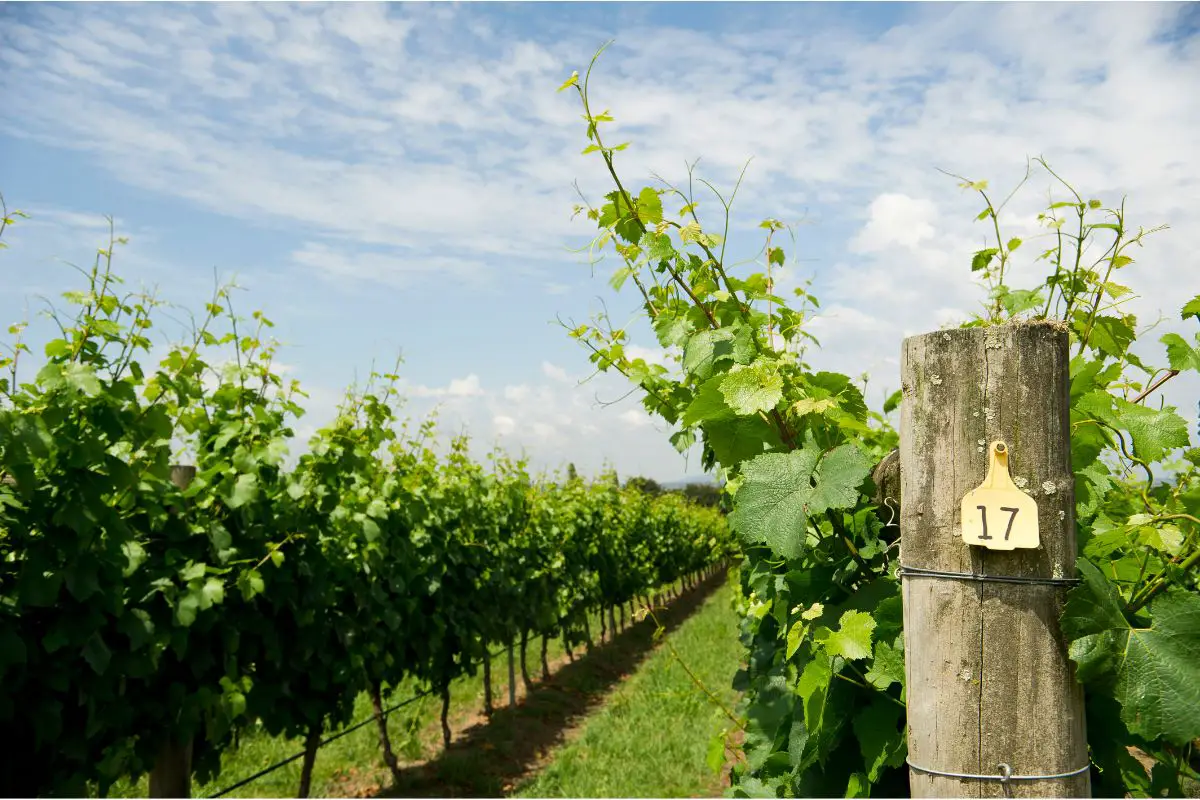 7 – San Pasqual Winery
San Pasqual Winery is family-owned and has been in business since 1970. It is considered to be the first urban winery in San Diego. They have now expanded into 4 locations. Their wine grapes are all grown in small lot local vineyards throughout California, and the wines are handcrafted.
They produce many popular varietals including Chardonnay, Cabernet Franc, and Cabernet Sauvignon. Sometimes, they produce lesser-known varietals such as Teroldego and Tannat. Interestingly, they also make a range of unique passion fruit-based wines. 
Visit for a tasting. Sometimes, they even have live music which enhances the experience. 
Join one of their wine clubs for shipments, discounts on bottles of wine or cases, and discounts on wine tastings. 
Try their 2022 Riesling. It has aromas of honeysuckle, white peach, and melon, and a hint of jasmine. On the palate, you will find lemon blossom, pear, and white peach with a citrus finish.
The 2017 Petite Verdot has aromas of violet, cherry, vanilla, and plum. You will have flavors of cranberry, vanilla, and blackberry, with a black tea finish. It pairs well with red meat and vegetarian dishes.
8 – Gianni Buonomo Vintners
If you are adventurous, head to Gianni Buonomo Vintners. They don't produce mainstream wines but focus on rare and underrated wines. They offer wine tastings four days a week, from Wednesday to Saturday. 
Try their 2019 Blaufrankisch. The wine grapes were hand-harvested, hand-sorted, and destemmed. This wine was aged for 2 years in neutral French oak barrels. It is medium-bodied and has low tannins.
It has a zesty acidity making it crisp and refreshing. You will get flavors of ripe cherry, white pear, and cranberry.  The Gianni Spumante is great for a celebration. It has a citrusy mandarin orange taste, with tropical melon and lemon, and lime.
It has a nutty finish and is delicious served with mushroom risotto and chocolate-covered strawberries.
Join one of their 3 wine clubs for wine shipments or pickups, complimentary wine tastings, discounts on wine, and discounts on entry to special events.
9 – Negociant Winery
Negociant Winery opened in 2015 and creates flavorful handcrafted wines, the grapes coming from small vineyards. Visit for a tasting and if you go on a Thursday night, there is live jazz. You can make a night of it. 
Join one of their 2 wine clubs and get shipments every month, complimentary tastings, discounts, and more. You can also order bottles of wine online.
10 – LJ Crafted Wines – Wine & Tastings
LJ Crafted Wines are environmentally friendly so if you agree with reducing the carbon footprint, this winery is for you.
They run a zero-waste business and use reusable bottles. They have been chosen by The Environmental Services Department in the City of San Diego for their Waste Reduction Outstanding Program in 2019.
You get the full experience when you visit LJ Crafted Wines. You first learn about how they produce their wines and then you taste some of their wines. The wines are available from the barrel in flights, by the glass, or in growlers to take home.
You can also take your wine home in a growlette which holds just 12 oz of wine, the equivalent of around 2 glasses of wine. 
Join their wine club for exclusive discounts on all barrel-select wines.
11 – Quigley Fine Wines
Quigley Fine Wines offer a wide variety of wines such as Australian wines, US wines, French wines, Italian wines, New Zealand wines, and Spanish wines. Try their Australian Hobbs of Barossa 1905 Shiraz.
It is a beautiful crimson color and has aromas of black and red berries, exotic spices, coffee beans, sweet cedar, and sage. You will have flavors of spiced meats, red berries, cocoa, and bay leaf. It has velvet tannins and a complex structure.
It pairs well with spicy food and hearty meats. Their 2020 Pinot Grigio is light gold in color, has aromas of honey, red apple, and white flowers, and, on the palate, you will taste Meyer lemon and tart apple. It is clean and crisp. It pairs well with chicken.
Their Tasting Room is open from Tuesday until Saturday. They have knowledgeable staff who will tell you all about the wines and how they are produced. 
Join their wine club for shipments, access to first offerings of special wines, invitations to exclusive events, and complimentary wine tastings.
12 – Village Vino
 Village Vino produces small-batch wines of the highest quality. They stock such white wines as Chardonnay, Verdejo, and Bombino Bianco, and red wines including Pinot Noir, Gamay, and Zinfandel.
They also have bubbly and rose wines, plus beer if there is someone in your party who doesn't like wine.
Visit for a tasting and accompany your wine with food such as flatbreads, small bites, and cheese and charcuterie. You can have wine by the half-glass, the glass, or the bottle.
During the experience, you will be told about the winemaking process, and afterward, will be able to purchase any wine they have in stock. Once a month, they host a series of small flight tastings based on a region or producer.
With this, there are food pairings matching the wine and region.
Also, once a month, they host a wine-tasting event where you can taste between 12 and 15 wines. Luckily, you can enjoy the wines at your own pace.
Join one of their wine clubs for deliveries, discounts, a Christmas gift, and more.
Final Thoughts
We hope that you are now keen to visit a winery or two in and around San Diego, California. If you enjoy wine, you won't be disappointed by any of them. Each of the 12 wineries we discussed is worth a visit.
If you have time, try to fit in as many times as possible during your vacation. You are bound to find wines to suit your taste and to purchase to enjoy when your vacation is long over. You might even find a wine club to join so that you can try new releases.
Some do ship outside-state and some even let you customize your shipments. We think that we have given you a broad spectrum of wineries with different wines to try so make a booking and try some delicious wines.