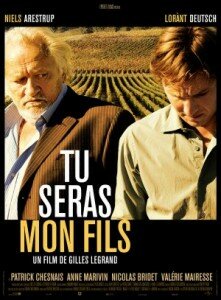 The Saint Emilion Premier Cru Chateau Clos Fourtet is the setting for Gilles Legrand's new film Tu Seras Mon Fils (You Will Be My Son). The film focuses on the problematic relationship between the chateau owner and his son and on the transmission of heritage and tradition in the world of wine.
Paul Marseul (played by Niels Arestrup – who is in Stephen Spielberg's forthcoming film War Horse), owner of a prestigious vineyard in Saint Emilion has a son, Martin (Loran Deutsch), who works with him on the family estate named Clos de l'Abbé. Paul is a demanding and passionate winemaker but is a domineering father.
He is not happy that his son may one day succeed him. He dreams of a son who is more talented, more charismatic . . . and more in line with his own aspirations. Things deteriorate as Paul's trusted manager (Patrick Chesnais) is dying of cancer and he returns from California with his brilliant son, Philip (Nicolas Bridet), who is also in the business. Paul sees Philip as his ideal son and turns away from his own flesh and blood.
Tu Seras Mon Fils features the actual staff of Clos Fourtet: harvest workers, tractor drivers and vat room workers – and Clos Fourtet's technical director, Daniel Allard, who has a couple of lines. The film is distributed by Universal Films, and opens in French cinemas on 24th August.
Decanter reports that the film's director, Gilles Legrand, reportedly fell in love with Saint Emilion after meeting Clos Fourtet consultant Stéphane Derenoncourt, who first invited him to the estate.
Originally Legrand had wanted to set the film in Burgundy, saying that "At first I really wanted to make this film because the Burgundy winemakers are probably more involved in the production of their wines.
In addition they make both white and red wines in many vineyards and I needed a white wine for my story of Paul Marseul". Despite traveling throughout Burgundy Legrand was met with refusal from wine makers that he approached.
He could not find the small chateau that he envisaged so he turned to Saint Emilion as it evoked the right setting with its patchwork of small vineyards and ancient estates. The film was reworked to focus on Bordeaux and Clos Fourtet took centre stage.
Château Clos Fourtet was once a Medieval military fort known as Camfourtet (Camp Fourtet) which defended Saint Emilion and sits just outside the entrance to the old town. Some of the encircling walls of the o
riginal fort still exist today and Clos Fourtet is one of the few walled vineyards (clos) in the area.
In the 18th century a small garrison of troops was billeted at Clos Fourtet and the chateau and chai date back to 1790. The château was built by Elie Rulleau and is a beautiful ivy-covered manor house and has some of the most extensive underground cellars in the region.
The château was built over limestone quarries and caves which comprise the cellars. The Rulleau family (who were connected to Chateau Figeac) altered the chateau's name in 1868 to Clos Fourtet signifying more peaceful times.
In 1919 Fernand Ginestet bought Clos Fourtet, the same year that he pu
rchased Petit-Village in Pomerol. His son, Pierre, subsequently sold the property to Lucien Lurton of Chateau Brane Cantenac, in order to finance the purchase of shares in Chateau Margaux in 1949. In 2001 Clos Fourtet was sold to Philippe Cuvelier, a Parisian businessman who made his fortune running Papeterie Gilbert, a paper and office supplies company who also now owns Chateau Poujeaux.
Legrand said that his fil
m was inspired by the conjunction of two ideas: "On the one hand the desire to make a film in a world that attracts me: the wine and vineyard work in the major wineries and secondly, the vision of Sean Penn's film Into The Wild."
Whilst researching and exploring the world of wine, guided by his friend, journalist winemaker, Laure Gasparotto, Legrand realised that "all these great winemakers had a common concern, that of transmission: for two reasons. Transmission of knowledge and transmission of heritage.
And that this could easily generate serious conflicts in families. So I imagined a father who does not want his son to succeed him and who chooses an ideal son to continue his work."
You can find more information on Clos Fourtet and purchase the wines at www.interestinwine.co.uk