We have some great new wines for summer at Bordeaux-Undiscovered that we have added to our range! Many of you write in to tell us about your own discoveries and where possible we try and source them for you. You will be pleased to know that we are now stocking Chateau Sainte Marie Reserve 2008 (£9.95) by popular demand!
This Bordeaux Superieur is the big brother of our popular white Sainte Marie and is a full bodied red made from a blend of 50% Merlot, 30% Cabernet Sauvignon and 20% Cabernet Franc.
The reputation of Chateau Sainte Marie in Targon dates back several centuries, as the vineyard belonged to the 12th century Benedictine Abbeye de la Sauve Majeure (one of the most ancient abbeys in France).
The Abbey takes its name from the Silva Major – the great forest that then occupied the whole region – and Eleanor of Aquitaine, famous for introducing claret to England with her husband Henry II, often stayed there.
The Dupuch-Mondon family have been running this estate since 1956 with fierce commitment, talent and a great attachment to the originality of the terroir. Old vines with low yields, including a 100 year-old parcel of Semillon and Merlot, guarantee a top quality production.
The Sainte Marie Reserve is beautifully etched with a deep purple colour as well as a sweet perfume of mocha, vanilla, and black cherry jam. It has fresh acidity, super texture, and a heady finish. This is a serious food wine and would be lovely with roast lamb, beef casseroles cooked in red wine, chicken and pork in rich sauces as well as game.
In response to your requests for easy drinking wines to pair with summer BBQs we have found a little gem: Cuvée Jean Baptiste Audy (£5.99). Cuvée is a dark garnet coloured wine with intense aromas. In the mouth the wine has a good backbone with smooth tannins and oodles of fruit.
It is made from a blend of 75% Merlot, 15% Cabernet Sauvignon and 10% Syrah (also known as Shiraz). Created by the well known Negociant House Jean Baptiste Audy, this is a captivating easy-drinking wine from vineyards in the Languedoc Roussillon.
Many of you have told us that you enjoy Syrah and interestingly Syrah is one of the grapes that Bordeaux itself has on trial in vineyards to test whether the grape would be suitable for planting in the future (see my blogs on Syrah in Bordeaux? and Bordeaux Looks to Forgotten Grapes to Combat Global Warming).
In the early 1900s Bordeaux winemakers often added small percentages of Syrah to their wines if they had a difficult vintage and in 2004 Chateau Palmer revived this 19th century practice by making an experimental cuvée (only 100 cases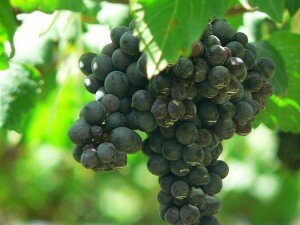 ), called Historical 19th Century Wine 2004. First Growth Chateau Lafite has also planted its new vineyards in China with Syrah.
The Syrah grape can trace its heritage back to the northern Rhone and is used to make the great wines from Hermitage and Cote Rotie. Syrah can produce rich full bodied powerful and opulent wines with great character.
Used in the blend for Cuvée Syrah adds notes of blackberry jam, ripe dark plums and black pepper with a hint of smoke. Cuvée will accompany tomato-based pastas and pizzas, richly flavoured casseroles, game and grilled meats.
There are many more new wines to choose from and if you have any favourites you would like to tell us about please get in touch!