The Press are reporting that a rare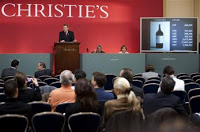 Imperial bottle of Cheval Blanc 1947 was sold to a private collector for $304,375 (£192,000) on Tuesday, setting a world record price for a single bottle. The Imperial bottle was sold to a private collector during a sale at Christies, Geneva.
Christie's wine expert, Michael Ganne, said the sale constituted a new world record in the wine category and the "only known bottle in the Imperial format" for this Saint-Emilion vintage.
An Imperial bottle is the equivalent of 8 standard bottles of wine (6 litres). Larger bottles are popular with Bordeaux collectors – especially the Imperial.
This is because the small amount of air in the bottle and the large volume of wine favours slow develo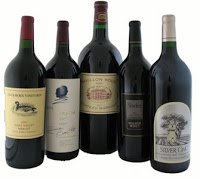 pment and can develop more complexity of the wine when compared with smaller formats.
These larger format bottles seem to be popular as gifts for young children, who can then serve the wine at their 18th or 21st birthday, wedding or maybe a New Year's party.
The host can ensure that his guests enjoy exactly the same quality wine, rather than risk variation with a large number of smaller bottles.
Large Bordeaux bottle sizes come in: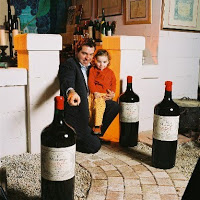 Magnum (equivalent to 2 bottles / 1.5 litres)
Marie-Jeanne – a format which no longer really exists (equivalent to 3 bottles / 2.25 litres)
Double Magnum (equivalent to 4 bottles / 3 litres)
Jeroboam (equivalent to 6 bottles / 4.5 litres)
Imperial (equivalent to 8 bottles / 6 litres)
Methuselah (same as Imperial)
The even larger bottle sizes below are very unusual and are normally used by makers of Champagne. To find a Bordeaux bottled in one is extremely rare – not to mention expensive! The bottles are named after figures from the Old Testament.
Whilst the reason for this remains a mystery, one theory was that as many of the early manufacturers of glass bottles were Jewish, they were given Biblical names.
Mordechai (equivalent to 12 bottles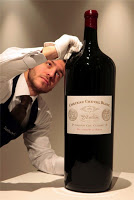 / 9 litres)
Salmanazar (same as Mordechai)
Balthazar (equivalent to 16 bottles / 12 litres)
Nebuchadnezzar (equivalent to 20 bottles / 15 litres)
Melchior (equivalent to 24 bottles / 18 litres)
Solomon (equivalent to 26 bottles / 20 litres)
Melchizedek (equivalent to 40 bottles / 30 litres)
In fact in February this year at a Large Format Auction at Sotheby's, London a Melchior sized bottle of Cheval Blanc 2006 was sold for £16,000 to a major Korea-based Collector. This very rare, huge format bottle was one of only ten bottled by Cheval Blanc for its 2006 vintage.
It seems this is becoming a trend as I have spotted a Cheval Blanc 2008 Melchior for sale in Switzerland. According to the press release this large format is being hailed as a "tour de force of wine making and is rated very highly by all major critics as the wine will live and improve for decades."
If you look around you will see the odd Melchior sized bottle come up for sale from most of the major chateaux but as so little are produced they are few and far between.
Apparen
tly, it took Christie's two years to convince the owner to consign the 1947 Cheval Blanc Imperial as well as their Jeroboam, Marie-Jeanne and Magnum bottles, for sale. The Cheval Blanc 1947 Imperial was snapped up by an anonymous collector.
The news not only caught my eye because of the record price but also as it was initially reported that "a rare six-litre bottle of 1947 French Cheval-Blanc white wine was sold". To my knowledge Cheval Blanc has never made a white wine so there is a journalist out there getting his fingers rapped as I write.
(The only white wine of a similar name is Domaine Cheval Blanc Signé which located in the Haut-Benauge region of Bordeaux near then Entre Deux Mers.)
The 1947 vintage was the product of an exceptionally hot summer that carried on in Bordeaux through from July to September. Pomerol and Saint-Émilion produced some of the most Port-like, concentrated wines ever made in Bordeaux.
The 1947 Cheval Blanc is a legendary vintage – an incredible wine so rare that it sends wine lovers and collectors alike into a frenzy. For an in depth report as to why this wine is so mythical check out "How the '47 Cheval Blanc, a defective wine from an aberrant year, got so good" by Mike Steinberger!