The Chateau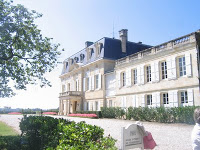 Pontet Canet in Pauillac is the only Grand Cru Classé in Bordeaux that is produced 100% biodynamically. As of August this year the Fifth Growth has completed the 3 year pesticide-free period and the property can label its wines as biodynamically produced.
Pontet Canet actually began its conversion to the biodynamic farming philosophy several years ago but was set back by the wet 2007 vintage, when spraying was needed to protect the crop from rot.
This is one of the problems producers in Bordeaux face should they wish to convert to biodynamic principles as the climate is affected by rain coming in from the Atlantic and mildew can be problematic.
Alfred Tesseron (co-owner of Pontet Canet w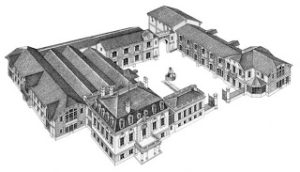 ith his brother Gérard) has explained that they started biodynamic farming for 14 hectares in 2004 and in 2005 and 2006 this expanded to cover the entire vineyard.
However he became concerned in 2007 that they might lose the crop due to mildew and used chemicals for one week. As soon as the pressure of mildew was over, they went back to biodynamics.
The 2008 and 2009 vintages were therefore produced biodynamically and the chateau is now certified by ECOCERT and BIODIVIN.
Other chateau have been trying biodynamic principles and are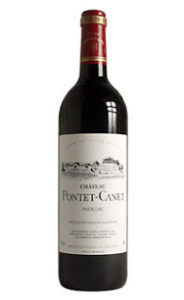 either in the process of certification or experimenting: Chateaux Bellevue, La Tour Figeac, Canon La Gaffeliere and Pavie Macquin in Saint Emilion and Domaine de Chevalier in Pessac Leognan are examples.
Jeff Leve of the Wine Cellar Insider has also reported that Chateau Margaux has been experimenting with biodynamic farming for the first time.
The chåteau was bought by Alfred and Gérard's father, Guy Tesseron, in 1975 and in 1989 Jean Michel Comme was appointed Technical Director. Comme also produces biodynamic wine from his vineyard Château du Champ des Treilles.
The proof – as they say – is in the pudding's eating, and if the last few vintages of Pontet Canet are anything to go by then their biodynamic principles are certainly paying off.
The biodynamic vintages have received high praise and Robert Parker awarded 97 – 100 points to 2009, 96 – 98+ points to 2008, 91 – 94 to 2007, 95+ points to 2006 and 96+ points to 2005.
Biodynamic wines are produced in accordance with the philosophy of Rudolf Steiner who developed his agricultural ideas in the early 1900s, as farmers were beginning to notice a decline in soil and food quality with increased use of synthetic, ammonia based fertilizers.
Biodynamic farmers see their land as part of the local ecosystem, which in turn is part of the whole planet and the universe in which it sits and spins. A biodynamic farmer works with the timing of the seasons, as well as changes in the moon and other celestial bodies, to determine the best times to plant, prune, dust for bugs etc.
Gre
en fertilizers and farm animals provide natural weed control and fertilizers. Wastes from the farm are converted to compost.
Simply put this seems to me a return to ancient methods of farming – watching the moon, weather and seasons, respecting the earth and the plants, recycling rather than wasting and using natural products rather than man made ones.
It's a principle that h
as more impact than you might think – back in 2009 The Guardian reported that the idea that the taste of wine changes with the lunar calendar is gaining credibility among the UK's major retailers, who believe the day, and even hour, on which wine is drunk alters its taste.
Tesco and its rival Marks & Spencer, which sell about 1/3rd of all wine drunk in Britain, now invite critics to taste their ranges only at times when the biodynamic calendar suggests they will show at their best. (See Drinking Wine by Moonlight).
In addition to biodynamics Pontet Canet has reverted to horse power to lessen the impact of its carbon footprint – which is rather apt since the château is named after an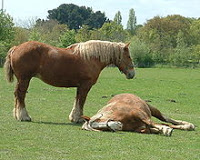 18th century past Royal Master of the Horse (see my blog Chateau Pontet Canet).
I have visited Pontet Canet and have seen the horses in action for myself. The horses don't compress the soil as tractors do and don't damage the roots of the vines.
The horses used at Pontet Canet are Bretons – an ancient breed which have great strength and durability. The original ancestors of the Breton were a population of horses that that lived in the Breton mountains, possible descended from steppe horses ridden by Celts.
They were used during Medieval times as military horses, partly because of their comfortable gait, which was said to be partway between a brisk trot and an amble. They have a quiet and careful nature and are ideal for working in the vineyards.
It will be interesting to see what the 2010 vintage brings but given Pontet Canet's track record over the past few years it is obvious that its path is a stellar one . . . or should I say lunar one?