AFP are reporting that wine growers in France are starting to worry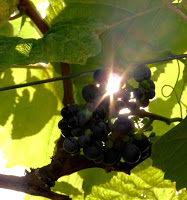 that global warming is giving them too much of a good thing. Predicted increases in average temperatures of two, three or even four degrees Celsius (3.6 to 7.2 degrees Fahrenheit) this century could spell the ruin of many of Europe's most fabled vineyards.
Veterans who have nurtured and nursed vineyards over a period of decades are today reporting changes that chime perfectly with these threatening climate scenarios:
"Overall, we are seeing a rise in alcohol content and a drop in acidity. That's a problem," said Laurent Audeguin, head of research and development at the French Institute for Vineyards and Wine (IFV), a national repository for grape varietals.
"Acidity is crucial for the balance and the taste of wine, as well as for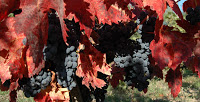 proper ageing," he explained.
Too much heat and sun, in other words, means that grapes mature too quickly, throwing the delicate ratio between sugar and acid out of sync. Ironically, previous generations of grape growers ripped up vines that matured slowly and replaced them with slightly different variants of the same grapes that yielded ripe fruit more 
quickly.
This topic raised its head last year (see Syrah in Bordeaux?). Jane Anson (New Bordeaux Blog) wrote an article for Decanter titled Merlot 'impossible' in Bergerac. She has reported that one of Bergerac's most renowned winemakers, Hugh Ryman of Chateau de la Jaubertie, has claimed that global warming is making Merlot impossible in the region.
He said he had not planted a Merlot vine since 2000, and he was replacing all his existing Merlot with Cabernet Franc or Malbec.
He is also using vinification methods such as colder temperatures and shorter maceration times which are used to make wine in hotter climates. The problem wine makers are finding with the Merlot grape is the difficulty in reaching full tannin maturity before alcohol levels get too high: "The wine has good mouth feel but loses the fruit character. And what's the point of Merlot at 15 or 16 degrees?"
Jane reported that Alain Reynaud, owner of Chateau Le Croix de Gay in Pomerol and consultant for over 10 properties in the region has said: "As long as I have clay soils, I will plant Merlot. But temperatures do seem to be rising, and if I had more gravel, I would love the right to plant Syrah in Bordeaux."

In the early 1900s Bordeaux winemakers often added small percentages of Northern Rhône Syrah to their wines if they had a difficult vintage and in 2004 Chateau Palmer rev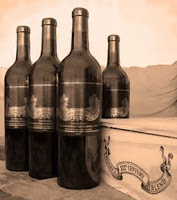 ived this 19th century practice by making an experimental cuvée (only 100 cases), called Historical 19th Century Wine 2004. It's a blend of 85% 2004 estate fruit from Palmer and 15% Syrah from Hermitage.
The practise of Hermitaged Bordeaux goes back to 1759 and there are records which state that in 1775 Chateau Lafite was blended this way.
"It's true that we've focused a lot on precocity in the last forty years," said Pascal Bloy, who oversees the more than 400 grape types grown at the Institute, near Montpellier. "The idea was to get a high maturity quickly. We realise now that this was probably a mistake."
That could leave Fr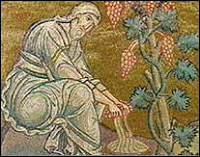 ench wine growers, especially in the south, scrambling for long-term solutions. Bloy is eyeing varieties found in even warmer climes such as Greece and Portugal.
This is not as odd as it sounds – accounts from the early 1800s record that that wines from Bénicarlo in Valencia, north east Spain were added to the Bordeaux blend (see Bordeaux from Valencia).
One source from 1824 (Henry Christmas, George Augustus Frederick) states that each hogshead of Bordeaux had 3 or 4 gallons of Alicante or Bénicarlo added to it. This was called tracait a la anglaise (the English treatment).
Cyrus Redding (1833) says that Claret was a mix of Bordeaux and Bénicarlo. But the identity
 of many wine regions in France- the primacy of "terroir" notwithstanding – are so closely tied to specific grapes that transplanting foreign ones is unthinkable.
Fortunately, the IFV set aside some of the slow-maturing vines rejected decades ago, including a few that are now in experimental plots in Bordeaux.
Further north the IFV is scouring vineyards in the region of Charente looking for hardy, old specimens of the white-wine grape, Ugni Blanc, used to make Cognac.
In Gaillac, in south western France, a handful of wine makers have planted once-native grapes that had long since disappeared from Gaillac's vineyards.
It turns out that some of these ancient varieties – a few, such as Mauzac, dating back to the era of the Roman occupation – will probably fare better in a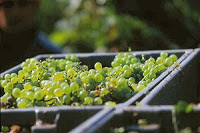 hotter world than the ones that replaced them.
"These varietals that we are rediscovering are completely adapted to extreme climate conditions," said Bernard Plageoles, whose father pioneered the effort 30 years ago.
If you are interested in learning about the old varietals that Bordeaux could reconsider using in its blend check out:
Long Lost Bordeaux Grape Varieties
Old Grape Discovered in Bordeaux
Béarn: The Wines (covers red grapes such as Tannat, Fer Servadou, Manseng and Courbu Noir and white grapes Raffiat de Moncade, Petit Manseng, Gros Manseng, Courbu Blanc, Sauvignon Blanc, Camaralet de Lasseube and Lauzet – used by Chateau Palmer to make a white wine)
Wine Made From the Lauzet Grape: Jurançon
Discovering Bordeaux Wines: Ancient Grapes