It's highly likely that you haven't thought much about buying Russian wine. Countries that come to mind when thinking about wine are Old World countries such as France, Spain, Italy, and Germany, and New World countries like California, Australia, and Chile. Russia is more associated with vodka and it does produce some excellent brands. However, we are here to prove that Russia shouldn't be dismissed when considering wine. 
You may think that it is too cold to grow vines in Russia and, yes, this can be the case in many parts of Russia. However, in some areas there are hot summers, so all the winemakers have to do is protect the vines during the winter. This they do by putting mounds of earth around the vines. The areas where vines are grown are further south in Russia near the borders with the Republic of Georgia, Ukraine, and Azerbaijan. This is the area between the Caspian Sea and the Black Sea. Because of these seas, there is less chance of a drought in the summer when the vines will need water. 
However, in the 1980s and early 1990s, President Gorbachov, who hated alcohol, placed serious bans on the consumption of alcohol. Because of this, wine consumption decreased, even for exports, and many vineyards folded, never to restart their business. However, in recent years, wine production has gradually resumed. 
In this article, we are going to take a look at some of the wineries and vineyards in Russia and at some of the wines produced there.
Wineries and Vineyards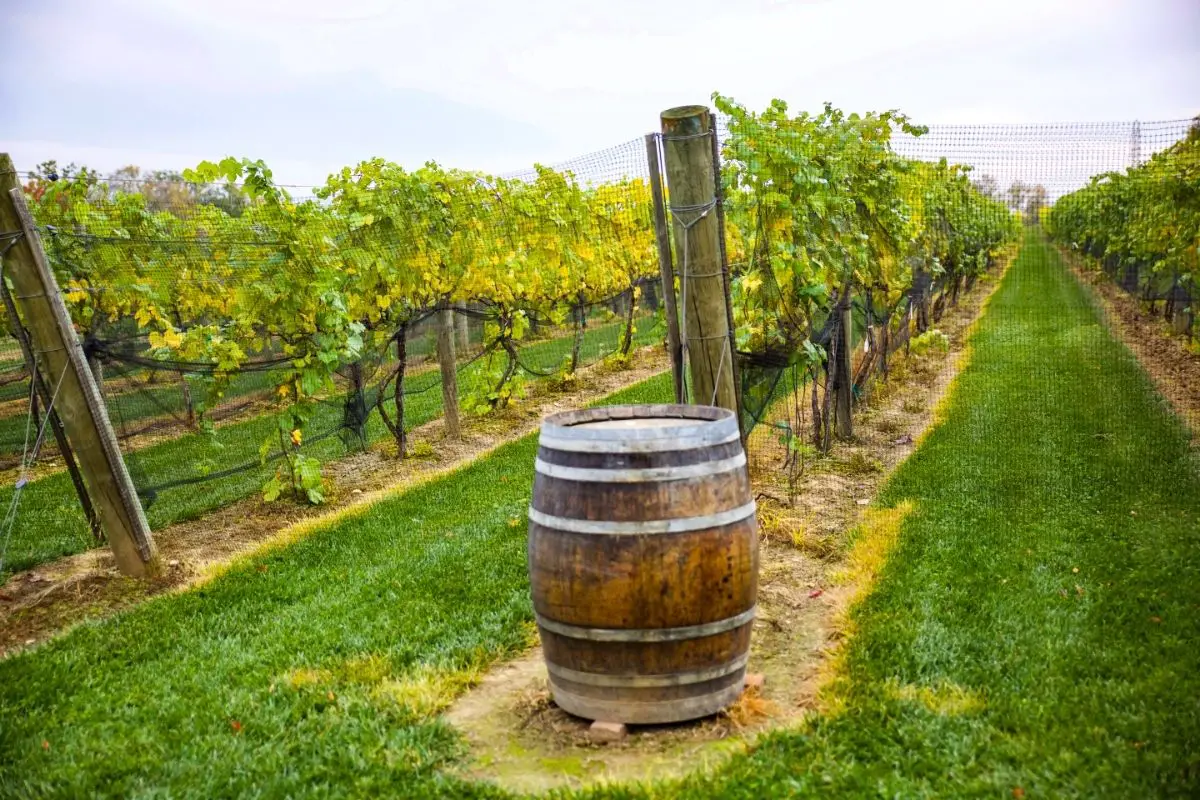 Abrau-Durso
Abrau-Durso is a popular winery and vineyard, in fact, one of the most popular in Russia. Their speciality is sparkling wine which they make by using the classic method and the Charmat method. They also produce still wines, cider, spirits, alcohol-free sparkling drinks, and artesian water. Every year, wines from the Abrau-Durso collections receive high awards from prestigious tasting competitions such as International Wines and Spirit Competition, Decanter World Wine Awards, International Wine Challenge, and Mundus Vini.
The winery has been going for over 150 years when it was started with a decree from Tsar Alexander 11. The winery is situated in Novovossiyek and around 150,000 people visit it each year. Apart from the sparkling wines, still wines produced include Chardonnay, Pinot Blanc, Aligote, Riesling, Cabernet Sauvignon, Merlot, and Pinot Noir.
Château le Grand Vostock
Chateau Le Grand Vostock is Russia's first new modern winery opened in 2003. It was constructed with French techniques and equipment in the village of Sadovy, about 50 kilometres inland from Arapa on the Black Sea coast. It covers 300 hectares of vineyards and produces around 100,000 cases of wine each year. The wines are blends of French grapes such as Cabernet Sauvignon, Pinot Franc, Merlot, Aligote, Pinot Blanc, Pinot Gris, and Chardonnay. It also produces wine from local grapes such as Saperavi, Rkatsiteli, Krasnostop, and Golubok.
Chechenu – Ingush
This area is in the Caucasus in between the Black Sea and the Caspian Sea. Great wine is produced in this region and there is evidence of primitive wine production dating back 6000 – 8000 years. This area may not have the international reputation of Burgundy or Tuscany and you won't find sophisticated wineries and tasting rooms, but what you will find is a long history of wine production. In this area you will find wine made from Russian grapes.
Crimea
Crimea is located on the northern coast of the Black Sea. It is one of the largest wine-producing regions in Russia. A range of Western European  varieties are grown here, such as Cabernet Sauvignon and Aligote as well as Russian varieties such as Saperavi. However, vines from the Muscat family are predominant. Wine has been produced in Crimea for 2500 years, but a lot of the vineyards have been lost since Gorbachov brought in the anti-drinking measures.
Dagestan
Dagestan is the southernmost republic in Russia. It has the perfect climate for growing wine grapes as it borders both the Caspian and the Black Seas. About 13% of Russian wine is produced in the area around Stavropol which has around 190 frost-free days.
Fangoria Winery
Fangoria Winery is in the Krasnodar region and is one of the largest wineries in Russia. It produces more than 20 million litres of wine each year. The vineyard facility exceeds 3400 hectares. The oldest living vines were planted in 1982, although the winery opened in 1957. There is also a grapevine nursery  which produces 600,000 young vines each year. As well as producing still and sparkling wines, they produce brandy and grape marc vodka. The sparkling wines are produced using the single-fermentation Charmat technology. These wines are noted for their fresh aromas. Grapes used for all the wines include Aligote, Chardonnay, Sauvignon Blanc, Riesling, Cabernet Sauvignon, Muscat, Merlot, Pinot Noir and the Russian wine Saperavi. The winery also produces liqueur wines. 
Krasnodar
This region borders the Black Sea and the Caspian Sea which makes it possible to grow grapes. This is because the air is warm and moist. Most production in this region is geared towards domestic consumption which tends to favour sparkling wines and sweet dessert wine. Some producers have started to produce Bordeaux-style red wines such as Cabernet Sauvignon.
Kuban Vino
Kuban Vino is one of the largest wineries in Russia producing both still and sparkling wines. It began producing wine in 1956 and now produces more than 65 million bottles of wine each year. The winery owns more than 12,000 hectares of land  in the Taman Peninsula and Anapsky District. They offer three different wine tours. The winery produces a large variety of different wines including Rose of Taman, Chardonnay of Taman, Muscat of Taman, Krasnodar of Taman, Madeira, Cabernet Saperavi, Merlot, Riesling, and Chardonnay.
Massandra Winery
Massandra is probably the most popular winery in Russia. It was built between 1894 – 1897. It is located on the south coast of Crimea, an area  with more than 2,500 years of viticulture.The current vines at the winery are up to 120 years old. The vineyards are environmentally friendly. Pesticides and fertilisers are never used and the grapes are picked by hand. Wines are bottled without the addition of sulphite, better known as the cold-stabilisation method. Massandra wines are particularly good paired with fish, cheese and charcuterie, as an aperitif, a digestif, and with desserts. The winery houses an enormous collection of rare and vintage wines. In fact, a bottle of Sherry de la Frontera  produced in 1775 sold for $40,000. 
Myshako Winery
Myshako Winery is near the port city of Novorossiysk which is in Tsemess Bay on the Black Sea. Again, this area is ideal for growing grapes because of the warm and moist air. The winery has been in existence since 1869 and survived Gorbachov's rule. They produce around three million bottles of wine each year. The wines are Pinot Gris, Pinot Noir, Muscat, Merlot, Aligote, and Cabernet Myshako.
Novy Svet Winery
Novy Svet winery is in Crimea. It was established by Prince Lev S. Galitzine in 1878.  It is on the same latitude as Southern France so is suitable for growing high-quality grapes. The Prince built 3 kilometres of cellars and planted Chardonnay, Riesling, Pinot Meunier, and Pinot Noir. He spent ten years refining the wines with the traditional method of producing wine. These methods are still used. The winery is particularly well known for its sparkling wines.
Stavropol
Stavropol is another region that lies between the Caspian Sea and the Black Sea. There are around twenty wineries in this area, most producing dry white wine and sweet dessert wines. Praskovya winery is in this area and  is one of Russia's oldest wineries. In recent years, it started producing sparkling wines and extended its spirits from brandy to whisky and moonshine.
Taman Peninsula
The Taman Peninsula borders The Black Sea to the south and is one of the top producing wine regions in Russia. It houses The Fanagoria Winery which we have already looked at.
Zolataya Winery
Zolataya Winery is one of the greatest wineries in Crimea. It is based near Sevastopol, a major port on The Black Sea. It produces both sparkling and still wines from its own grapes. It was founded in 1889. It isn't just a winery but as well as hosting tastings, it houses an art gallery, an annual music festival, and offers quad tours.
Grapes Grown and Wines Produced
Aligote
Aligote is a grape used to make dry white wine. It originated in Burgundy, France in the 18th century. Because the grape is tolerant to the cold it grows well in Russia. Aligote pairs well with fish dishes, soups, salads, and soft cheeses.
Cabernet Sauvignon
Cabernet Sauvignon grapes are grown in Russia and this wine is popular in the country. It is a grape that is susceptible to the cold, but the area between the Black Sea and Caspian Sea doesn't get as cold as much of Russia so the grape can grow there. However, Cabernet Sauvignon from cooler climates are usually not as full-bodied as the grapes that are grown in hot regions. As it is a red wine, it pairs well with red meat such as steak, lamb, and burgers. It also goes well with semi-hard cheeses such as an aged cheddar or gouda.
Cabernet Severny
Cabernet Severny is a Russian red grape which is a  cross between Seianetze Malengra and Vitis Amurensis. It is produced mainly in Rostov. Like Cabernet Sauvignon, meats such as lamb and steak pair well with Cabernet Severny. The high levels of tannin bind with the proteins of the meat and clear your palate ready for the next bite.
Clairette
Clairette is a white wine grape grown widely in the wine regions of Provence, Rhone, and Languedoc. It is now grown all over the world including Russia. Clairette can be paired with fish and seafood, vegetarian dishes, especially those containing mushrooms, and both soft and hard cheeses.
Krasnostop Zolovtovsky
Krasnostop Zolovtovsky is a Russian grape used to make red and rose wine. It is believed to have originally come from the Rostov region. The grape is susceptible to downy mildew and is heat sensitive, but it is winter hardy so grows well in Russia. It can be monovarietal or it can be used in blends with such wines as Cabernet Sauvignon and Merlot. It pairs well with red meat.
Merlot
Merlot originates from Bordeaux in France, but grows well in Russia. It is classically known for producing a softer, fleshier wine than its counterpart, Cabernet Sauvignon which is often blended with Merlot because the Merlot softens the Cabernet. Merlot pairs with a variety of foods because of its position in the middle of the red wine spectrum. It pairs with chicken and other light meats and lightly-spiced dark meats.
Muscat
Muscat, originally from Italy, is now grown in Russia. It is a crisp, but sweet white wine. It has sweet peach and orange blossom aromas. Muscat pairs well with nuts, soft cheeses, light curries, seafood, vegetarian dishes, and Asian Noodles.
Pinot Gris
Pinot Gris comes from Burgundy in France and is a white wine that is now produced in Russia. It is called different names in different parts of the world. For example, in Italy, it is called Pinot Grigio. Pinot Gris is zesty and has a refreshing acidity. It pairs well with fish and shellfish, even raw fish and vegetarian dishes.
Plavai
Plavi is originally from Moldova but it is now grown in Russia. It is a white wine that was very popular in the 19th and early 20th centuries. The grapes are known for their light colour and their dry taste. It pairs well with lighter dishes such as pork, chicken, veal, soup, seafood, shellfish, and vegetables.
Portugieser
Portugieser wine originated in Central Europe in the Danube Valley but is now also produced in Russia. It is a light, crisp,  neutral red with mild berry flavours. As it is so light it can pair with chicken and pork. It also goes well with a cheeseboard.
Riesling
Riesling originates in Germany, but the grape grows well in Russia and the wine produced is one of the most popular in Russia. It ranges from being sweet to semi-sweet and you can get sparkling Riesling. It is an aromatic wine that has aromas of orchard fruits such as nectarine, apricot, honey-crisp apple, and pear.  It pairs well with Chinese food, Cajun cuisine, Tex-Mex, roasted pork, roasted duck and goose, seafood, and Thai food.
Rkatsiteli 
This wine originates from Georgia and can be traced as far back as 3000 BC. It is one of the most popular wines in Russia and the grapes account for a third of the grapes produced in Russia. It is a dry white wine with spicy and floral aromas, with flavours of lime, fennel, tropical fruits, and honey. It has high acidity and high alcohol. It pairs well with Lebanese, Turkish, Iranian, and Indian food, including spiced meats, aromatic rice, lentils, bean dip, and smoked aubergine.
Saperavi
The Saperavi grape is native to the US, but is grown throughout the world, including in Russia. It is a deep-ruby red wine, almost purple in colour. It has an aroma full of sour cherries, blackcurrants, spicy smoke, old leather, earthiness, and even savoury umami notes. It pairs well with rich tangy food like pizza and barbecued pork.
Silvaner
The Silvbaner grape comes from Germany and is now grown in Russia. It is a white grape which makes a wine low in alcohol and with a light body. The wine offers intense aromas of pear and apple, with a backdrop of marzipan and white pepper.  It pairs well with tapas, shellfish, salads, and grilled fish.
Traminer
Traminer comes from Northern Italy and is popular in Russia. The grape grows better in cooler climates so Russia is ideal. The cooler the temperature, the sweeter the wine will be. It is a white wine with aromas of cinnamon, orange blossom, lilac, citrus peel, bergamot, and honeysuckle. It pairs well with fruit, cheese, and desserts.
Top Russian Wine Picks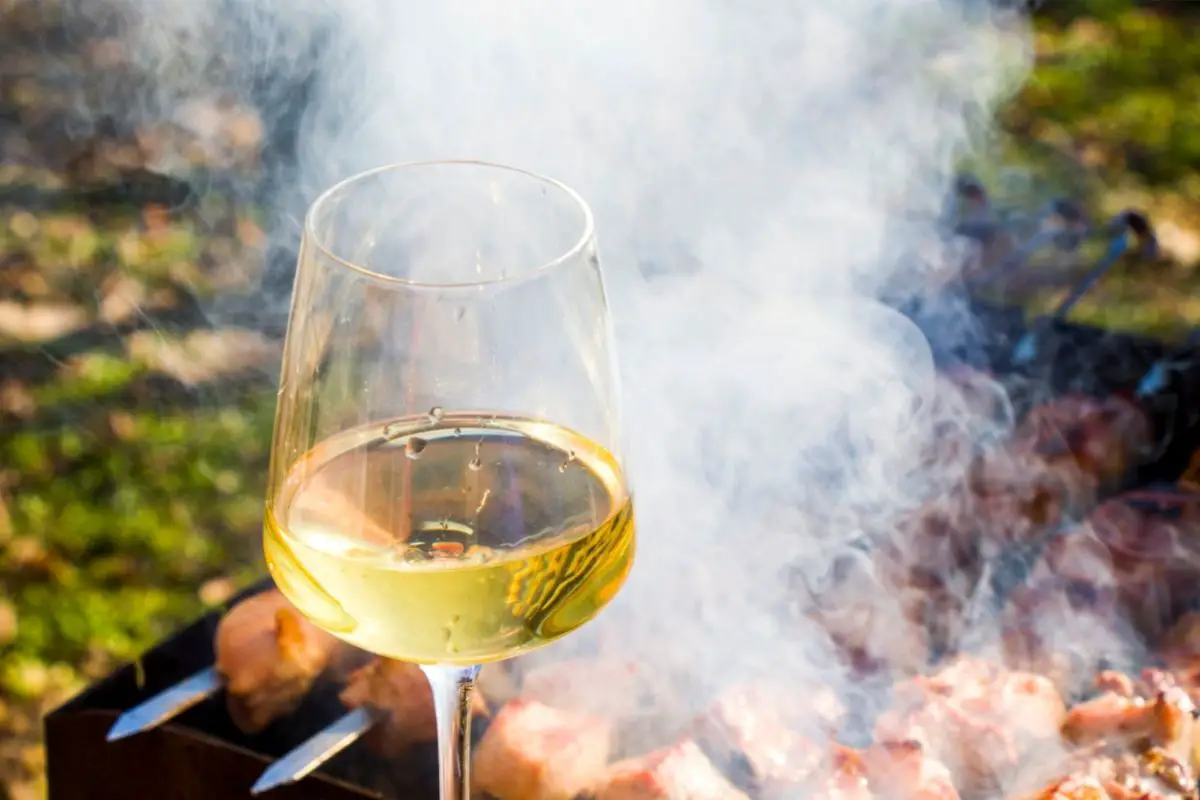 Russian wine is generally reasonably priced so you're not going to break the bank if you want to sample a bottle. In this section, we are going to review a few excellent Russian wines.
Abrau-Durso Russian Champagne Brut
Of course, only sparkling wine produced in the Champagne region of France is entitled to be called Champagne, so this is really a sparkling wine. Nevertheless, it is an excellent wine with a fresh, zesty, and invigorating taste. It has a high score of 88/100 on the aggregated critic score and has won many awards; a bronze medal at The International Wine & Spirit Competition in 2013, a bronze medal at The Decanter World Wine Awards in 2015, a silver medal at The Decanter World Wine Awards in 2017, and a bronze medal at The Decanter World Wine Awards in 2017. The wine is a blend of different grapes; Riesling, Aligote, Pinot Noir, Chardonnay, and Pinot Blanc. It pairs well with salty foods because the carbonation in sparkling wine cuts through the saltiness and balances out the meal. It is a good match for seafood such as shrimp, shellfish, smoked salmon, caviar, fried calamari, and oysters. It also goes well with Brie-style cheeses and fruit desserts.
Fanagoria NR Nurneric Reserve Saperavi
This wine is produced, not surprisingly, at the Fanagoria winery. Like the Champagne, it has a good score on the aggregated critic score; 87/100. It has won two awards, both in 2011. It won bronze awards at The Decanter World Wine Awards and at The International Wine Challenge. The wine is ruby-red, almost purple in colour and tastes of blueberries and mulberries. It goes well with a variety of dishes ranging from delicate dishes to a wide variety of game including wild boar and wild mountain goat. It is also good with skewered pork, hard cheese like Cheddar, Pecorino, and Emmental, liver, and oyster mushrooms. The wine has a long and pleasant aftertaste.
Fanagoria Cru Lemont Cabernet Sauvignon
Here we have another wine from the famous and successful winery, Fanagoria. It scores 87/100 on the aggregated critic score and was commended at the 2012 International Wine Challenge. It has aromas of vanilla, blackcurrant, plum, and cherry jam, with notes of spices, chocolate, and smoked blackberries. The tannins are soft and there is a prolonged aftertaste of pepper. It pairs well with red meat, especially steak and cheese with a bit of fat to it like Cheddar, Colby, and Swiss Cheeses.The fattiness of the cheese tames the boldness of the wine and makes it less harsh and more approachable.
2014 Alma Valley Chardonnay
The 2014 Alma Valley Chardonnay is produced in Crimea. It is medium-bodied and a beautiful golden colour. The aroma is powerful. You will get notes of apples, citrus, tropical fruits, vanilla and cream. It tastes both fruity and creamy, has medium acidity, and an aftertaste of spice. It pairs well with fish pate, fish, chicken, vegetable dishes, pasta, and risotto.
A Quick Word About Vodka
We feel we have to mention vodka in this article because it is the number one alcoholic drink in Russia. Let's take a look at a respected Russian vodka brand.
Stolichnaya Elit Vodka
Stolichnaya Elit Vodka has an aggregated critic score of 91/100. It is made using freeze-filtration which involves filtering the vodka at -18C. This stops the vodka becoming cloudy. It is made from wheat and is produced with Alpha Spirit, the highest grade of spirit recognised by the Russian authorities. It is 40% proof. 
In addition to the Elite vodka, Stolichnaya produces flavoured vodka such as blackberry, apple, peach, raspberry, vanilla, honey, salted caramel, and many more. 
Ten Facts About Russian Wine
You may not know this, but wine was produced in Russia earlier than in Ancient Greece so it has a history going back thousands of years. However, the wine back then was a great deal different from what it is today. It was, in fact, much sweeter. In the 19th century, Tsar Alexander 11 changed the wine produced in Russia. He loved French wine and decided to import vines from France. And so began the production of such wines as Chardonnay, Pinot Gris, Cabernet Sauvignon, and Merlot. Because of this, Russian wines are now respected all over the world.

Wine was popular in Russia before The Russian Revolution but the revolution and World War 11 halted production and people forgot about Russian wine as it was still being produced in the rest of Europe. It is highly likely that no wine was produced in Russia from the beginning of the Bolshevik Revolution in 1917. However, after the Second World War, wine started to be produced again in Russia. Still, this break has caused people to not associate Russia with wine. This has had a lasting effect on the Russian wine industry

From 1929 until 1953, Joseph Stalin was the dictator of Russia, ruling by terror. He did order wine to be produced, but he wanted high yields and a high alcohol content. In addition, he wanted the grapes to be frost resistant so ethyl alcohol and grape sugar were added. Ethyl alcohol is a highly addictive substance and can be classified as a drug. Drinking it in large doses over prolonged periods of time can pose health risks such as liver damage. However, Stalin wanted to sell a lot of wine so making it even more addictive than it can be brought it money. However, the wines produced during this time were very sweet so were not popular for exportation.

From 1985 until 1991, Mikhail Gorbachov was the General Secretary of the Communist Party of the Soviet Union. He hated alcohol and enforced strict alcohol bans. There was partial prohibition known as the 'dry law'. Prices of vodka, wine, and beer were raised and their sales were restricted to the time of day and in amount. People who were caught drunk in public or at work were prosecuted. Because of this, many wineries closed down and some of these haven't managed to recover. This is why there are so few vineyards and wineries around today. Unfortunately, some of the best vineyards have disappeared.

Most of Russia is too cold for growing grapes. You have perhaps thought that it was impossible. However, there are areas towards the south of Russia that do have a suitable climate. These are between The Black Sea and The Caspian Sea where there are moist warmer temperatures coming from the Mediterranean. The south coast of the Crimea is protected by mountains from the cold north winds.

Because the winters can be so cold, winemakers have researched new methods to grow their vines. One of the most innovative things they have done is use the cold-resistant genes from Mongolia. This helps the vines to grow naturally and stay alive during the colder winter months.

There are five main wine-growing areas in Russia. They all lie between the Black Sea and The Caspian Sea. They are Chechen-Ingush, Krasnodar, Dagestan, Stavropol, and Rostov.

Wine may not be as popular in Russia as in many other countries, but because the population is large; over 460 million, Russia is actually one of the top ten wine consuming countries in the world. 300 million litres of wine are produced in Russia each year and 600 million litres are imported.

The Russians don't drink as much per person each year as other countries. On average, each person drinks seven litres each year while in France, each person drinks more than 40 litres of wine and in Italy, each person drinks on average 30 litres.

Russia is trying to expand the amount of land dedicated to vineyards. In 2014, 25,000 hectares were added in Crimea.
The Growing Popularity of Russian Wine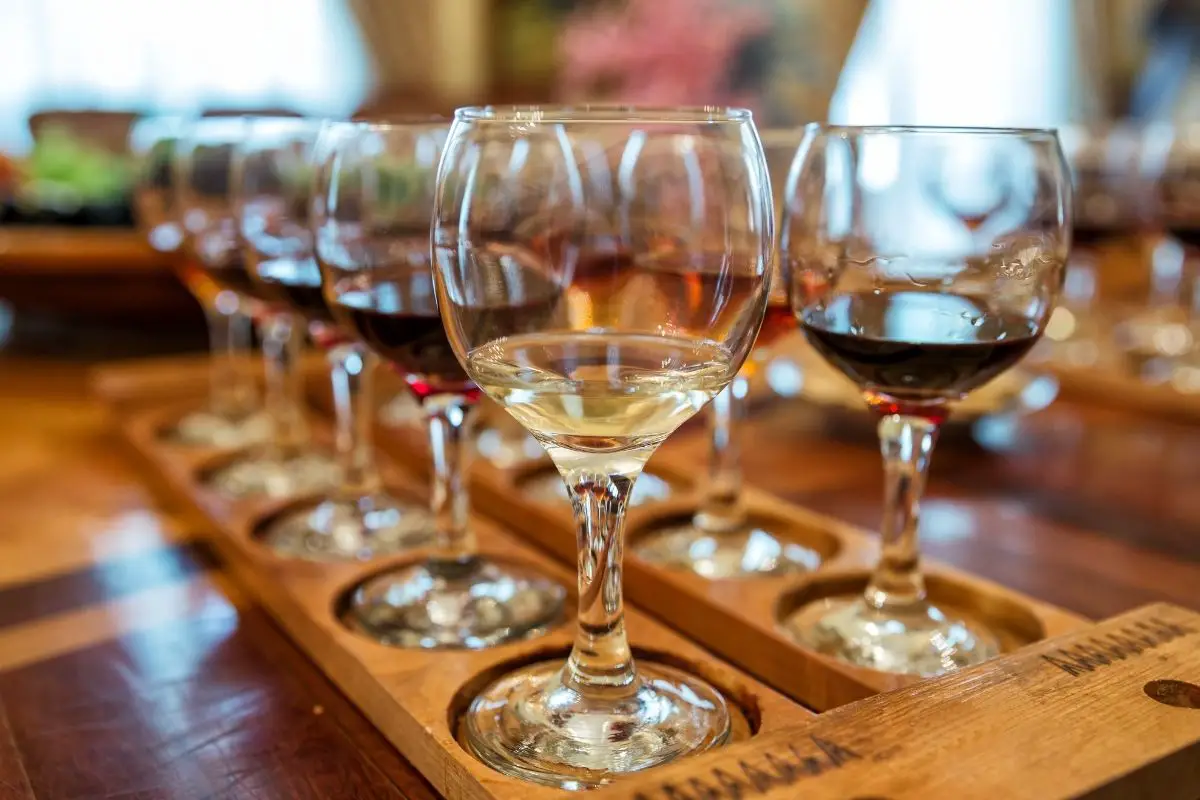 Russian wine has become more popular in recent years. Many of their wines have won awards and this has brought them to the international stage. Lots of their wines have also received high scores from wine experts. Russian wines  have started to appear in restaurants outside Russia and in supermarkets and off-licences. 
Don't Be Afraid of Russian Wine
You might have tried Russian wine in the past and found it too sweet. That might have put you off trying it again, but Russian wine has changed in recent years and has a better taste profile. Many different wines are now produced, including wines from foreign grapes such as Chardonnay and Merlot. You can get red wine, white, rose, and sparkling. Sparkling wine is especially popular. In Russia.
How Expensive Is Russian Wine?
Russian wine comes in a range of prices which will suit different budgets. You can get decent bottles of wine for reasonable prices so you don't have to break the bank. 
Some Russian wine is produced in small batches and you will find that these bottles are more expensive than ones that are produced in large batches. 
There are some Russian producers who produce wine specifically for drinking at home and other wines for drinking in restaurants. The wines produced for drinking at home are cheaper.
Russian Wine Guides
There are plenty of books out there about Russian wines so you have the opportunity to research the wines before you try them. The internet is also a good source of information. You will be able to find out about the types of wines, the region where the wine is produced, the winemakers, ratings, and tasting notes.
Frequently Asked Questions
Can I buy Russian wine in the UK?
Yes, you can find Russian wines in the UK. It's a good idea to look it up online and then you will be able to find the stores closest to you. 
Where are the vineyards in Russia?
Most of the vineyards are situated between the Caspian Sea and Black Sea near Georgia, 
Ukraine, and Azerbaijan. This is because the climate is not as cold as the rest of Russia can be. It has more of a Mediterranean climate so the winters aren't as harsh.
Where is Farangoria wine produced?
The Farangoria Winery is situated in the Taman Peninsula which borders the Black Sea to the south. The Farangoria Winery is one of the best in Russia with many of its wines winning awards. There is archeological evidence that wine has been produced in the Taman Peninsula for thousands of years.
Conclusion
It is unlikely that 40 – 50 years ago you would be drinking Russian wine. Not only did the Iron Curtain prohibit many exports, but the wines weren't very good. They were overly sweet, but they did sell in Russia and were popular with the people. However, their palates have changed and they now like a wider range of wines.
There is a great variety of wines coming out of Russia nowadays. You can still get wines made from Russian grapes, but over the last few decades the wines have been refined. Now, however, Russian winemakers are making wines from foreign grapes that can rival the originals.
Of course, visiting the wineries would be the best way to try out different Russian wines. However, a more economical option would be to buy a selection of Russian wines and invite friends over for a tasting. Choose a mixture of reds, whites, roses, and sparkling wines. In this way you should be able to discover which wines you like. Remember to supply snacks to go with the tasting as you don't want to get too tipsy and forget what you have drunk. It is a good idea to make notes about each wine that you try.
We hope that this article has given you a good introduction to Russian wines and that it has inspired you to try some varieties. We are sure you won't be disappointed.