Perhaps you enjoy a glass of wine or two. If so, you might have visited wineries for a tasting tour and discovered new wines. In this article, we are going to take a look at the wineries on New York's North Fork on Long Island. It is a beautiful island with amazing coastal scenery, but what stands out are the wineries. 
The Location of Long Island
If you're not familiar with New York you might not know where Long Island is. It is a long island and is directly southeast from Manhattan. It stretches east towards the Atlantic Ocean and travels parallel to the whole of the Connecticut coast. There is a ferry from Connecticut to Long Island so if you are coming from Connecticut, you will easily reach the wineries. Long Island is bounded on the north by Long Island Sound, on the east and the south by the Atlantic Ocean, and on the west by New York Bay and East River.
As you travel along Long Island, the island splits into two forks at a town called Riverhead. The Hamptons, the summer destination of the rich, is on the South Fork. The North Fork is in Suffolk County and is one of the last areas of rural country living on Long Island. North Fork has been designated as an American Viticulture Area for its rich lands suitable for growing wine grapes.
A Quick Look at the Wines of the World
The production of wine goes back centuries especially in Europe. France is one of the most significant producers of wine in the world and of course, is the only place where Champagne can be produced. There are plenty of wineries you can visit in France in ten different regions. Portugal is famous for wines and ports produced in the Douro Valley and Spain produces sherry and wines such as Albarino. 
Nowadays, Australia and Chile are famous for their wines. In the US, most of us will have heard of the Napa and Sonoma Valleys in California and the vineyards of Washington and Oregan. However, the North Fork of Long Island should be added to your list of excellent wine producing areas.
Why are North Fork Wineries So Highly Regarded?
The climate of North Fork is ideal for growing grapes. The region is sandwiched between the Peconic Bay on one side and the Long Island Sound on the other. The climate is cool and perfect for most grape varieties.
The different wineries buy grapes from each other and this gives them a chance to produce different wines using their various techniques. This gives you a good opportunity to try wines made with the same grapes but tasting differently because of the techniques used. 
Broad styles of wine are produced on North Fork. You will experience concrete-aged whites, traditional-method sparkling wines, oak-aged reds, and dessert wines. There are almost 500 acres of vineyards in North Fork.
The wines produced in North Fork have a low to moderate alcohol level,  have intense aromas and flavours, and are crisply acidic.
Long Island's History
Long Island was first settled by Native American tribes including the Montaukett and Lenape. In the 17th century, it was settled by Europenas, in particular the Dutch and the English. They argued about who owned the land and in 1674 the island was declared English. During the Revolutionary War, there was the Battle of Long Island, also known as The Battle of Brooklyn and The Battle of Brooklyn Heights. It happened on just one day, Tuesday August 27th 1776 on the western edge of Long Island in what is now known as Brooklyn. The British defeated the Americans and gained possession of the port of New York. However, the US officially gained independence from Europe when the Treaty of Paris was signed on September 3rd 1783.
Nowadays, Long Island is still a rural area although the introduction of ferries, railroads, and subways did bring some development to the island in the late 19th century. 
Long Island's Wine_Making
Long Island's wine production is relatively new. The first vineyard was planted in1973 in the town of Cutchogue. Acreage expanded in the 1980's and 1990's as winemakers began to realise the potential for fine wine buried in the soil of Long Island.  Nowadays, the North Fork wine region is the largest producer of European wine grapes on the East Coast of the US. 
Winemakers in this area use both traditional and new methods to produce wine, making the wine region of North Fork exciting and innovative. The winemakers also share crops giving you an interesting range of wines to try.
Planning the Trip
It is a good idea to plan your trip to North Fork before you go. In this section we will give you some information on hotels to stay in, travel, and food.
Places to Stay
Long Island is a tourist destination so there are plenty of places to stay. You can go for a simple, but homely bed and breakfast right up to luxury accommodation. If you are in the mood for luxury, try Shelter Island. Here there are plenty of top hotels. It is nestled between the North and South Forks and can be reached by ferry. There are some beautiful views here that make the trip worthwhile. If you want to be near a beach, there are hotels in The Hamptons and Montauk. In between the two forks, you will find the beaches of the Peconic River. You can stay in Riverhead or Aquebogue. Try A Room with a View at The Hamptons, Queen Resort Inn in Montauk, or Aquaby American Beach at Riverhead. 
If you are interested in the history of Long Island as well as trying out the wines, head to Port Jefferson and Danfords Hotel and Marina. This town was influential during the Revolutionary War and was the beginning and end of General Washington's spy trail. You can catch a ferry from here to Connecticut.
If you are only interested in wine, why not stay at a winery. Some wineries have accommodation, for example, The Shinn Estate.
If you are looking for budget accomodation in the North Fork, there are plenty of Airbnb to choose from.
Getting to Long Island
From Connecticut. There are a number of ferries that travel between Connecticut and Long Island. 

From Brooklyn/Manhattan. To get to Long Island from Brooklyn or Manhattan, take the Long Island railroad. The LIRR railroad is reliable and budget-friendly.

From  Further Afield. Fly into JFK or LaGuardia airport. Both of these airports are on Long Island, one on the north of the island and one on the south. You can then get the railroad.
Getting to the Wineries
Once you are in North Fork, you will need to work out how to get to the wineries. You can't walk to them as they are quite far apart and they are situated on highways and therefore it isn't safe to walk. The LIRR doesn't get close enough to the wineries and there aren't buses or subways that go to them. However, there are other options.
Car Service. Use Uber or Lyft to pick you up and drop you off at each winery. If there's a group of you, this is really economical. You will need to call for your lift after each winery so remember to bring your mobile and phone charger. The wineries should allow you to charge your phone if needed. In some parts of Long Island, the wi-fi service might be a bit dodgy unfortunately. A way to get around this is to arrange all your pick-up times before you go. Remember, however, to give yourself enough time at each winery as you may find a wine you really like and want to sip it in peace.

Tours. You can tour with a limo. It will drop you off at each winery and wait for you but, depending on how many wineries you visit, it can be expensive. On average, it is around $250, but it can cost as much as $400. 
We recommend Gold Star Limousines. You get a good package with them. They pick you up and drop you back at your hotel. They take you to three wineries of your choice, give you a gourmet lunch, bottles of water in the car, and a final stop at Briermere Farm, which is a fruit farm and bakery.
A bachelorette party can be celebrated brilliantly with First Glass Wine Tours. They arrange accommodation for you so that you can continue the celebrations after your tour. The tour includes pick up and drop off, visits to three wineries, snacks and water in the car, a gourmet three-course lunch, and a gift for the bride.
If you decide that a limo tour is too much of an extravagance, you can take a bus tour. This will give you visits to three wineries, a picnic lunch, and a guide. 
Bikes
There are plenty of places on North Fork that rent out bikes and will deliver the bikes to your hotel and pick them up. They will even meet you at the railway station. However, remember that you will be riding on the highway which can be dangerous for bikers. In addition, traffic laws apply to bikers so you shouldn't drink much. The maximum blood alcohol limit is 0.08% and this is 100ml of wine.. Of course, this varies between people according to their weight and height so it's better not to drink at all. This really defeats the object of visiting wineries so perhaps you should take a tour.
Car Rentals
You can rent a car to visit the wineries, but again there are the drink driving laws. If you are spending a few days touring wineries perhaps people can take it in turns to drive. Of course, you can buy bottles of wine to drink in the hotel after your tasting. 
There are plenty of places to rent cars, for example in Brooklyn. You could also rent a car at one of the airports or take a train to Port Jefferson or Riverhead and rent a car there.
Eating on Long Island
If you are drinking wine, you need to eat as well to stop you getting drunk too quickly. Be sure to have a hearty breakfast before you head out. Some of the wineries do have food options so check before you go so you can plan your day. Other wineries allow you to bring a picnic, but you might find this difficult if you are staying at a hotel. 
There are restaurants on Long Island, although there are long stretches along the highway where there isn't anything. You need to head to one of the main towns like Riverdale or Port Jefferson. There are plenty of restaurants in these towns  and shops where you can buy snacks to eat in the car or bus.  
On the western side of North Fork, you will find Jamesport and there are many restaurants in this area. Try Jamesport Manor or Jedediah Hawkind. On the eastern side of North Fork stop off at Greenpoint or Shelter Island where you can have some fine dining. Seafood is a speciality in both of these towns. Some restaurants are even right by the water so sip a cocktail admiring the view while waiting for your dressed crab.
Let's take a look at seafood on the island. You will find plenty of small restaurants on the piers serving excellent oysters, crab, and fried clams. However, there are fancier restaurants in Montauk and The Hamptons, but you will probably need to book.
Anchor Down Seafood Bar and Grill, Merrick. This restaurant has been voted the number one seafood restaurant on Long Island by the locals for many years. What better recommendation could you get than that?

Bostwicks Chowder House. This restaurant is in The Hamptons and offers a true seafood experience. You can eat inside or out in the summertime.

Port Waterfront Bar and Grill. This seafood restaurant is based in Greenford. You get fine dining here and beautiful views. You can eat inside or out and the restaurant is based on a spectacular waterfront. Seafood options include tuna wraps and crab-stuffed lobster. If you don't like seafood, steaks, chicken, and pasta are all on the menu as well.
Perhaps you aren't a fan of seafood or fish or perhaps you've just had it for too many days. If so, there are plenty of other restaurants on Long Island.
Farm Country Kitchen. This restaurant is based in Riverdale in a renovated 1800s farmhouse. It's a great place for lunch, serving salads, appetisers, sandwiches, paninis, and plates, including vegetarian options.

Old Fields. This restaurant is in Greenland. It serves dry aged beef and barbecue, as well as unique craft cocktails. The burgers and steaks  are marinated in the original 1955 recipe.

Peter Zuger SteakHouse. As the name suggests, steak is the main food served at this restaurant. There are just two options: ribeye and porterhouse. However, you can get sides and salads as well.
There are a few stops you can make while you are travelling around North Fork. Go to the Village Cheese Shop in Mattituck where they have 150 cheeses. Cheese is a great accompaniment to wine so when you take your bottles back to your hotel, you will have something to nibble. At Briermere Farms you can pick up a pie. 
The Best Wineries  and Vineyards in North Fork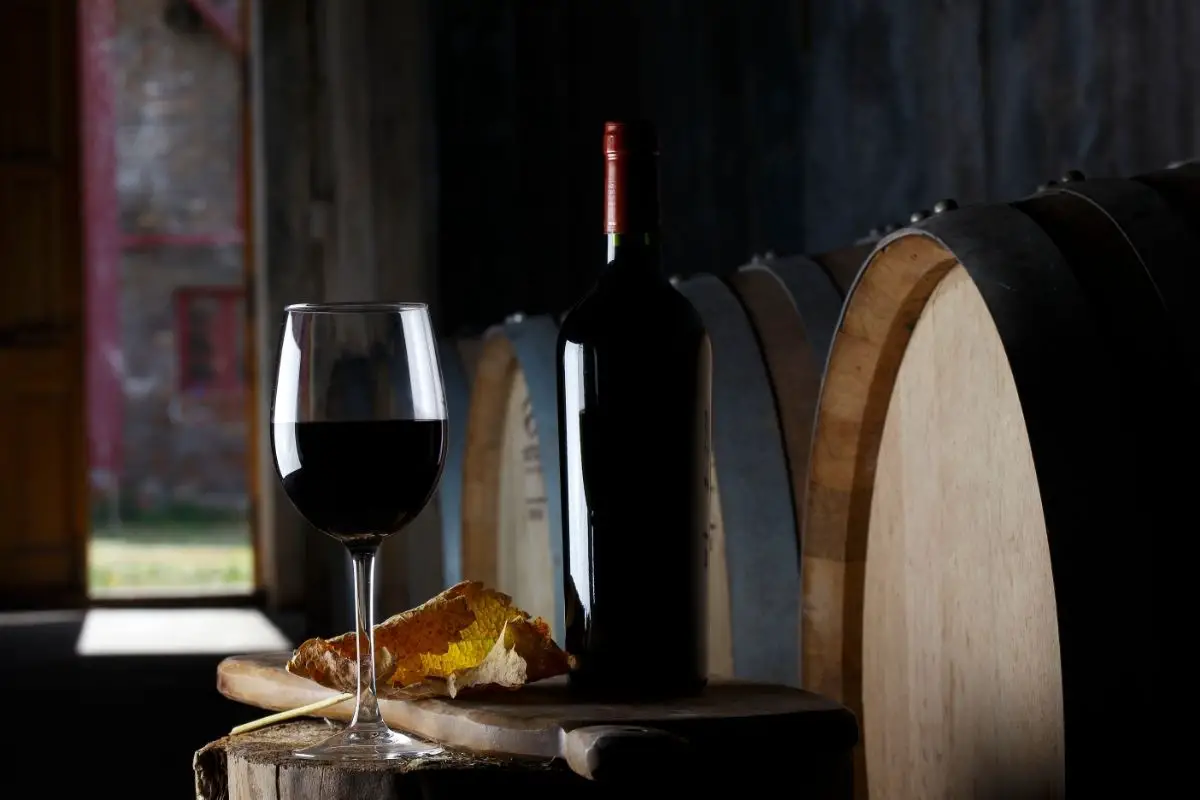 There are around 90 wineries and vineyards in the North Fork so we are going to choose a few that we think are the best.
Baiting Hollow Vineyard
The first vineyard you come across when you travel into North Fork is Baiting Hollow Farm Vineyard. They started to produce Merlot in 2002 and now also produce more reds, roses, white wines and a spectacular dessert wine called Sweet Isis. Their tasting house is situated in a renovated 1861 farmhouse.  As well as wine tasting, they offer great food. You can buy pizza, freshly baked Bavarian pretzels, burger sliders, and more. There is live music at weekends and there are five bars open during the summer season. During the week, they have a cool sound system playing all day. 
Baiting Hollow Vineyard used to have a horse rescue centre taking in sick, injured, and horses waiting to be euthanized, but unfortunately it has had to close due to a lack of money. However, they have named some of their wines after the horses they rescued. 
You can bring your dogs with you to this winery as long as you keep them outside and pick up after them.
Recommendation : Sweet Isis
Sweet Isis is the only dessert wine you can try and buy at Baiting Hollow. It has notes of lychee, apricot, and clove, with citrus and ripe fruit flavours. It has a balanced acidity and is the perfect way to end a meal. It pairs well with blue cheese such as stilton or gorgonzola. It also goes well with fruit desserts such as pear tatin, apple pie, and fruit crumble.
Jason's Vineyard
Jason's Vineyard is named after the hero of the Golden Fleece, Jason. He was a Greek mythological character who rallied the Argonauts and became ruler of Thessaly. Jason's Vineyard was planted in1996 and they produce red wine, white wine, rose, including a bubbly rose, and a dessert wine. They have a lovely tasting room which is themed. The bar is shaped like the port of the Argonauts' ship complete with sails. Even a couple of the wines are themed such as Golden Fleece and Hercules. The staff are knowledgeable and are very happy to answer your questions.
On weekends there is live music.
The winery is pet friendly as long as you sit outside. A novelty of the winery is that they have sheep and alpacas.
Recommendations: Golden Fleece
The Golden Fleece is one of Jason's Vineyards white wines. It is made from five different varieties, 42% stainless steel fermented Chardonnay, 24% Seyval Blanc, 21% Cayuga, 9% Vidal Blanc, and 5% Riesling. It is clean and has a crisp acidity. It is fruit-driven with aromas and flavours of melon, pear, and citrus. There is also a hint of spice. It pairs well with fish, chicken, and vegetarian food.
Hercules
Hercules is a sweet red wine and is a blend of Merlot and Cabernet. It can be paired with both sweet and savoury dishes. Spicy food is a good pairing as are fruit desserts and chocolate. It would also make a good ingredient in hot mulled spiced wine.
Shinn Estate Vineyards and Farmhouse
If you are keen on staying at a winery, why not try Shinn Estate Vineyards and Farmhouse. They offer bed and breakfast and the breakfast is delicious. You are given a free glass and tasting when you check in. There is a hair dryer in the room, as well as a dryer and complimentary toiletries. 
As to the wine tasting, here is indoor and outdoor seating where you can enjoy your wines and watch the chickens that are on site. You can take a walking tour by yourself around the fermentation room and vineyards. They give you a booklet with information you might need about the winery. 
Recommendation: Coalescence 
Coalescence is a white wine and is a blend of Chardonnay, Sauvignon Blanc, and Riesling. It's a tangy refreshing wine with clean vibrant citrus notes and a fresh finish. You can taste apples, peaches, and tarragon. There is a crisp acidity, a light body, and a touch of sweetness.  Each variety of wine is fermented separately in stainless steel barrels which keeps their flavours pure.
Sherwood House
Sherwood House is open every day and offers two wine-tasting experiences. The first is a guided tasting by a member of the staff, The other is an a la carte menu  with flights and wines by the glass. An assortment of local snacks is available for purchase. You're not allowed to bring your own food. You can also book a private tasting. 
The tasting room is attractive. It's in a renovated 1870's farmhouse and the main room has leather furniture and a roaring fire for the winter. Yes, they are open all year.  There are also outdoor areas where you can sip your wine in the summer.
Sherwood House offers both whites and reds, but all the whites are Chardonnays so if you like white wine but don't like Chardonnay, this might not be the place for you. They also offer a sparkling rose which is their most popular wine.  All the grapes are grown on-site. Once you've had enough wine, visit their art gallery.
Recommendation: 2017 Brut Rose
This wine has been made in the traditional champagne method. It is a bright sparkling wine and has aromas and flavours of strawberries, raspberries, citrus, apple, and pear with a finish of toasted brioche. It pairs well with chicken, spicy food, fried food, and chocolate desserts.
Paumanok Winery
Paumanok Winery is a small winery which uses only the grapes they have grown. The wines are limited-production and they only produce 12,000 cases a year. The fermentation room is in an attractive renovated farmhouse barn where you can relax and enjoy your wine. You can have a tour around the winery if you book in advance. To soak up the wine, order the oysters they sell on deck.
Recommendation: 2017 Chenin Blanc
This Chenin Blanc is made from 100%  Chenin Blanc grapes. It has been produced according to the traditional method meaning that it has spent three years ageing in the bottle on the lees. It is a light, refreshing, crisp, dry and bubbly wine. There are pineapple and melon notes with a heavy lemon finish. It pairs with shrimp, crab, lobster, and caviar as well as poultry. It also goes well with cheeses such as Cheddar, Brie, Gruyere, and herb crusted goats cheese. It is the perfect summer drink.
For the winter try the Merlot which has notes of light red fruits such as strawberries, as well as of cherries. 
Jamesport Vineyards
This is one of the oldest vineyards in North Fork, having been opened in 1986. It is a father-son enterprise and they produce three different ranges of wines. The Reserve lines are aged for a little longer than the others. The Estate line focuses on the agricultural techniques of North Fork. The East End range focuses on grapes that are grown near to the water. 
The winery and tasting rooms are based in a 165-year-old renovated barn. The tasting room is very much in keeping with the style of the building. If it's a nice day, there is an outside area with a covered patio and there is a bar out there as well. The tables have umbrellas if you want to be shielded from the sun. 
During the winter you can get food. The Little Oak Wood Fired Kitchen serves pizzas and small plates. The food relies on the harvest of the season and the heat of the wood fired oven. The pizzas can be either thin or thick crust. In the summer, there is live jazz.
Recommendations: 2018 Estate Chardonnay
This Chardonnay has been aged in stainless steel, not oak, so it doesn't have tastes of wood and vanilla. Instead, you first get flavours of coconut and almond and then honeydew melon and honeysuckle which balances out the nutty flavours. The wine has a crisp acidity and a bitter finish. It pairs well with seafood such as oysters and clams, fish, poultry, and cheeses such as goats cheese.
Other choices are the Estate Sauvignon Blanc and the Albarino.
Laurel Lake Vineyards
Laurel Lake Vineyards were purchased by a group of Chilean and American vintner friends who loved wine. The vineyards are nestled in a quiet, agricultural setting, but the grounds are huge so it is a great place for a larger group of up to 15  to arrange a wine-tasting. You can even have your wedding or other event here.  
The tasting room is large and comfortable. Once you have had your tasting, you can visit the vineyards unsupervised. 
The wines produced are environmentally friendly. Indigienous yeast and bacteria are used to ferment the wine. It isn't filtered and the white wine is aged on the lees in neutral oak barrels and small stainless steel barrels, bringing in some complex flavours. The reds have soft tannins and are produced by using a moderately cool soak fermentation followed by an indiginous yeast fermentation. They are finished with an extended maceration with heat.
Recommendation: 2015 Chardonnay Reserve
This wine has been fermented in French oak barrels and then aged for ten months. It has a light creamy taste with hints of toasted oak and vanilla. There is also a hint of ripe fruit and spice. It pairs well with seafood such as oysters, lobster, and crab as well as vegetarian dishes.
Palmer Vineyard
Palmer Vineyard produces 13 different varieties of wine on 49 acres of vineyards. The wines include Syrah, Viognier, Cabernet Franc, and Albarino. 
The vineyard is situated in an area with beautiful views. You can choose to sit inside or outside for your wine tasting. Indoors is very much like a friendly pub, although it can get full quickly. It can be more relaxing to sit outside. 
For groups of less than ten people, the tasting is taken by one senior staff member. You get a table for one and a half hours, four tastings, and a cheese and charcuterie platter. For groups of ten people or more, your tasting is conducted by two members of staff, you get five tastings, a cheese and charcuterie platter, and the choice of one artisanal cheese. There is a food truck if you want to eat more and there is occasional seafood on the deck. The staff are very knowledgeable and will help you to choose the wines you think you would prefer. 
Palmer Vineyard has recently been taken over by Paumanok Vineyards, but they are still keeping their name.
Recommendations: Gewurztraminer 2021
This white wine has flavours of lychee and passionfruit and a lightly sweet finish. There is also a hint of spice. The sweetness in the wine makes it possible to pair it with slightly spicy savoury food or sweet fruit desserts. It also goes well with raw, grilled, or smoked fish.
Viognier 2021
This wine has distinctive flavorus of lemon curd, kiwi, and honey. These mix with aromas of flowers and white pepper. It is a full-bodied wine and is highly aromatic. A classic food pairing for Viognier is shrimp., especially shrimp dishes with a hint of spice, cream, or fatty sauces. It also pairs well with creamy and buttery cheeses such as Brie, Camembert, Gruyere, and Comte.
Albarino 2021
This wine is originally from Spain. It has flavours of crisp apple,  sweet peach, and a touch of orange peel. There is an aroma of gardenia. It pairs best with light dishes such as vegetarian dishes, poultry and seafood.
Syrah 2019
This Syrah has aromas of violet and lavender and flavours of raspberries and herbs. It pairs well with barbecued food and cheeses such as blue cheeses, Pecorino,aged Cheddar, and Gouda.
Raphael Vineyards
Raphael Vineyards say that they produce New World Wines at an Old World Vineyard. Old World tradition states that the vines should be pruned. It does reduce the amount of grapes, but the benefits are worth it. Pruning allows air and sunlight to reach the inside of the vines giving them the sunlight, air flow, and nutrition they need to thrive. Raphael also harvests its grapes by hand. They consider this gentler on valuable grapes and believe that only a trained eye can harvest the best fruit. 
The Winery  building  is also very Old World. There are mahogany staircases and the tasting room  has an impressive chandelier. It is reminiscent of Spain or Italy.
Raphael produces their wines sustainably. They don't filter their wine. Instead it rests for a while. This naturally settles the yeast through gravity. The wine then gets racked on the lees and the clear wine is syphoned off from the cloudy wine.
If you want to take a tour of the winery and have a tasting you will need to book in advance. If you are thirsty you can buy beer there as well. As for food, it is better than many other wineries. They sell upscale tapas, continuing the Mediterranean theme.
Raphael produces both red and white wines. The red wines generally taste of berries, such as blackberries, blackcurrants, raspberries, and boysenberries. The white wines have a distinct minerality to them. In addition, the winery makes port.
Recommendation: Riesling Port
It is quite unusual to find a good example of a port outside Portugal. However, Raphael, seems to have got it right. This Riesling Port is semi-sweet with flavours of berries such as strawberries and raspberries, and caramel as well as lime zest, ripe apricots, and minerals. The aroma is floral with honeysuckle and citrus blossom notes. It tastes sweet but the finish is acidic. Port pairs well with a cheese board. The contrasting flavours of salty cheese and the sweeter tasting Port give a new experience of palate pleasing tastes. Blue cheese is the classic pairing for Port but it can also pair easily with the strong flavours of aged Gouda, Gruyere, Romano, Cheddar, and Parmesan. This Riesling Port will also pair well with seafood and pate.
What Happens at a Wine Tasting?
When you go to a North Fork Winery, you are likely to go straight into the tasting room. The bar usually takes centre-stage and the rest of the room generally has comfortable furniture so that you can relax and enjoy your wine. There is also often an outside area.
Wineries work in different ways. Some will expect you to go to the bar and others will give table service. It is generally better to have table service with a host. He or she will usually ask you to choose all your tastings at once. This isn't because they want you to hurry. It is because they can then decide what order to serve you the wines. They are likely to serve from light to sweet to age with lighter fruitier wines served first and the more bold flavours last. Wine experts suggest that you first taste with your eyes, then your nose, and finally, your mouth. So go slow. You will be able to savour your wines better this way. Don't be afraid to ask questions. The staff will probably have been trained and will know about the growing of the grapes, the harvesting, the fermenting of the grapes, and the bottling. Your host may also ask you to watch out for one taste over another. You will soon be a wine expert! Some wineries do an arranged tour where they will choose the wines for you. These tours usually give you a set table time, a dedicated host, and light foods like cheese and charcuterie. 
Some wineries will only allow you to order by the glass. Others will serve flights, while others will allow you to order a bottle. However, ordering a bottle can defeat the object of a wine tasting. If you go to a wine tasting you will want to sample different wines and then decide which you enjoy the most. The wineries will allow you to buy bottles to take home with you. After all, this is a sizable income for them. 
Be sure to check the website of the winery you are visiting to see what their rules are. You may also get information about the wines they have which may sway your decision as to which winery you visit.
Tips For Visiting Wineries and Vineyards
The first thing we would say is not to drink too much. You don't want to be falling all over the place, particularly if the winery allows you to visit their vineyards.You are usually given the opportunity to spit the wine out after you have tasted it. Perhaps that seems like a waste, but if you find that you are getting a bit tipsy, it might be a good idea. A tasting room isn't a bar. If you are going on a winery crawl, limit your samples to one or two tastings at each, It's also a good idea to have a hearty meal before you go. Take snacks for the journey and if the winery offers snacks, it is a good idea to buy some. If you want to bring a picnic, check that the winery allows you to bring your own food. Wineries that do sell food usually won't allow you to bring your own. 
Bring some small change to tip your hosts and servers. They will usually give you a lot of information so they deserve it.
Finally, bring a notebook to make notes about the wine. This will help you choose suitable bottles of wine in the future.
Frequently Asked Questions
How long does a tasting last?
This varies between wineries and depends on how you are doing the tasting. If you are just travelling on your own, it is more or less up to you. The winery won't turn you away if you are spending money. However, if you are going on a bus tour that compiles four to six wineries, you will probably be at each winery for 30  – 40 minutes and will have time for just a couple of tastings at each. There are, however, other wineries which allow you to book a longer wine tasting. The tasting will usually last for an hour and a half, you will get a set number of tastings, a host, and usually some food.
Is the wine produced in Long Island good?
We think that this article has proved that North Fork, Long Island, produces excellent wines. However, don't take our word for it. Most of the wines have received good reviews from wine experts. On the Wine Spectator's scale, the wines have usually received 85/100 points. 
Are North Fork wineries and vineyards open during the winter?
Yes, many of them are. However, check the websites as some will have shortened hours for the winter.
Are You Going to Book Your Trip to North Fork Wineries?
We hope that we have convinced you that it is a good idea to visit North Fork Wineries. Yes, it is a new region and perhaps you haven't heard that much about it. However, it has  a unique character. The climate is perfect for growing grapes. North Fork is surrounded by water which acts as a mitigator of the temperature, effectively buffering both warm and cold fronts. In addition, the ground beneath the topsoil is porous so the water drains away easily. Vines don't like standing in water and it can destroy them. 
Yes, it might be a bit of a trek getting to North Fork unless you live close by, but why not combine a holiday in Manhattan seeing the sights and shows, with a wine tasting tour on North Fork. You can go for a weekend or a week, but we think you won't regret it.