Having had time to review and reflect on the En Primeur 2010 tastings here is my final list of wines that impressed above all others. These wines are, to my mind, are the stars of 2010.
Chateau Haut Brion. 57% Cabernet Sauvignon, 23% Merlot, 20% Cabe
rnet Franc. Whilst in Bordeaux at En Primeur I am sometimes lucky enough to encounter a wine that gives me that Eureka moment and Haut Brion gave me that WOW factor as soon as I smelt it.
It was such a beautiful fruity nose, absolutely delicious and you can use any superlative you like and it would have covered it once in the mouth. It has power, charm, finesse, lovely tannins, velvet fruits and hints of minerals and spice.
This has to be the top wine out of the First Growths for me which I am very pleased about as the chateau is somewhat overshadow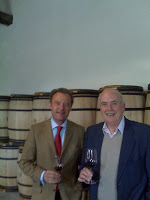 ed – far too many times – by its better known cousins.
Chateau Mouton Rothschild. 94% Cabernet Sauvignon, 6% Merlot. Alcohol level 14%. Floral and fruity on the nose. Soft in the mouth with a good mixture of tannins and spice. Very long finish.
Chateau Lafite. 87.2% Cabernet Sauvignon, 12.8% Merlot. Alcohol level 13.5%. pH 3.7. Slightly shy on the nose but soft in the mouth and full of fruit. Well balanced, lacking the punch of alcohol. A very long finish and a very satisfying wine which, I am sure, will be highly sought after.
Chateau Margaux. 90% Cabernet Sauvignon, 7% Merlot, 1.5% Cabernet Franc, 1.5% Petit Verdot. Fresh and clean in the mouth. Good fruit, good length. Not overpower
ing in alcohol or tannins. A classic vintage.
Chateau Ausone. Premier Grand Cru Classé (A) Saint Emilion. 65% Merlot, 25% Cabernet Franc, 10% Cabernet Sauvignon. Alcohol level 14.5%. pH 3.53.
There is no evidence of alcohol on the nose or in the mouth. Full blown fruits in the mouth, very well balanced. A beautiful wine.
Chateau Grand Puy Lacoste. 83% Cabernet Sauvignon, 17% Merlot A charming, elegant wine with a beautiful deep crimson colour, nice harmony on the nose of fruits.
In the mouth the tannins were silky, loads of fruit, well balanced all the way through, great long length.
Chateau Palmer. 40% Cabernet Sauvignon, 54% Merlot, 6% Petit Verdot. Alcohol level 14.5%. pH 3.65. When I saw the majority of Merlot in the blend, after my experiences this week, I thought I was going to be disappointed but far fro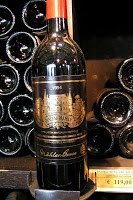 m it.
Palmer have produced a lovely First Wine without any evidence of tannins or high alcohol in the mouth.
The wine has great power but is full of charm and seduction. Full of black fruits in the mouth and with long length given time I am sure that this will be a superb drinking wine.
Vieux Chateau Certan. Pomerol. 86% Merlot, 8% Cabernet Franc, 6% Cabernet Sauvignon. Alcohol level 14.5%. pH 3.75. I really like this wine. It came over well on the nose as in the mouth, lots of fruit, good structure and very well balanced.
Alexandre compared it to the vintage of 1950. However as good as it is this year his yields are down 25% so I can see a lot of people scrambling for this wine at En Primeur, depending on the price. An excellent Pomerol.
Chateau Troplong Mondot. Premier Grand Cru Classé (B) Saint Emilion. 85% Merlot, 5% Cabernet Franc, 5% Cabern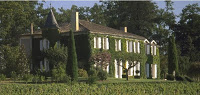 et Sauvignon. Alcohol level 15.5%. pH 3.6. Once I saw the alcohol level was 15.5% I thought that the wine would be hot and would not suit my palate.
I could not have been more wrong. Troplong Mondot have got it absolutely right this year. Fantastic colour, opulent fruits on the nose, great depth with complex aromas. It just wanted me to taste it. In the mouth flavours of blueberries and blackberries – a lovely, lovely wine.
This is a great example of an estate whose previous vintages have been somewhat overlooked. This year I hope people will take note of it because they work very hard to produce some great wines. Bravo to Troplong Mondot for the 2010!
Chateau Haut Bailly. 62% Cabernet Sauvignon, 36% Merlot, 2% Cabernet Franc. Alcohol level 13.9%. pH 3.6. In the glass the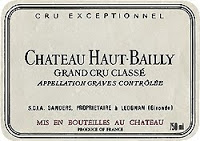 colour was a lovely deep crimson.
On the nose I got very good fruit full of ripe blackcurrants. Silky. Good structure to this wine. Complex in the mouth with nice spicy hints. Good length and complexity on the finish.
Chateau Brane Cantenac. 60% Cabernet Sauvignon, 32% Merlot, 8% Cabernet Franc. Great dark crimson colour, a complex nose with lots of fruits evident, great roundness of fruit in the mouth, hints of spices and soft tannins with good length. I think this will develop into a very good wine.
Chateau La Fleur Morange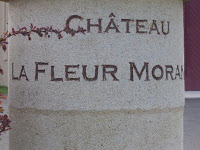 . A deep ruby purple colour. Sweet aromas of jammy blueberries and blackberries with a subtle hint of new oak on the nose.
In the mouth it becomes immediately round, soft and richly textured. With an alcohol level of 15.5% there is no evidence of this either in the nose or the mouth.
PH level 3.4, very well balanced. Of the Saint Emilion's I tasted this has to be one of the best. It has everything you look for in a genuine opulent wine.
Chateau Montrose. 53% Cabernet Sauvignon, 37% Merlot, 9% Cabernet Franc, 1% Petit Verdot. Alcohol level 13.5%. pH 3.65. Although slightly shy on the nose the fruit definitely does come through. Soft in the mouth, subtle tannins, great balance. I think this is another good year for Montrose!
Chateau Pichon Baron. 79% Cabernet Sauvignon, 21% Merlot. Alcohol level 13.8%. pH 3.68. Rich intense colour. Good fruits on the nose which transferred into the mouth very well. Good balance and a well structured wine.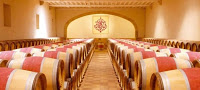 Chateau Phelan Segur. 51% Cabernet Sauvignon, 49% Merlot. Alcohol level 14%. pH 3.75. I thought this had a lovely nose, full of black fruits, soft and round in the mouth, good balance. All in all a very good example from the estate.
Chateau Pichon Lalande. 66% Cabernet Sauvignon, 24% Merlot, 7% Cabernet Franc, 3% Petit Verdot. A really dark crimson in the glass. Very pleasant on the nose, good black fruits in the mouth with woody blackberries coming through. Slight tannins but well balanced.
Leoville Las Cases. 82% Cabernet Sauvignon, 10% Merlot, 8% Cabernet Franc. Alcohol level 13.7%. pH 3.56. Over the past few years Leoville Las Cases has produced some lovely wines and this year is no different. Cherries and black fruits on the nose but also hints of roses and toffee apple. An almost floral presence. Lots of fruit in the mouth, nice rich balanced tannins, lovely structure.
Chateau La Conseillante. 80% Merlot, 20% Cabernet Franc. Alcohol level 14.5%. pH 3.6. Like most of the wines from this appellation it showed great colour in the glass. Good fruit on the nose with hints of herbs and cocoa. Round and soft in the mouth. Good tannins and excellent length.
Chateau Pontet Canet. 65% Cabernet Sauvignon, 30% Merlot, 4% Cabernet Franc, 1% Petit Verdot. Great colour, great fruit in the mouth, beautifully balanced, long finish with subtle hint of oak, minerals and fruit. A very very nice wine. I could almost drink it now.
Chateau Duhart Milon. 73% Cabernet Sauvignon, 37% Merlot. Alcohol level 13.5%. pH 3.7. A little closed on the nose but the fruit came through in the mouth. Tannins and alcohol were evident but not austere. I enjoyed this wine and I thought it came across very well.