Whilst away in B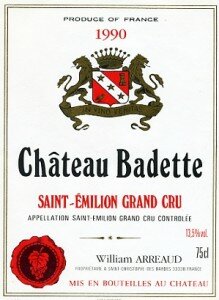 ordeaux I cam across an unusual story about a Saint Emilion château that has lead to one French newspaper headlining the story as "The Curse of Badette".
Chateau Badette lies in Saint Christophe des Bardes, one of the satellite wine producing communes of Saint Emilion. Badette also lies at the centre of a legal battle that has been taken as far as the European Court of Human Rights.
Badette was owned by William Arreaud who had a relationship in 1960 with a local girl that resulted in him fathering a son, named Christian.
The rumour goes that Arreaud's father talked him out of marriage and that the local girl then married a Mr Pascaud in 1961.
According to Christian, Mr Pascaud never behaved like a father towards him and that he had been told at a very early stage (and that it was common knowledge) that his real father was Arreaud. His mother and her husband divorced in 1981.
Apparently Christian met Arreaud in strictest secrecy for many years and Arreaud had promised him that he would regularise the situation on his mother's death.
In 1993 Arreaud suffered severe brain damage from a stroke and cut a deal with the Town Hall to pay for Chateau Badette's upkeep until his death in exchange for the property. Starting in 2000 Christian began to fight for his right to be officially acknowledged by his father.
Christian initiated proceedings to have Arreaud's name put on his birth certificate and DNA tests were ordered. In July and August 2001 Arreaud was summoned for testing at the medical laboratory on 3 occasions but failed to attend. In September 2001 Arreaud was placed under Judicial protection.
The guardianship Judge, noting that Arreaud had no "known relatives", authorised the Deputy Mayor of Saint Emilion to act on his behalf.
On 2 October 2001, at a meeting with the Mayor of Saint-Christophe-des-Bardes, Arreaud told him of his decision to recognise Christian officially as his son. The Mayor sought instructions from State Counsel's Office, and in the meantime refrained from formally registering the acknowledgement of paternity.
After Arreaud's written consent had been obtained, DNA tests were performed and they concluded that there was a 99.999% likelihood that Arreaud was Christian's father. However Arreaud died in 2002 and the legal proceedings Christian had started were struck out of Court despite the fact that DNA evidence had proved his lineage.
The fact that Arreaud had decided to recognise Christian as his son was dismissed due to doubts as to whether he was mentally fit enough to have made the decision.
In 2007 the municipality of Saint Emilion tried to sell Badette by auction, having had it valued at 3.7 million euros. The auction was conducted in traditional manner 'a la bougie' (literally, 'by candle') at the To
wn Hall.
A candle is lit to mark the beginning of the sale and replaced by others during the bidding. The extinction of two candles without further offer announces the last and successful bidder. However, not one person bid for Badette.
In early 2008 the municipality of Saint Emilion told Christian that if Badette was sold he might be awarded compensation in exchange for an undertaking to discontinue all proceedings and actions against the municipality.
Christian turned down the offer and his fight came to a head in June this year when the European Court of Human Rights condemned France for not allowing him to determine his true parentage in court.
The question of Badette is still not settled. T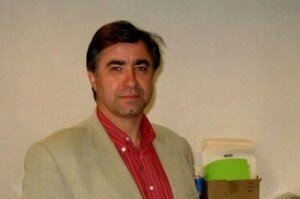 he problem is threefold – the municipality of Saint Emilion is out of pocket as they have been maintaining the estate; there is a right of Appeal held for 3 months after the judgement and Christian could now pursue compensation in further action and furthermore Dominique Leymarie seems to have a right of tenancy on the land, requiring several hundred thousand euros in compensation for his removal.
All this makes Badette almost impossible to sell.
The estate covers 8 hectares and despite its run down condition there is plenty of unrealised potential for an interested buyer.
Neighbouring estates include Clos de Sarpe and Grand Cru Classé Château Haut Sarpe. Badette itself has an ancient history with its name appearing in 1763 on the famous chart of Pierre de Beleyme (engineer geographer of King Louis XV) and was once owned by the Counts de Carles and the Counts d' Allard.
Whether a sale can be effected or whether Christian finally inherits his father's château is any man's guess but I will keep you posted on events!