I spotte
d a report from Idealwine which piqued my interest as it concerned a battle between Chateau Lafite Rothschild and Chateau Lafitte (note the extra 't').
The story hails from Pierre-Henri de Menthon's Blog at Challenges in which he noted that the Court of Appeal at Toulouse noted the withdrawal of the parties (Chateau Lafite Rothschild versus Max Mengin, owner of Chateau Lafitte) on January 11th this year.
Apparently the Rothschilds embarked on a "marathon court action" in 2005 against Max Mengin over the use of the name Lafite.
What had seemingly annoyed the Rothschild's was that Chateau Lafitte (formerly Chateau Lafitte Mengin), a Premier Côtes de Bordeaux was benefiting from the association between their names.
It looks as if the Rothschilds and Mengin signed a mutual agreement in December to end this battle and Max Mengin and got what he wanted: the right to call his wine Chateau Lafitte and not Chateau Lafitte Mengin.
This is the only chateau that will be permitted to take advantage of that designation without having to append Mengin.
Chateau Lafitte lies in Camblanes and has been in existence since 1763 when the vineyard was bought by Raymond Lafitte, a Bordeaux wine merchant.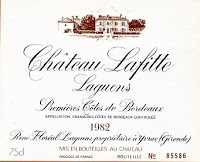 In 1970 the 20 acre estate was purchased by Juliet Mengin who set about rejuvenating and replenishing the vines.
The chateau is now run by Max Mengin and Juliet's grandson Philip and has won an international clientele, especially in Asia. In fact 95% of the wine produced at Chateau Lafitte is exported.
It is not surprising that the Rothschild's are trying to protect their name – last year Château Chenu Lafitte in the Côtes de Bourg 
appellation was bought by a Chinese investor as a gift for his 20 year old son.
In 2008 Château Latour Laguens (in the Entre Deux Mers) was acquired by Chinese investors and the coincidence that both châteaux having the same names as two Pauillac First Growths – notably Lafite and Latour – in their titles has not gone unnoticed.
The objective with both châteaux is to sell the wines in China.
Jim Boyce blogged at Grape Wall of China about the possible confusion over Lafite and Lafitte last November, quite rightly saying:
"Chateau Lafite is insanely popular in China and consumers here should be careful to avoid not only fake bottles, but also mistakenly buying Chateau Lafitte, a separate operation that includes
 a double-t in its name. Let me be clear:
I am not saying there is anything wrong with Chateau Laffite as a wine. Instead, the concern is that some consumers might pay outrageous prices for Lafitte in the belief they are buying the much pricier Lafite.
This could not only mean a loss of money but also a loss of face should that Lafitte be given as as a gift to someone who knows the difference."
The problem is that Lafitte (and Latour) are popular names in Bordeaux. Le Château Floreal Laguens is produced by Chateau Lafitte, Yvrac (who also produced a Château Lafitte Laguens, a Bordeaux Supérieur that doesn't seem to be still in production).
A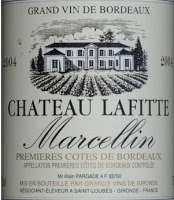 Chateau Lafitte Marcellin (Premier Côtes de Bordeaux) was in production before 2005 – that also seems to have disappeared. Then there are the Saint Estephe Chateau Laffitte Carcasset and the Medoc Chateau Laffitte Laujac and Chateau Lafitte Tramier. Outside Bordeaux there are Chateau Lafitte Test
on (Producing Madiran and Pacherenc) and Chateau Lafitte (Jurancon).
I suppose the only way round the problem for aspiring wine drinkers is to know your wine labels.