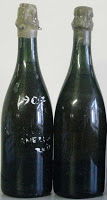 Given that the oldest champagne in the world has been found on the Baltic seabed near the Aland Islands, between Sweden and Finland I was wondering what shipwrecked Champagne has surfaced before and, more importantly, what it tastes like?
I know that Louis Roederer, one of France's oldest champagne producers, stored its champagne on the seabed off Northern France (the Champagne was sold off for charity).
In 1997 Champagne was discovered on board the Jőngkőping, which was sunk by a German submarine in 1916. The Jőngkőping was carrying 5000 bottles of Heidsieck's Goût Américain Champagne of the 1907 vintage (the same brand and year that the Titanic was carrying when it went down).
The champagne was found at 210 feet where it had been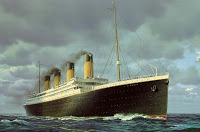 preserved at a constant temperature of 3º – 4ºC. The champagne of this era was sweet rather than dry and once opened there was still a "pop" and a sparkle.
If you fancy a glass it is being sold for an eye popping $275,000 price tag at the Ritz-Carlton hotel in Moscow.
So if we know that the Titanic was carrying the same Champagne – has any surfaced yet? Strangely enough the the Titanic was not even launched with the customary bottle of C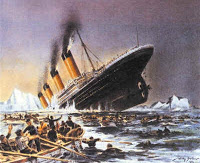 hampagne.
She was launched by the White Star Line on Wednesday, May 31, 1911 in front of all the dignitaries, and over 100,000 spectators watching the event. Lord Pirrie (chairman of Harland and Wolff) simply gave the calm order to the launch foreman.
There was no formally naming ceremony, no bottle of Champagne broken across her bow and the Titanic was never christened.
Breaking a bottle of champagne over the prow of a ship upon its launching and naming stems from an ancient practice dating back to Viking times when an offering of blood was used.
Up until the late 17th century a cup made from precious metal was used – this was thrown over the side of the ship and King William III decreed that this was a wasteful practice and that wine should be used instead.
At the time Britain was building its navy and throwing gold and silver cups over the side was getting expensive! The practice of using Champag
ne came about in the late 19th century although ships can be launched with other liquids – the HMS Sutherland was launched in 1996 by a bottle of Macallan Single Highland Malt Whisky!
Salvaging materials from the Titanic is fraught with controversy and after a long court battle the salvor-in-possession, R.M.S.
Titanic, Inc. was told this August that they are entitled to full compensation for artefacts worth about $110 million that it has recovered. However, US District Judge Rebecca Beach Smith's ruling did not determine how RMS Titanic will be paid.
She said she could take up to a year to decide whether to give RMS title to the approximately 5,900 artefacts or sell them and turn the proceeds over to the company. Meanwhile, RMS will retain possession of the items, which its Atlanta-based parent company 
Premier Exhibitions has been displaying in exhibitions around the world.
R.M.S. Titanic, Inc has salvaged unopened bottles of Champagne found on the Titanic which can be seen in the exhibition. What remains unclear is whether any of that Champagne has found its way into the mainstream.
In 2002, an Australian company called Wineflyers International (whose regular customers apparently include David Bowie) announced it had sourced and sold six bottles of wine from the Titanic to "a high profile customer in Asia."
What that wine was I do not know but apparently it was requested as a joke by a high profile customer in Asia, and Wineflyers searched the globe to locate it. The buyer of course wished not to be named and would consider donating the wines to a national museum (oh really?).
So I guess we will be seeing Champagne from the Titanic being sold for outrageous sums in the next few years . . .