The Perseids always mark the close of Summer for me and this year they will be visible in the sky up to August 24th.
The Perseids have been watched by man for about 2000 years, with the first documentary evidence hailing from China and the Far East. In Europe the Perseids came to be known as the Tears of Saint Lawrence.
The night that Saint Lawrence was martyred by the Romans for being a Christian the skies filled with shooting stars and it was believed that these were his tears shooting from heaven.
Saint Lawrence is also one of the Patron Saints of Wine Makers.
Shooting stars and wine have more in common than you think – there is a legend amongst wine makers that comets create great vintages – and strangely enough it seems to be correct. Comet Vintages are years during which a comet is visible to the naked eye (preferably, I presume, that of the vintner's) prior to harvest. (See Comet Vintages and Drinking Wine by Starlight). Champagne is
also linked to the stars – Dom Perignon, the French Benedictine Monk credited with creating the first Champagne is reputed to have cried out "Come quickly, I am drinking the stars!" when he saw the bubbles sparkling in his wine.
The wine I will be drinking under the shooting stars is not a Champagne but a Crémant d'Alsace. These sparkling wines from Alsace are currently the top AOC sparkling wine to be consumed in homes across France. They have also earned
considerable international recognition. Alsace has been making wine since Roman times. During the year 58 BC, the Romans occupied the left bank of the Rhine River and planted vines for the first time in the region.
During the middle Ages, Alsace wine, known as"Vins d'Aussey" was very famous and was widely exported towards northern Europe on the Rhine River.
Legend has it that in the 7th century King Dagobert constructed a pipeline to carry the wines of Alsace to please a beautiful young lady from Kuttolsheim with whom he had fallen in love.
She asked him to build a pipeline to convey white wine to Strasbourg directly from her native village and this huge undertaking was so successful that
another pipeline was built a few years later, this time for red wine. In the 16th
century the production area extended over an area twice as large as the vineyard today. And wines found their way to England , East Germany and even Italy.
Alsace has its own Patron Saint of wine – Saint Urbain
. He was elected bishop of Rome in 222 and is a well-respected figure in Alsace. In May, there is a local festival that celebrates the arrival of spring and its promises with a folk character named "Pfetterri" which is thrown in the local fountain.
There have been times, however, when Alsatians believed that Saint Urbain had not been good to them, because of bad weather and a bad grape harvest. In those years, it wasn't beyond the people to throw the statue of their own patron saint in the fountain of Dorfbrunne
. Church authorities had to stop them on more than one occasion from destroying the statue!
There are 2 super Crémant d'Alsace that I recommend – both come from the vineyards at Ammerschwihr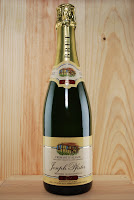 which is well known for its wine and its location on the "Route des Vins d'Alsace" that stretches from Colmar to Ribeauville.
Crémant d'Alsace Joseph Pfister is made from a blend of Pinot Noir, Pinot Blanc and Pinot Auxerrois grapes and was recommended to me by Phillipe Seconde from whom we buy our Champagne
. He told me that "when Champagne makers want a sparkling wine their preference is Crémant d'Alsace".

Having tasted it I can understand why. Traditionally made, it is a pale yellow colour with a dense, very fine mousse lasting to the very last
sip in the glass.
It is very fruity on the nose with definite hints of apricots and plums. It is light and fresh on the palate and an ideal wine for accompanying an entire meal, from the aperitif to the dessert.
Crémant d'Alsace Extra Brut Jean Baptiste Adam (founded in 1614) is made from the Chardonnay grape and is a delicate and dazzling wine with a fine mousse of creamy bubbles
. It has notes of melon, lemon, ripe pear and toast and is crisp and effervescent
. It is a medium weighted sparkling wine with a dry, robust finish and although excellent as an aperitif or as a party drink it accompanies rich dishes such as duck, venison and beef as well as mackerel, smoked salmon and tuna.
Both these wines are a delicious summer time drink and are a real alternative to Champagne at a fraction of the price!