It seems that Chateau Suduiraut has launched Les Lions de Suduiraut as their Second Wine. Previously known as Castelnau de Suduiraut, the rebranding as Les Lions, with an attractive gold label featu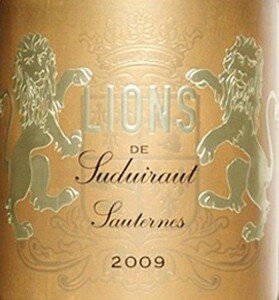 ring the lions on the heraldic crest of Suduiraut, comes hot on the heels of Chateau Guiraud's rebranding of their Second Wine earlier this year: Petit Guiraud (previously Le Dauphin de Guiraud).
Petit Guiraud also has a new label which remains faithful to the gold and black that has always been a symbol of Château Guiraud.
The story goes that Pierre-Arman Guiraud chose the "Black and Gold" label for the Grand Vin in 1846 in memory of Napoleon I.
Through this choice he openly linked the history of the château to that of the Empire and the Republic, going against the Sauternes tradition of white and gold labels, which implied allegiance to the monarchy.
Last year I wrote about the shift in marketing Sauternes and the AOC's modern approach to it (Sweet Bordeaux and Innovation, Sauternes Gets Trendy).
There is a movement to bring Sauternes bang up to date and it is gathering pace. Brand is becoming vitally important and Sauternes has realised this – with their dry white wines as well as the sweet.
It makes sense to consolidate your own brand and also to brand to that of your AOC and peers. Both Suduiraut and Guiraud are Sauternes Premiers Crus and similarly they both make a dry white wine – S de Suduiraut and G de Guiraud (akin to Y from d'Yquem and R de Rieussec). This makes it easy for consumers to recognise these labels as a dry white.
Similarly it made sense to rename the Second Wines of Suduiraut and Guiraud – Castelnau was a separate property bought by Suduiraut in 1831 and apart from Suduiraut's name on the label you would not have made the connection between the two as they both featured different "logos".
Le Dauphin de Guiraud was on a cream coloured label and did not reflect Guiraud's "Black and Gold". New consumers need something to identify with – and by new consumers I am talking about China.
China was late to open its doors to the wines of Sauternes but since the restriction was lifted last year Sauternes has several potential ambassadors to promote the wines in this huge market. Chateau D'Yquem's parent company LVMH has a good business network firmly established in China – as does Chat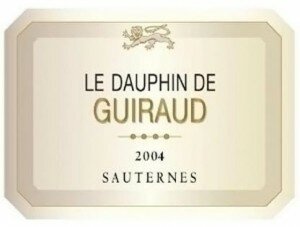 eau Rieussec with Domaines de Baron Rothschild.
 Chateau La Tour Blanche is to open a Wine School in Beijing and Chateau Guiraud has opened storage cellars in Hong Kong and Shenzen, China to give Chinese wine merchants and distributors access to authenticated, landed stock that can be delivered quickly.
We already know that the Chinese have a taste for sweet wines – Ice Wine in particular. In 2008 six of the top 10 importers of Canadian ice wine were Asian countries.
China itself is home to the largest Ice Wine estate in the world at Liaoning. In 2007, the vineyard's annual output of grapes exceeded 4,000 tons, which has made it the largest single producer of ice wine grapes in China, and possibly even the world.
With this knowledge now all Sauternes has to do is sell itself . . . and if it gets it right we could see Sauternes really take off.