AC/DC are to launch a wine collection.  The Australian band has entered into a partnership with New South Wale
s based winery Warburn Estate to produce four bottled varieties, named after some of their hits – AC/DC "Back in Black" Shiraz, AC/DC "You Shook Me All Night Long" Moscato, AC/DC "Highway to Hell" Cabernet Sauvignon and AC/DC "Hells Bells" Sauvignon Blanc.
The wine collection will be available through Dan Murphy, Woolworth's and BWS liquor stores throughout Australia.
AC/DC are not the first hard rock band to release wines named for their band or their song titles, you'd be surpri

sed how many heavy metal bands have done the same thing.
Whitesnake teamed up with the De La Montanya Winery in California to create Whitesnake Zinfandel 2010.
Frontman David Coverdale says: "It's a bodacious, cheeky little wine, filled to the brim with the spicy essence of sexy, slippery snakeyness . . . I recommend it to complement any and all grown-up friskiness and hot-tub jollies . . ."
Iron Maiden lau

nched a Chilean Merlot named Eddie's Evil Brew after their famous mascot that comes in a wooden presentation box.  The wine is available from Iron Maiden's official online shop which sells memorabilia and band merchandise for collectors and fans.
Motörhead has also entered the world of wine with  Motörhead Shiraz produced by the Broken Back Winery in Australia.
Described as "a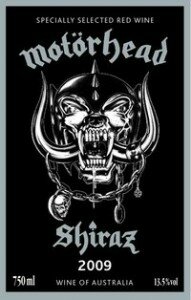 full-bodied fruity wine with flavours of cherries, blackberries, vanilla, plums and oak barrels", Lemmy himself says of the wine: "My advice is 'approach with caution'. I mean, wine is deceptive, anything can happen."
Sigurd "Satyr" Wongraven,  vocalist/guitarist of the Norwegian black metal band Satyricon, has partnered with Luca Roagna, a fifth-generation winemaker from Piedmont, Italy, to launch Satyr's own brand of wine.
Wongraven has apparently chosen the best wines from the Roagna winery and is making them available with his name on each bottle in gothic letters and black background with an outline illustration of the devil on the label.
Two wines are currently available from the Wongrav
en brand:   Langhe Rosso Alleanza Nero di Wongraven 2009 and  Barolo Unione Nero di Wongraven 2006
Les Claypool, bassist/vocalist  of Primus, makes his own wine at Claypool Cellars in California.
Claypool and his wife Chaney originally made their wine for personal consumption , but they've grown this into a small business venture selling a Pinot Noir called Purple Pachyderm, which the musician says "is big, bold and well-balanced with a magnificent nose." And yes, it is named after a Primus song.
Queensryche rocker Geoff Tate also makes wine having developed a new line with Washington based winery: Three Rivers Winery. The wine is named Insania.
Californian rockers Warrant have partnered wit
h Kristian Story Wines to create Warrant Red.  The tasting notes read:  "As with the strum of the electric guitar and the bang of a big bass drum within a rock anthem melody, this sexy wine strokes balance and resonates with flavours of cherries, raspberries and mocha.
The notes finish with innuendo of espresso and tobacco. Great acidity pairs it well with foods such as spaghetti, beef, and spicy dishes. Also pairs well with classic rock, good times & great friends."
Celebration Cellars produce a range of wines for KISS (as well as the Rolling Stones) and last but not least Status Quo seems to have broken the mould with lead singer and guitarist Francis Rossi giving his name to Glen Rossie Whisky which has rebranded with a new label, new bottle and new chairman — Rossi himself!