Halloween is looming and like most folks I don't relish the thought of 'things that go bump in the night' but there are many who do. In the USA in particular there are plenty of Haunted Winery Tours to tickle your tastebuds whilst giving you goosebumps.
Mind you, if I encountered a ghost down in the cellar, a drink would definitely be on the cards to steady my nerves – although it would probably be a stiff whisky rather than wine. In France paranormal investigations seem to have taken off, although there aren't crowds of top flight chateaux lining up to hold séances in the chais.
However there are plenty of abandoned chateaux which are faded spectres of their former selves dotted about that are attracting the curiosity of ghost hunters. There are also a few chateaux that take paranormal tours and are buzzing with excited guests looking for a spooky experience.
The Devil's Chateau
Bordeaux can actually lay claim to it's very own 'Chateau of the Devil'. It lies in Cenon, a suburb of Bordeaux.
Once known as Chateau Voisin Ville and later as Chateau Dorios, it was abandoned in the inter war period and renamed Chateau de Diable in 1938 by locals who wished to scare inquisitive children away from the unsafe building.
They circulated stories of hauntings and it seems to have worked. In turn it
 has been the Mayor's mansion, a restaurant and the property of a wine maker. The chateau was built in the 19th century but today it houses Cenon's Centre for Information.
Employees were warned by the workers who were renovating the chateau that it was haunted so it seems that the tall tales may have had some substance to them . . .
La Dame Blanche
Chateau du Taillan, a Cru Bourgeois in the Haut Medoc is an historic monument and is protected by a spirit named La Dame Blanche (The White Lady) – it's white wine is named after her.
La Dame Blanche haunts the surrounding woods and vineyards on the night of a new moon and legend has it that she was a Moorish (Arab) princess from the 7th century.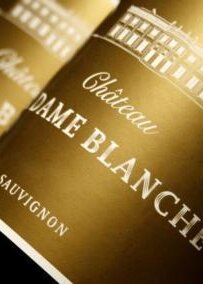 The story tells that the princess was named Blanca and that she fell in love with a Christian Knight. Her father punished her by imprisoning her in a fort that was later to take her name – Blanquefort.
He fled back to Spain after his defeat by Charles Martel at Poitiers in 732 and Blanca died in her prison, never to see her lost love again.
The Sweet Lady
Another chateau with connections to Spain and a ghostly lady is Chateau du Breuil – a 6th century fortress adjacent to Chateau Cissac.
Both Cissac and du Breuil are owned by the the Vialard family who have been closely linked to the Haut Médoc since 1793, as winemakers for Chateaux Latour and Lafite.
. The family produce a red Chateau du Breuil (AOC Haut Medoc).
Chateau du Breuil was once owned by the King of England in the Hundred Years War and has many legends attached to it.
One concerns the ghost of the Sweet Lady, La Dame Dousse d'Aspremont – the 10th century wife of Arnaud, Chevalier of Spain, who wanders down a secret tunnel to the Church from the fortress.
La Dame Dousse is said to have founded the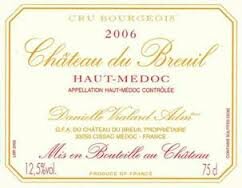 Church (Saint Symphorien de Cissac) and was very pious, hence her tunnel which allowed her to reach her Church at all times.
Paranormal Nights
If you are one of those who seek a more chilling experience than ethereal White Ladies the stunning Chateau de Roquetaillade in Mazères between (Langon and Bazas) is said to be haunted and what's more it accepts parties of paranormal investigators . . . you can stay over night.
It is owned by the Baritault de Carpia family who belong to the nobility of Guyenne and they have lived there continuously for 700 years.
Roquetaillade has been open to the public since 1956 and is the most visited in the Bordeaux region,being a popular site for film shoots.
The name Roquetaillade means 'carved out of rock' and the grottoes beneath the site were home to troglodyte man. The first earth and timber fortifications were constructed by Charlemagne on his way to 
the Pyrenees.
The medieval interior and furnishings were restored by Eugène Viollet-le-Duc (1814–1879), who was famous for his restoration work at Notre Dame de Paris and Mont St Michel. Even better the chateau also makes a white Graves wine so you can quaff a few glasses to recover should you be (un)lucky enough to be scared silly by the ghostly happenings there!
Happy Halloween!