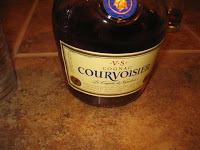 Gone are the days when a splash of Old Spice or a quick squirt of Brut would do. These days we  are expected to go one step further as the "modern man ". Bling has overtaken the Yuppy and we all need to catch up!
Courvoisier are launching its own men's fragrance, "Courvoisier L'edition Imperiale." The line will target 25-35 year old males who are more likely to be high-earning and successful. In the words of the Beam Global (who own Courvoisier), that will be individuals 'who are ambitious, determined and desire to succeed'.
Considering that Courvoisier was immortalised in the 2002 hip-hop hit "Pass The Courvoisier" by Busta Rhymes featuring P Diddy, I think that they are merely jumping on the back of the "bling" band wagon. 60% of Courvoisier's sales are to its American-African fans. That's quite a turn around for a Cognac famed as being Napoleon's favourite tipple which is now becoming a cult favourite – and a perfume to boot.
Courvoisier is not the first to produce a "cognac perfume", as has been claimed in various circles. It will doubtless not be the last. The world's first "cognac perfume" was launched in 2002. It is called 1270, after the year when the Frapin family established itself in Cognac, since when, for generations it has produced some of the finest Grande Champagne Premier Cru Cognacs.
It was created by Beatrice Cointreau, managing director of Cognac Frapin and great grand-daughter of Pierre Frapin. (I can understand why they called it 1270 and not Eau d'Frapin!)
Beam is launching the cologne in the U.S., the U.K., Russia and China. Kraft is handling the design, manufacturing and distribution. The company believes that, while appealing in particular to fans of the cognac, it will also appeal to 'fine fragrance connoisseurs everywhere.' Hmmmn. I smell something – and it is definitely no t Cognac!
The company has not yet signed any deals with retailers, but Paul Baron, vice-president of marketing and brand development for Kraft, said he is targeting luxury department stores like Neiman Marcus, Saks, and Bergdorf Goodman in New York.
The companies are introducing the cologne in Cannes, France. Beam has declined to say how much they have invested in the launch. The global market for premium men 's fragrances is about $5.5 billion a year and growing. Courvoisier is the best-selling Cognac in the U.K. and is No. 3 in the United States behind LVMH's Hennessy and Remy Cointreau's Remy Martin.
Kraft describes L'edition Imperiale as a woody oriental, reminiscent of the barrels used to age the Cognac, surrounded by a hint of flowers which represent the grapes used to make the brandy, which comes from France's Cognac region.
Well, apparently the new line is not a Cognac-flavoured fragrance as it contains some of the finest and most popular perfume ingredients, including notes of cardamom, mandarin, tagette and coriander.
Mid notes include atlas cedarwood, smoked tea, royal calla lily and violet, while the dry down contains vetiver, fir balsam, leather and warm amber. Holding true to the brand's 200 plus years of heritage, all Courvoisier fragrances are produced in France.
This is quite reassuring as I had been wondering at the effect a Cognac scented perfume would have on these 25-35 year old ambitious and determined males. Just imagine, you're driving back from work and are stopped by a police officer. He says you stink of booze and you say "But no, Officer, it's my perfume!"
The company says that the eau de parfum will retail for more than $100 (€80) per 75ml bottle while the eau de toilette will retail for slightly lower than $100 USD per 75ml bottle. Both of the fragrances will also be available in 125ml bottles.
I wonder what will be next? Beam also makes Jim Beam Bourbon and Sauza Tequila. Will we be seeing these as novelty perfumes for the "bling market" in the future? Personally I think it is a fad.
Foodstuffs do not usually make the leap into non-edible products. A few years back, international duty-free shops sold a promotional fragrance inspired by Bombay Sapphire Gin, called Infusion, using some of the same ingredients found in Gin (mainly Juniper berries I presume). Anyone heard of it? No, I didn't think so…