You may be wondering why Château Malescot St. Exupéry sounds familiar – it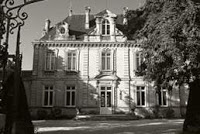 was the wine that charmed a dangerous burglar (see Ladies With Bottle: Bordeaux Beats the Burglar) in Washington D.C. The robber held up a dinner party at a Capitol Hill, brandishing a gun and threatening to shoot.
One party guest offered him a glass of the wine they were drinking to calm him – it was a glass of Château Malescot St. Exupéry. The intruder took a sip and remarked "Damn, that's good wine." The guests offered him the whole bottle, and in a change of heart, the intruder put the gun away and asked for a group hug before he left.
Château Malescot St. Exupéry is certainly a wine that could charm anyone – its known for their seductive bouquet of raspberries and violets. The wine has a silky quality and is dense, well structured and expressive. The flavours are of spice and blackcurrant with a good presence of acidity. Château Malescot St. Exupéry is classified as a Third Growth (3ème Cru) and dates back to the 1600s and its vineyards neighbour Château Margaux.
The château takes its name from Simon Malescot, King's Counsel to Louis XIV at the Parliament of Bordeaux. After the French Revolution the château was bought by Count Jean Baptiste St Exupéry – the grandfather of the famous aviator and writer Antoine de St Exupéry – and the château gained is double barrelled name.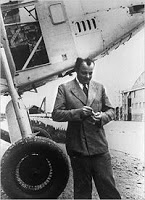 Antoine de St Exupéry is most famous for his novella The Little Prince, and is also well known for his books about aviation adventures, including Night Flight and Wind, Sand and Stars. In the 1920s Saint Exupéry became one of the pioneers of international postal flight, in the days when aircraft had few instruments. He worked on the Aeropostale between Toulouse and Dakar.
In 1935, after a flight of 19 hours and 38 minutes, Saint Exupéry, along with his navigator, André Prévot, crashed in the Libyan Sahara Desert on route to Saigon. Their plane was a Caudron C-630 Simoun. They were attempting to fly from Paris to Saigon faster than any previous aviators, for a prize of 150,000 francs.
Both survived the landing, but were faced with the prospect of rapid dehydration in the Sahara. According to his memoir, wind, Sand and Stars, their sole supplies were grapes, one orange, and a ration of wine. (I wonder if it was Château Malescot St. Exupéry?). Finally, on day four, a Bedouin on a camel discovered them, saving Saint Exupéry and Prévot's lives. Saint Exupéry's book The Little Prince, which begins with a pilot being marooned in the desert, is in part a reference to this experience.
Saint Exupéry's final assignment was during the Second World War when he was flying a a P-38 Lightning to collect intelligence on German troop movements in and around the Rhone Valley preceding the Allied Invasion of Southern France in 1944. He left from an airbase on Corsica, and was never seen again.
In 1955 Malescot St Exupéry was purchased by the Zuger family who invested heavily in the estate, and today it is run by Jean Luc Zuger. The Zuger family have invested in the château for the last 5 decades and Château Malescot St. Exupéry is one of the most quality driven of the Margaux crus. The château is living up to its motto: "Semper ad altum," ever higher.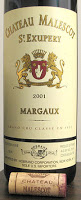 Château Malescot St Exupéry's 85 acres of vineyards lie on 5 separate parcels of land. The soil is the typically deep gravel of Margaux. These soils, partly due to their position up-river where they drain the Pyrenees, are the most refined of the Médoc. The gravel covers a subsoil of clay rich in iron oxide and there is a bedrock of chalk and limestone. The grapes grown are 50% Cabernet Sauvignon, 35% Merlot, 10% Cabernet Franc and 5% Petit Verdot.
So next time you spot a bottle of Château Malescot St Exupéry remember the history and the people behind the wine and if you are tempted to try some you can find the wines at ww.interestinwine.co.uk. If this wine is out of your price range (around £30 a bottle) why not look at the selection of very affordable clarets Bordeaux Undiscovered has to offer?
Images Courtesy of www.flickr.com