Chateau Lascombes, Margaux's largest 
vineyard – and one of the biggest in Bordeaux – has been sold to French Insurer Mutuelle d'Assurances du Corps de Sante Francais (MACSF) for 200 million euros.
Lascombes has been for sale by the investment group Colony Capital since 2007 and apparently attracted several bidders, including Asian buyers. However Colony Capital had sought a French buyer "with a long-term vision" and wanted to ensure it stayed in good hands.
Colony Capital have owned the chateau since 2001 and have invested heavily in the property. Tony Ryan (founder of Ryanair) also had approximately a 40% share in the chateau and after his death in 2007 his will revealed that he owned 3 million euros worth of Lascombes wine, said to be his favourite. MACSF now own 100% of Lasco
mbes.
Currently Lascombes employs Michel Rolland as consultant of oenology and Dominique Befve as General Manager and winemaker.
Dominique was previously Technical Director for 10 years at Château Lafite Rothschild where he was responsible for the First growth as well as Duhart Milon and l'Evangile. The current viticultural and wine making team, led by Dominique Befve, will remain in place.
Lascombes produces some 550,000 bottles of wine a year and the vineyards cover 207 acres. The vineyards are some of the most fragmented, with around 40 or so different parcels of vines spread throughout the Margaux appellation.
The Château was originally owned by the Durfort de Duras family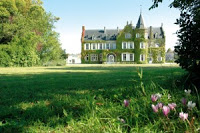 who owned large amounts of the Médoc since the 12th century. The estate was divided and 2 Châteaux were created – Château Durfort Vivens and Château Lascombes.
Lascombes acquired its name from Antoine, Chevalier de Lascombes who owned the Château is the 1600s.
By 1700 Lascombes was well established and the Chevalier at the time – Jean-François de Lascombes – was a Councillor to King Louis XIV and Naval Prosecuting Attorney for the Guyenne. Lascombes enjoyed a considerable reputation which led to it being likened to the First Growth Chateau Margaux itself.
There are records that show Lascombes paid feudal dues to Chateau Margaux in the form of barrels of wine – which wer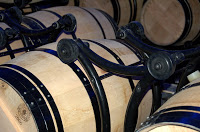 e added to Margaux's blend.
In 1838 the newspaper "Le Producteur" stated "This estate (Lascombes) possesses old vineyards and very good vines, on a rich soil.
Its Wines are reputed to be of such superior quality that they can rival Chateau Margaux."
Château Lascombes has had its share of famous owners – in 1855 it was owned by Chaix d'Est-Ange who was a general under Napoleon III who rose to fame by wining the Suez Canal case for France against Egypt.
In 1952 Château Lascombes was purchased by the French wine writer Alexis Lichine and a syndicate of American investors that included David Rockefeller. At the same time, Lichine also purchased Château Prieurè Lichine, also in Margaux.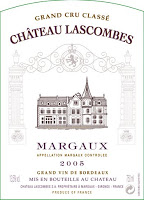 According to Decanter a rigorous study into the viability of the purchase and the future potential of the estate was carried out by MACSF along with various advisers: mergers and acquisitions specialists Wine Bankers, Bordeaux-based consultants Sogevignes, Ernst & Young Bordeaux, and law firm Fidal.
MACSF CEO Marcel Kahn told Decanter that:
"We have enormous respect for all the work and investment that has been put into Lascombes, which has returned it to its Second Growth status . . . Colony Capital is believed to have invested around €35m in Lascombes, following its purchase of the property for €50m.
We are an entirely French company, and are happy to have invested in a piece of French heritage – we see this as a long-term investment, and are interested in ensuring continuity and future growth."