Bernard Farges, President of the CIVB (Bordeaux Wine Council) has given an interesting interview in the French Press (Le Figaro). He told the paper that Bordeaux has a decline in production for 2013 of around 20%, possibly even 25%, this year thanks to difficult growing conditions due to the weather.
A cold, rainy and windy Spring delayed the flowering of the vines for nearly 3 weeks; June saw an increased threat of mildew and odium thanks to high humidity, July was scorching July and nearly 25,000 acres (10,000 hectares) of vines were damaged by violent hailstorms in early August.
Coulure (the dropping of flowers resulting in less grapes on a cluster) and Millerandage (poor fertilisation resulting in small, seedless shot grapes) have also resulted in reduced yields.
Farges said that Bordeaux was likely to produce between 4.3 and 4.5 million hectolitres this year.
Regarding the quality of the vintage, he said that it was still a bit early to comment, especially for red wines – however he thinks the whites show great potential.
The Entre Deux Mers has been badly affected by the weather in recent years and Farges is hoping to work with insurance companies to offer widespread insurance for next year. At the moment insurance is very expensive and by extending insurance to all growers Farges hopes the price will come down.
When asked whether trading would be affected by the likely drop in production Farges said that there is a sufficient volume of wine in reserve at the moment but that it could pose a problem for the future (presumably as back vintages get snapped up).
Farges acknowledged that the Grand Crus are a great engine for Bordeaux and that they spearheaded the penetration of the Asian market.
However the first months of 2013 showed a slowdown in sales in the Chinese market with China launching an anti-dumping investigation in response to the EU's proposed steep tariff on Chinese-made solar panels.
He said that wine imports had been targeted and that this was no coincidence as out of the 4 European countries who raised the issue of solar panel taxation, (France, Spain, Italy and Lithuania), 3 are major exporters of wine. 60% of EU wine exports to China are French and out of this figure 60% comes from Bordeaux.
Competitors, such as Australia and New Zealand, have begun to position themselves in China to fill the gap.
Wine is one of France's biggest exports, second only to French aviation and Farges says that French ministers need to support the industry.
He explained that whenever there have been political and diplomatic tensions involving France, wine suffers. For example when Jacques Chirac revived testing nuclear in 1995, France experienced a sharp decline in wine sales to Northern Europe.
The same happened in 2003 when France took a position against the war in Iraq, resulting in the decline in demand for French wine in the U.S. Market.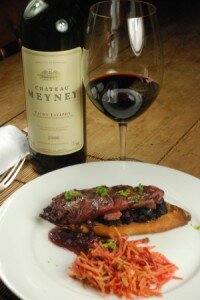 We won't really know how good the 2013 vintage is until the En Primeur tastings next April and despite bad weather and troublesome harvests there are always gems to be found. Improved wine making techniques and skilled wine makers can help level out the effects of a difficult year.
Don't forget that Bordeaux itself is a large wine making region and not all vineyards have been affected by inclement weather. Jane Anson recently pointed out that Chateau Meyney has yet to pick its Merlot whereas other chateaux have had to pick early.
A good sign for Meyney 2013! Wine drinkers should have plenty of choice with the 2013 vintage across the board and hopefully some bargains to boot.