Day 2 started at the First Growth Chateau Haut Brion (Pessac Leognan) where we were offered 6 reds and 3 white wines from the estate. All the reds were around 13% abv and yet again showed the 2013 vintage's characteristic lack of concentration in colour. However overall they presented quite elegantly compared to the wines I tasted yesterday.
Chateau Haut Brion, La Mission and Quintus
Chateau Haut Brion (50% Merlot, 4.5% Cabernet Franc and 45.5% Cabernet Sauvignon) has a subtle and elegant nose with hints of soft fruits. In the mouth the elegance really came through – there was nothing harsh, nothing austere and it was nicely rounded and balanced. So, a very good start to the day! Haut Brion is my favourite out of the First Growths I have tasted but it certainly doesn't have the 'wow factor,' albeit a very pleasant offering.
Chateau La Mission Haut Brion (45% Merlot, 3% Cabernet Franc and 32% Cabernet Sauvignon) came through similarly. Of the lesser wines from the estate I thought Chateau Quintus (80% Merlot and 20% Cabernet Franc) – Haut Brion's Saint Emilion estate – was most interesting.
The 3 whites showed well and this suggests to me that my previous thoughts were right. It looks like 2013 is a vintage that favours the Bordeaux white wines. All 3 were floral on the nose with fresh white fruits and had good acidity.
Saint Emilion
I ventured on to Saint Emilion on the Right Bank where Chateau Angelus were hosting a tasting in their recently refurbished chateau. The revamp must have cost an absolute fortune and it was very, very well done – especially the oak lined roof in the tasting room. Tasting several wines at the chateau it quickly became evident that the Merlot has performed much better on the Right Bank this year than the Left, giving a nice depth of colour.
Saint Emilion First Growths
Chateau Angelus
The Second Wine of Chateau Angelus, Carillon d'Angelus, presented a nice deep crimson colour, as did Chateau Angelus, but I didn't get the density and depth from the wine that I have had in previous years tastings.
The owner of Angelus, Hubert Bouard, is a consultant oenologist at several estates and I came across one of his wines that I have not tasted before: Chateau La Laurence. It is 100% Merlot and is from a plot near Saint Sulpice et Cameyrac with about 7 hectares of vines. The wine was deep garnet in colour and the Merlot was rich – a nice little wine.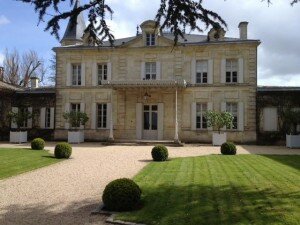 Chateau Cheval Blanc
The Second Wine, Le Petit Cheval, is a blend of 79% Merlot and 21% Cabernet Franc. It lacked density and concentration of colour, has an acceptable nose and some soft blackberry and raspberry fruits in the mouth.
Chateau Cheval Blanc (53% Cabernet Franc and 47% Merlot) is a reasonable colour, has good fruit on the nose and in the mouth has a nice balance and a good finish with quite a lot of fruit.
Chateau Troplong Mondot
Chateau Troplong Mondot presented delightfully with a blend of 90% Merlot, 8% Cabernet Sauvignon and 2% Cabernet Franc. It was very expressive on the nose with deep rich berries, really dense in colour and in the mouth it offered good layers of dark fruits: cassis and blackberry. Yields are slightly down at the chateau.
In 2012 they produced 37 litres per hectare, they produced 34 this year. Interestingly the chateau believes that the younger vines had greater resistence to the adverse weather conditions and I think the spirit of Christine Valette will live on with this vintage.
Chateau La Gaffeliere and Clos Fourtet
I visited the La Grappe tasting organised by the consultant oenologist Stephane Derenoncourt hosted by Chateau La Gaffeliere. I liked the elegance of Chateau La Gaffeliere, there was no harshness or austerity in the mouth and I appreciated the way it presented.
Amongst the wines Chateau Les Carmes Haut Brion (Pessac Leognan) is worthy of note with a blend of 20% Merlot, 60% Cabernet Franc and 20% Cabernet Sauvignon. I thought it was a charming presentation and the wine had a pleasant bouquet with some subtle fruits, Nice in the mouth with decent balance and structure with good tannins and fruit.
I also thought Chateau Clos Fourtet showed well.
Saint Emilion Grand Cru Classés
I tasted the Grand Cru Classés of Saint Emilion and overall they were pretty good but there were one or two which were lacking a bit – not by much, but a little. Sansonnet along with Laroze, La Fleur Cardinale and de Pressac were good examples from the AOC.
Whilst talking with the owners about the problems the year had thrown at them one producer said that if this vintage had happened 20 years ago they would not have been able to produce any wine at all. This just goes to show how much technology has moved on and how it has helped advance methods of winemaking.
Chateau La Dominique showed well as did Chateau Soutard. What I found interesting with Soutard is the blend used to make the wine: 62% Merlot, 28% Cabernet Franc, 7% Cabernet Sauvignon and 2% Malbec. The Malbec did its job in offering that extra concentration of cassis and blackcurrant fruit and it presented well.
Chateau La Fleur Morange
I also tasted Chateau La Fleur Morange with the owner, Jean Francois Julien, and he explained what a difficult year it had been. His yields were very down; last year he made 22 barrels of his Second Wine, Mathilde, and this year he could only make 9. It was the same story with the Grand Vin, La Fleur Morange. This year it contains an unprecedented blend of 90% Merlot and 10% Cabernet Franc. The wine was a little down on its usual richness and colour with a nose that was slightly closed but the fruit in the mouth was elegant. It's not as opulent as in previous years but it is a good wine and I am sure it will develop.
Pomerol
I found that the further I went into the Right Bank the more the colour became evident; a nice deep crimson colour rather than the subtle, lighter colour that presented yesterday on the Left Bank. The one AOC that was homogenous was Pomerol. Most of the wines here presented well; the majority of which are Merlot, in some cases as much as 98%. Gazin, of course, was 100% Merlot. As with Saint Emilion, Pomerol faced a difficulties regarding the quality of the Merlot but the hard work of the winemakers has paid off.
A couple of wines which I thought showed better than the rest were Chateaux Beauregard, Clinet and Gazin. They had good layers of fruit, a nice level of opulence and are wines that I think will make good drinking.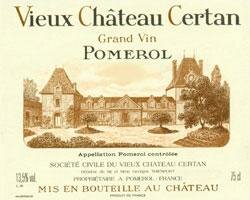 Vieux Chateau Certan
As usual I had a very interesting chat with Alexandre Thienpont, the owner of Vieux Chateau Certan, who is always charming. He is sad to announce that they have only been able to produce 20% of their usual output which equates to about 1000 cases. They usually produce 4000.
The wine itself is very attractive and talking to him I described it as an 'elegant lady'. It presented very well with a lovely crimson colour, an elegant and expressive nose and was charming in the mouth.
He explained that his Cabernet Franc was planted in 1958 and his Merlots were planted in 1932, 1942, 1959 and 1972 and believes that the complexity in the wine comes from vines of 25 years of age or more. He confirmed that it had been a difficult year but that the winemaker had done wonders and hoped that he wouldn't have to face another vintage like this one again soon.
Tomorrow I will be visiting the Left Bank starting with Saint Estephe and working my way down.