You won't be surprised to learn that two Bordeaux chateaux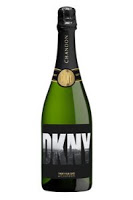 have commissioned fashion designers to create labels for their wines.
After all Chateau Mouton Rothschild has commissioned contemporary artists every year to create an original work to illustrate the label since 1946.
Fashion and Wine go hand in glove – in 2009 fashion designer Donna Karen of DKNY designed Chandon's bottle to celebrate their 20th anniversary.
Veuve Cl

iquot Champagne has fashion accessories designed by Andrée Putman and Pucci and Yoko Ono designed a wine label for the Nittardi Winery in Tuscany.
The Fashion Industry has succumbed to the benefits of wine making as well – jeans label Diesel produces 3 wines made by Renzo Rosso, founder of the label, who makes wine in Marostica in Vincenza, Veneto.
The three wines are Bianco di Rosso, a Chardonnay, Rosso di Rosso (Merlot/Cabernet Sauvignon) and Nero di Rosso (Pinot Nero) are sold under the Diesel Farm name.
(I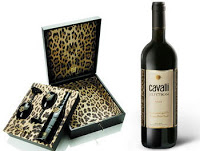 bet they were disappointed to learn that the name Vin Diesel was taken!).
Catwalk giants are creating their own vintages (see my blog Catwalk Wine). The Italian fashion designer Roberto Cavalli gave his name to the Cavalli Collection and Cavalli Selection.
which are are blends of Merlot, Cabernet Franc, Cabernet Sauvignon, Petit Verdot and Alicante Bouchet produced from grapes grown by the Cavalli family.
They own an estate in the Chianti region of Tuscany, where Roberto Cavalli's son Tommaso runs the vin
eyard while his father concentrates on his fashion empire.
Salvatore Ferragamo, grandson to the esteemed Italian footwear designer, has been busy expanding the Ferragamo family brand portfolio into the wine industry and agro-tourism with Il Borro.
In 1993, the Ferragamo family purchased Il Borro, a villa located in Tuscany, from Duke Amadeo of Aosta, cousin to the heir of the Italian throne.
The restored estate and its surroundings reflect the Tuscan lifestyle and produces sophisticated Bordeaux-style wines.
Bordeaux seems to be catching up with these fashionable Italians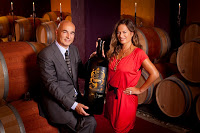 and recently Bruno Borie, owner of Chateau Ducru Beaucaillou has commissioned Jade Jagger to design the label of his Second Wine, Croix de Beaucaillou.
Borie told Decanter.com that he liked the idea of the daughter of a Rolling Stone working on Beaucaillou and pointed out that Beaucaillou means, rather aptly, "beautiful stones" in French.
The new label will be on all bottles from the 2010 vintage onwards, with a limited edition for the 2009 vintage.
Rumour also has it that fashion designer Karl Lagerfeld has been commissioned to create the 2009 label for Chateau Rauzan Segla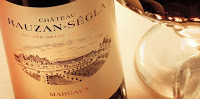 . Lagerfeld is the Creative Director of Chanel and Rauzan Segla has been owned by the Wertheimer Group, best known as the owners of the perfume Chanel, since 1994.
Sandrine Bégaud, public relations manager for Rauzan Segla, told the Drinks Business that she was unable to confirm the collaboration, but said:
"It is our 350th anniversary this year and we are trying to design something new for this particular birthday. It is just an idea, nothing real for the moment."

Apparently Lagerfeld is no stranger to drinks design – he recently designed a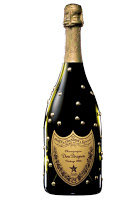 trio of limited edition Diet Coke labels for Coca-Cola, and collaborated with prestige cuvée Dom Pérignon to create a bespoke, gold-studded bottle, dubbed.
"A Bottle Named Desire" for the 1998 vintage, as well as shooting the ad campaign for the Champagne.
The Drinks Business make the point that a Chanel label could spell success in China for Rauzan Segla and given the importance of luxury brands to newly rich Chinese they are probably right.
I wonder if we will see any more designer labels on our Bordeaux wine bottles in the future?