Chardonnay is one of the most popular wines across the world. It has a long history that starts in the Old World, yet today it can be found in basically any wine-growing country. Chardonnay grapes are green-skinned, and a result of cross-pollination between Pinot Noir, Pinot Blanc and Gouais Blanc a few centuries ago. These grapes are used, not only to create a 100% Chardonnay wine, but also the world's most popular sparkling wine, Champagne. 
Chardonnay is rather versatile and easy to drink, but that doesn't mean every bottle of this wine is inherently good. While on a search for the best Chardonnay on the market, you should definitely check out Barefoot Cellars. Will their blend of this popular wine turn out to be as good as it claims to be? Let's find out.
Chardonnay Wine In General
Chardonnay grapes originate from the Burgundy region in France, but nowadays are grown all over the world, from California to New Zealand. The grapes themselves are rather neutral, with oaky and buttery notes, and wine flavours will differ depending on the area they originate from. In cooler climates, such as Burgundy, Chardonnay is light-bodied, with notes of apple, pear and green plum. In warmer regions, such as Australia and New Zealand, the wine has more citrusy notes, with a tinge of peach and melon. Finally, in very warm locations, like the Central Coast AVA, you'll taste more tropical flavours, like banana and mango.
While these primary notes depend on the climate Chardonnay grapes are cultivated in, secondary flavours come from the winemaking process. This type of wine is known for its buttery taste, and that comes from diacetyl, which is a by-product of malolactic fermentation. Grapes contain malic acid, which tastes like green apples. But, in the process of fermentation, this type of acid transforms into lactic acid, which tastes more buttery. So the more the wine's fermenting, the more it changes its acidity in favour of creamier notes.
Generally, Chardonnay is a dry wine. However, some blends do tend to have a pinch of residual sugar to give a bit of richness and sweetness to the wine.
As for the price, Chardonnay is not known as very expensive wine. And if you look at the list of most expensive wine bottles, it's very unlikely this type of wine will be there. With that being said, there's quite a spectrum of Chardonnay prices, depending on its age and growing location.
About Barefoot Cellars
Barefoot Bynum Burgundy dates back to 1965, when it was founded by Davis Bynum in his garage. The winery's creative name was inspired by the free-spirited method of crushing grapes with our bare feet. 
But the winery hits the next level in 1986, when Michael Houlihan and Bonnie Harvey take the wheel and create a wine that didn't take itself too seriously. The winery was rebranded as Barefoot Cellars, a name that is both easily pronounced and catchy. Today, the brand is known not only for making good wine, but also for supporting good causes all over the world through charity events and non-profit partnerships. As they say at Barefoot Cellars, no one should be judged by the colour of their favourite grape. 
The primary goal of Barefoot Cellars is to create wines that are fun, tasty, and above all, approachable. As the manufacturer says, this wine tastes better in a tee than in a tux. And thanks to its innovative approach, Barefoot Cellars is one of the most awarded wine brands in the world.
Barefoot Cellars offer a variety of wines. Whether it's red, white, pink, sparkling or spritzer, they have it all. And the best thing about their wine? It doesn't cost a pretty penny. So if you're planning a nice dinner for your friends, you can't go wrong with Barefoot wines. 
You might have noticed that Barefoot Cellars doesn't put vintages on wines. First, that's because the volume Barefoot produces is simply not enough to create a variety within a single vintage. Plus, they source their grapes from different regions, so that would make a vintage rather unreliable. 
But the main reason for the lack of vintage is that Barefoot is trying to make wines that are consistent in taste. That way, when you find the blend you love, you can rest assured it will always taste the same way it did the first time you tried it.
Trying Out Barefoot Chardonnay
As we already touched on the subject, you're aware that there's no point in searching for the vintage when getting a bottle of Barefoot Chardonnay. That's not something production wines are known for. And sure, they might lack some of that character you usually get from hand-crafted wine, but that's not to say production wines can't be good.
Appearance
Starting with the appearance, you'll notice that the colour of this wine is slightly brassier and warmer than most other Chardonnays. Its rich body is noticeable by how slowly the legs fall back into the glass once you swirl it. 
Aroma
This wine has a soft, refreshing aroma of green apples and peaches. These notes are gentle and you won't notice them while pouring wine into the glass. But, as you bring the glass closer to your nose, you'll sense these light notes. There's also a touch of both honey and vanilla, which you can catch only by deep inhaling air. As for the alcohol, you're probably not going to notice that classic burning sensation, regardless of the fact that this wine has 13% alcohol content.
Taste
The taste of Barefoot Chardonnay generally corresponds to the way it smelled in the glass. You'll definitely feel apple and peach flavours, along with a tinge of nutty aroma. This wine is creamy and has a slight touch of acidity, which is to be expected. It's more dry than sweet, and since all of the additional flavours are rather gentle, the final taste will depend a lot on the individual's palate. 
Finish
The finish is rather rich in flavour, leaving a sweet aftertaste for quite some time afterwards. You'll feel the smoothness along with a buttery finish, without a lot of acidities. 
Overall
All in all, this wine is quite enjoyable. There are no overwhelming flavours, and it has a beautiful creamy buttery finish, just as you want in a decent Chardonnay. 
The Best Food To Pair With Chardonnay
As you might know, wine and cheese is a match made in heaven. But it's important to state that not all wines go well with all types of cheese. This pairing depends on a lot of factors, including flavour, acidity and tannins of the wine. However, Chardonnay is one of those wines that you can't go wrong with pairing with any type of cheese.
Another classic pair with Chardonnay wine is chicken. And by chicken, we mean grilled white meat, with maybe a savoury cream sauce. Or you can go with Fettuccine Alfredo. Barefoot Chardonnay's buttery taste complements well the buttery chicken in this pasta meal. 
Another go-to food pairing with white wines, in general, is seafood, and Barefoot Chardonnay is no different. Its gentle flavour goes well with shellfish like clams and mussels. It also pairs well with flaky white fish like cod or snapper. But thanks to its slight citrus notes, you won't go wrong with salmon either. Barefoot's rich body goes insanely well with the succulent fattiness of salmon.
Finally, Barefoot recommends pairing this wine with fruit, and we definitely agree. This Chardonnay already has peach and green apple notes, and they pair well with the lightness of fruits like lemon or avocado.
The thing with Chardonnay is that you can't go wrong when pairing it with food. Its subtle flavours blend well with just about anything. 
Alternatives To Barefoot Chardonnay Wine
If you're looking for a Chardonnay alternatives to this one by Barefoot, we've got you covered. There are a few brands on the market that make wines similar to this one. 
Beringer
Beringer Vineyards offer several vintages when it comes to Chardonnay, and the 2016 vintage is one of the better ones. This wine has complex flavours and a bit more unique personality than Barefoot Chardonnay, but this is to be expected from such an experienced brand like Beringer. It's balanced, creamy with moderate acidity, while the finish is buttery. It has notes of citrus, pear and a tinge of caramel and toasted almonds.
Bota Box
Bota Box Chardonnay is a light, refreshing wine that's slightly heavier and more buttery than Barefoot. It's sweet with flavours of lemon, lime, green apple and pear. You might also notice slight butterscotch and honey hints. 
Yellowtail
Yellowtail Chardonnay has a rich creamy finish while still being smooth and easy to drink. It's crisp with flavours of fresh peach and melon and a tinge of vanilla.
If you prefer stronger citrus notes, the Yellowtail range also features Unoaked Chardonnay. This blend is even more crisp and elegant, with notes of fresh lime, citrus and grapefruit.
Wine Alternatives To Chardonnay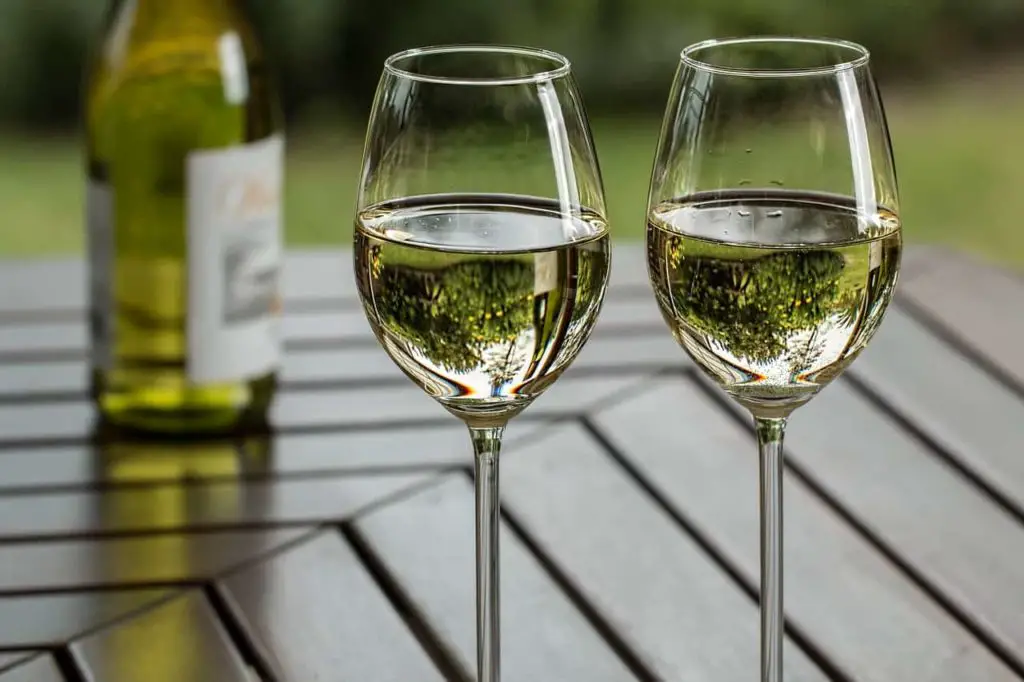 While Chardonnay is a classic wine option, it's not for everyone. If you end up not liking it, there are other wine varieties that might suit your taste better.
Pinot Grigio
These wines might look identical in a glass, but aside from that, they're entirely different. Pinot Grigio is light with melon and citrusy flavours while Chardonnay is heavier, with a more sweet, buttery taste. Pinot Grigio isn't as sweet and dry as Chardonnay. 
Moscato
However, if you're more fond of sweet and fruity wines, maybe Moscato is more suitable for you. This wine is light-bodied with a floral aroma and tangy, fruity flavours of mandarin orange, ripe pear and orange blossom. It also has a much lower alcohol content of around 5%, compared to Chardonnay's 13%.
Sauvignon Blanc
Traditionally, both Chardonnay and Sauvignon Blanc are quite dry wines. But thanks to the residual sugar in Sauvignon Blanc, this wine appears to be sweeter. It's also lighter, more acidic and herbaceous than Chardonnay. Depending on the region it comes from, its green notes range from gooseberry, green bell peppers and jalapeno to grapefruit, white peach and passion fruit.
Frequently Asked Questions
Does Chardonnay get better with age?
While white wines aren't known to be excellent candidates for ageing, there are a few that do improve with age. Among age-worthy white wines, Chardonnay is the most well-known. With time, this wine gets sweeter and mellower, and its peak time is around three years of ageing.
How should Chardonnay be served?
Like other white wines, Chardonnay is best when served chilled. An ideal temperature would be 10-12°C, which you can achieve by keeping a bottle in an ice-water bath in the fridge for about two hours.
Why is Chardonnay such a popular choice of wine?
Chardonnay grapes are considered to be relatively "low-maintenance" and they adapt well to different climates, which is why it's grown all around the world. Basically, growing this type of grapes is seen as a "rite of passage" into the worldwide wine market.
What's the difference between the oaked and unoaked versions of this wine?
The main difference between the two is that the oaked variety is aged in oak barrels, while the other is not. In the first case, oak affects the flavour of the wine, giving it secondary notes of vanilla and spice. Oaked Chardonnay is also more full-bodied and smooth compared to the unoaked version. 
The Verdict
Barefoot Cellars is one of those brands that you can turn to and always get the exact same product as the last time. But aside from being reliable, it's also rather affordable so anyone can enjoy it, regardless of the occasion.
Barefoot Chardonnay is easy drinking and delicious, which makes it a great choice for dinner with friends and binge-watching a favourite show. However, if you end up not liking it, there are tons of other Barefoot wine varieties at your disposal, and you can rest assured you'll like one of them.