You might be thinking that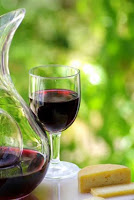 Bordeaux has bust the bank with the recent 2009 vintage price releases but there are some super wines around that won't cost you a fortune.
Wines from Petit Châteaux are often eclipsed by their more famous brethren and if you love good red wine then it is well worth discovering them.
The following wines fall into the £5 – £6.99 range and will suit every pocket and every occasion. These wines were made with good food in mind so I have included food pairings.
£5.75 Chateau Grand Rousseau 2004
Grape Varieties: 52% Merlot, 32% Cabernet Sauvignon, 16% Cabernet Franc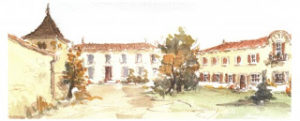 A charming deep ruby coloured claret which is a round, smooth, well balanced wine with integrated tannins and a classical bouquet.
It has subtle red fruit flavours with notes of blackcurrant, blueberry, tobacco, violets, earth and vanilla.
This is one of several châteaux owned by the renowned Lumeau family who have been wine makers since 1840 and comes from Sauveterre de Guyenne in the Entre Deux Mers.
This is a round, smooth, well balanced wine with integrated tannins and a classical bouquet. It will pair well with beef, game, lamb, pork, turkey and hard cheeses.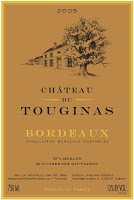 £6.59 Chateau du Touginas 2005
Grape Varieties: 50% Merlot 50% Cabernet Sauvignon
Château du Touginas is owned by the Guilhon family who are third generation wine makers from the communes of Coirac and Gornac in the heart of the Entre Deux Mers. This is a lovely little wine, dark ruby in colour and is silky smooth.
It has the flavours of lusciously ripe fruits with notes of prune, and spices. It is well balanced in the mouth thanks to the right proportion of half Merlot/half Cabernet Sauvignon with seductive tannins and a long aromatic finish.
Château du Touginas will pair well with steaks and grilled meats as well as casseroles and stews, lasagnes and rich oriental dishes.
£6.60 Chateau Chadeuil 2007
Grape Varieties: 60% Merlot, 20% Cabernet Sauvignon & 20% Cabernet Franc
Made by the Musset family north of Bordeaux who have been producing wines for several generations. This is a wine which has lots of finesse and all the characteristics of a good Bordeaux: well balanced tannins marked by the expressive fruitiness of the terroir.
The oenologist is none other than Dominique Hébrard whose family owned the Saint Emilion First Growth Château Cheval Blanc until 1998. Château Chadeuil is a dark ruby colour with aromas of blackberries, mocha, and spice. It's a well rounded wine, is fleshy in the mouth with a long silky finish.
Good on it's own but this wine really blossoms when drunk with rump steak, game, roast beef, stuffed aubergines/peppers and strong cheeses.
£6.62 Chateau Les Graves de Barrau 2007
Grape Varieties: 60% Merlot, 20% Cabernet Sauvignon, 20% Cabernet 
Franc
This is a traditional Bordeaux claret which comes from the same stable as Château Chadeuil. It's a good crimson red and offers big ripe fruits characteristic of the Merlot grape, shows complexity, has noticeable but balanced tannins and has very good length on the palate.
The wine has beautiful flavours of black cherry, ripe plums, gravelly earthiness and just a fine hint of vanilla. It's well rounded and fleshy in the mouth and has a long silky finish. To enjoy its potential, decant and let breathe for a good while whilst bringing up to room temperature.
Les Graves de Barrau is excellent with sirloin steak, chilli con carne, spaghetti bolognese, roast lamb and pasta bake dishes.
£6.62 Chateau Les Eymeries 2005
Grape Varieties: 70% Merlot 30% Cabernet Sauvignon
A cracking claret from vineyards in Margueron located at the South of Gi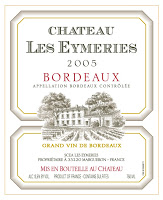 ronde, between Bordeaux and Bergerac. The south facing slopes overhang the Dordogne river and the soils are chalk and clay.
The wine is a deep pomegranate red, fine and subtle on the nose with hints of blackberries, vanilla, cherries and smoke. It is rounded and supple and with a good length on the palate and has fine and light tannins.
Being Merlot based Les Eymeries will pair well with most dishes, both red and white meats and even fish such as tuna or salmon. It's a great summer red so bear it in mind for your BBQs!