Yesterday it 

was announced that for the first time in the history of the Decanter World Wine Awards a Chinese wine won at the highest level. The wine was the Winery He Lan Qing Xue's Jia Bei Lan 2009, a blend of Cabernet Sauvignon, Cabernet Franc and Cabernet Gernischt.
I had come across the mysterious Cabernet Gernischt before (see Long Lost Bordeaux Grape Varieties) and with Jia Bei Lan's win I decided to see if I could track this grape down to see if it had originated in Bordeaux as some have thought.
Firstly the spelling of the grape's name seems to come in 3 forms: Gernischt, Gemischt and Gernischet. According to some Gernischt is a misspelling of Gemischt which means "mixed" in German. It seems very unlikely to me that a German grape would originate from Bordeaux and that Gernischet could be the original French name.
Despite hours of looking through old texts Gernischet drew a blank so I turned to records of the enterprising Zhang (Chang) Bishi who was said to have introduced the grape to China in 1892.
Zhang Bishi founded the Yantai Changyu Pioneer Wine Company in 1892 and records vary as to how many grape varieties he imported from Europe (and apparently the USA). The consensus is that he imported 120 different grape varieties. Zhang Bishi was a native of Meixian County, Guangdong Province but he left for Malaysia at 16 to earn a living. He worked hard and is reputed to have be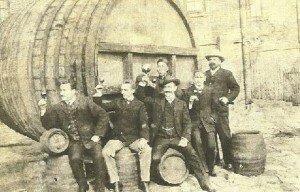 come one of the wealthiest men in Malaysia.
The Chinese Qing government appointed him as the Consul to Penang Island and he was later promoted to the post of Consul General to Singapore.
It's said that his experiences with foreign countries cultivated his interest in wine production. When he learned that Yantai was ideal for growing grapes for making good wine, he decided to buy 70 hectares of farmland there in 1892.
He named his winery "Zhangyu" (Changyu) which was a play on his name and the Chinese word for prosperity. He employed an Austrian wine maker and imported 600 oak wine barrels from Europe. In 1915 his wines won gold medals at the Panama Pacific Exposition held in San Francisco.
I can find no records of which grape varietals Zhang Bishi imported to China and the elusive Cabernet Gernischt is said to have died out within France having been destroyed by the Phylloxera epide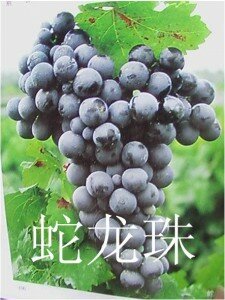 mic.
There is a difference of opinion as to whether the grape is in fact Cabernet Franc or an ancestor of it, whether it is a cross between Cabernet Franc and Cabernet Sauvignon (which might explain its.
German name Gemischt ie Mixed . . . perhaps Zhang Bishi's Austrian wine maker christened the grape – don't forget that the official language of Austria is German!) and as to whether it could be Carmenere.
Cabernet Gernischt is by no means exclusive to the Changyu Wine Company although they appear to have the most hectares of it and have marketed it as a signature wine.
Glen Creasy's Blog has a good write up on Cabernet Gernischt saying that it is Changyu's top selling red wine, and that they were making 20,000 tonnes worth of it every vintage.
He also points to some scientific evidence that Cabernet Gernischt is not the same as Cabernet Sauvignon or Cabernet Franc in a research paper by Wenguang Jiang et al.
Other research by M Zhang et al on the 

aromatic compounds in Cabernet Sauvignon, Cabernet Franc and Cabernet Gernischet (interesting use of the other form of the name here) has shown that 43 odorants were detected in Cabernet Sauvignon and Cabernet Franc wines compared to 50 in Cabernet Gernischet wine.
I have not tasted a wine blended with Cabernet Germischt (yet) but looking at various tasting notes it seems that it does have a pepper note and is often described as spicy.
The grape is also said to thrive in semi-desert because it is particularly resistant to drought. I have read that it is similar to a Rhone wine from Châteauneuf-du-Pape.
This has got me thinking. There is no proof that this grape came from Bordeaux – what if it isn't a Cabernet at all? It makes sense for Chinese wine merchants to market it as hailing from Bordeaux due to the popularity and prestige of Bordelaise wines but could the name Gernischet be a corruption of Grenache? Grenache ripens late, likes hot, dry conditions and can have notes of pepper and spice.
Only scientific enquiry will answer the question but I 'd be interested to hear what you think!