Michigan may make you think of the Great Lakes, but it is so much more than this. A substantial amount of wine is produced here despite the colder weather you get in the northern states of the US.  In fact, Michigan is the fourth largest wine producing state in the US. It has 13,000 acres of land that are dedicated to vineyards and 3,050 of these acres are used to grow grapes for wine. The rest of the vineyards are reserved for grapes that are sold to be eaten. 
Tourists may visit Michigan to relax by the lakes in the summer or to watch football in the winter. However, wineries are also a great attraction. Many wineries offer tours and tastings and around 1.7 million tourists visit each year. It is extra trade for the wineries as there aren't many people who will go away without purchasing a bottle or two. Then, if you enjoy the wine, you will source it when you get back home. It's a win-win situation for the wineries.
Michigan produces a wide selection of varieties of wine, sixteen in fact.  There is an emphasis on unusual wines like ice wines and fruit wines.  The wines MIchigan produces are made out of three different grapes. The first is Vinifera which is used in white wines such as cabernet Franc, Pinot Grigio/Gris, Pinot Noir,, Riesling, and Chardonnay. 70% of the grapes grown for wine are Vinifera grapes. 
The next grape that is grown is the French/American hybrid. These make up 27% of the grapes and are usually a blend of Vinifera and other grapes. 
The last variety of grape makes up just 3% of the wine growing grapes. These grapes are usually Concord and Niagara.
White wine is probably the signature wine in Michigan, while in other states, such as Oregon, red is more popular. This is because of the colder climate which produces lighter and crisper wines. However, they are not all dry. Some can be quite sweet or semi-sweet.
The Wine Regions of Michigan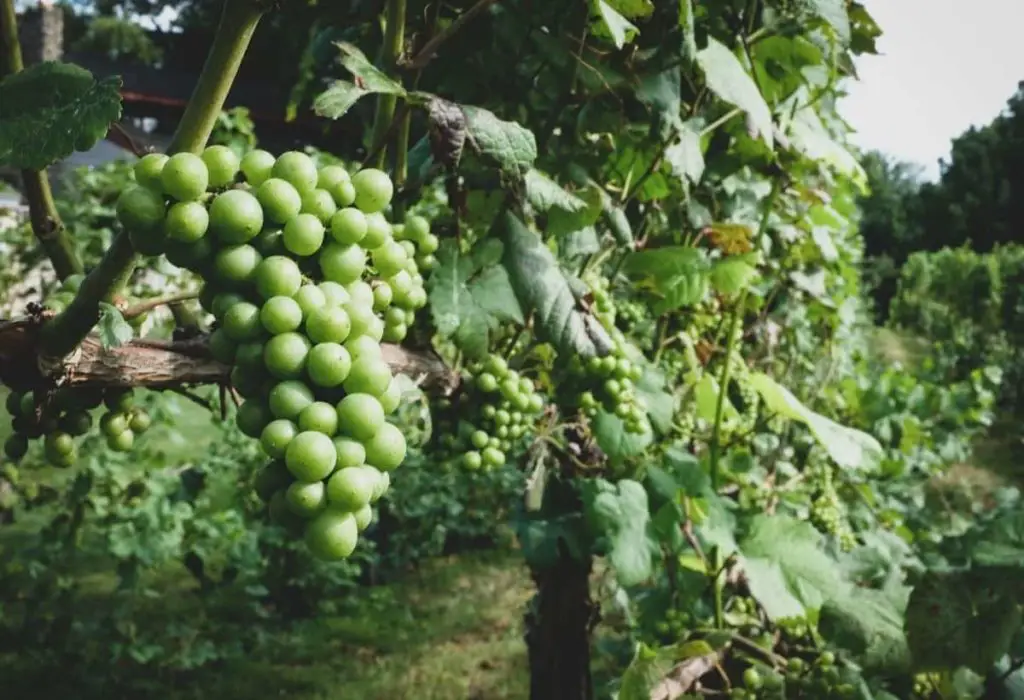 Fennville
This region is surrounded by water. It is situated by both Lake Michigan and the Kalamazoo River. The Black River lies to the south of the region and there is a game reserve next to the region. The result is that the soil is very different to other regions. It does, in fact, make it the best area for growing grapes especially for the Vinifera grapes and the Vitis Lambrusco. These white wines are produced here successfully and are popular.
Lake Michigan Shore
Lake Michigan Shore is the oldest wine growing area in Michigan. It also houses most of the vineyards in the state. It is very popular with tourists and many flock to visit and have wine tastings. 
This area has a grape-growing season that lasts around two weeks longer than other regions. For this reason, there are many vineyards in this area.  The winegrowers have taken advantage of the ability to make as much wine as possible.
Leelanau Peninsula
These vineyards are situated on a peninsula which immediately makes them unique. They are based throughout Leelanau county. In this area, there can be a lot of frost. In fact, there can be frost throughout half of the year at night. Frost can harm grapes, but it can also lead to the production of ice wine which is a speciality in Michigan. We'll tell you more about ice wine later on in this article.
Old Mission Peninsula
There is another area of vineyards that are situated on a peninsula and this is Old Mission Peninsula. On each side of the peninsula you will find the Grand Travere Bay of Lake Michigan. The waters here are cool, but these don't harm the grapes. They actually regulate the amount of frost that you can get on the grapes. 
The grapes here produce excellent wines such as Pinot Gris. Merlot, and Riesling. 
Tip of the Mitt
This area is situated on the northern lower peninsula of Michigan. It covers 2,700 square miles and the soil is especially organic compared to that in other regions. It retains water well so the vineyards are kept hydrated, but luckily doesn't allow them to become saturated. The surrounding waters of this peninsula stop the area from suffering from too much frost.
The Varieties of Michigan Wine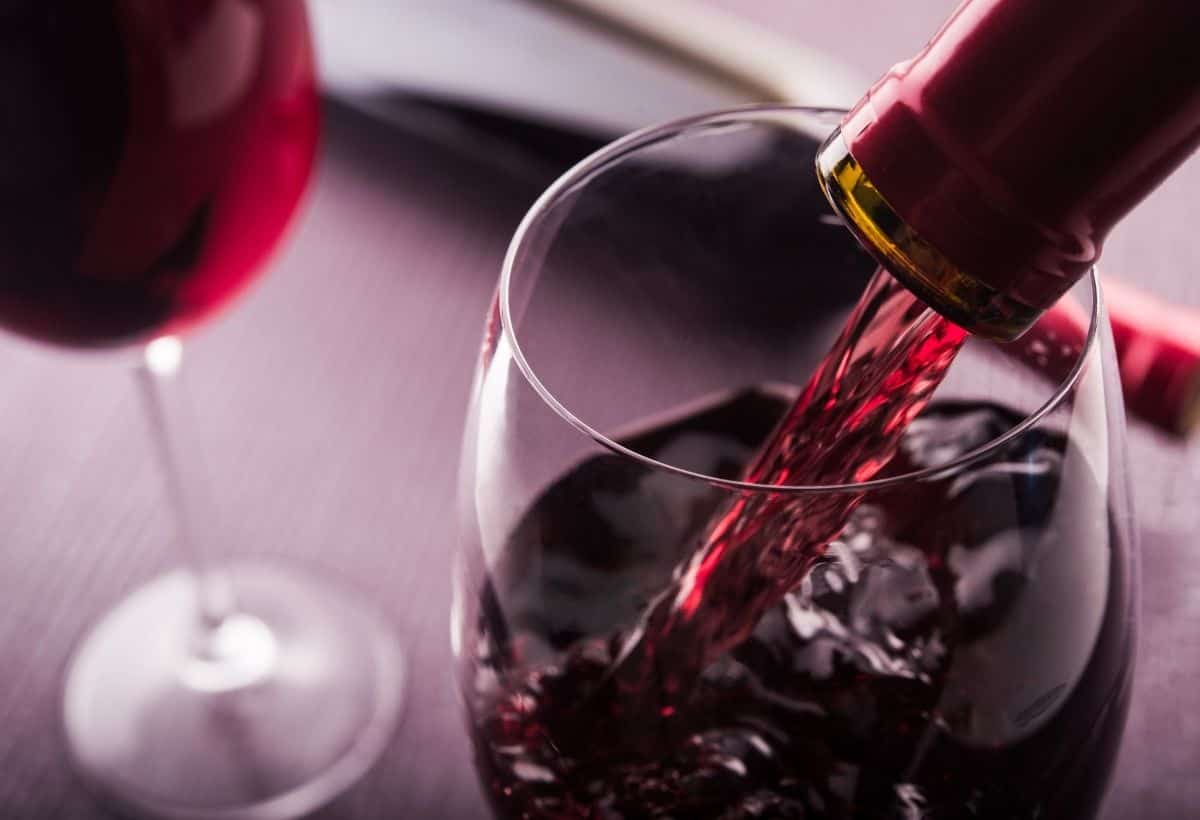 Riesling
Michigan produces an excellent Riesling. Not only does it offer  ordinary Riesling, but there is a sparkling variety. To top it all. There is an ice wine Riesling which is a taste to be savoured. Riesling grapes grow well in cooler conditions so it isn't surprising that the Riesling produced in Michigan is so good.
You can purchase sweet, semi-sweet, and dry Riesling.  Nobody's tastes  need to be left out. Riesling pairs well with white meats, pasta, and vegetarian dishes. The sparkling variety is a great way to start off a celebration.
Chardonnay
A colder climate is beneficial in producing Chardonnay as it is with Riesling. The wine here can both be aged in oak or in stainless steel barrels. The wine aged in oak will have a more smokey flavour which some may prefer. It will also have hints of vanilla. 
Chardonnay is smooth and dry and is well paired with white meat and pasta.
Pinot Gris/ Pinot Grigio
Perhaps you prefer a darker white wine that isn't quite red. If so, Pinot Gris or Pinot Grigio should suit you down to the ground. 
The grapes used in these wines are grown in the colder areas of the state. The wine originates from Italy where it is grown in the north where the weather can be a little less predictable. 
This wine goes well with starters , fish, and pork.
Cabernet Franc
If you prefer red wine, Michigan Cabernet Franc is a good choice.  Generally, it is produced by blending Cabernet Sauvignon with Merlot. However, the blend is lighter than either of these wines separately. The aromas surrounding this wine are of bell peppers and raspberries. However, you might also get the hint of tobacco. It is a good wine to accompany steak or roast beef.
Merlot
Michigan's Merlot isn't probably the best Merlot in the US. It isn't as soft as the version produced in California, but it can be successfully grown if the vines are planted in the right regions. It can have a warm and layered flavour which can be popular with many people. Again, it goes well with beef.
PInot Noir
Pinot Noir is usually produced in oak barrels in Michigan which gives it a smokey flavour. Sparkling Pinot Noirs are also produced in the state. 
Michigan's Pinot Noir isn't a fruit wine, but it has hints of dark cherries and plums which can be warming on a cold winter's night. It pairs well with lamb and tomato-based pasta dishes.
Gewurztraminer
Gewurztraminer is a sweet white wine and it has little acidity. The grapes are difficult to grow, but Michigan vineyards have managed well. It isn't a fruit wine, but it does have flavours of peach, apricot, and cantaloupe melon. It is a great accompaniment to fruit desserts and a cheese board.
Pinot Blanc
If you enjoy light wine, Pinot Blanc could be the wine for you. However, although produced in the colder temperatures of Michigan, it has tropical undertones. You might taste a hint of pineapple, lychee, or mango. It has some sweetness, but is really a dry wine. It can be enjoyed with pasta in a cheese sauce, pork, and white meats. It is also a good wine to serve with canapes at a formal dinner party.  It would also go well with a fruit dessert like apple crumble.
Vignoles
Riesling is a very popular  white wine both in  Michigan and throughout the world. However, in MIchigan, Vignoles is also well respected.  Yes, it is similar to Riesling, but it also has its own character.  It is a semi-sweet wine with tastes of orange blossoms, guava, melons, orange rinds, peaches, honey, pineapple, and apricots. The finish is tart with flavours of almonds, honey, and a distinct touch of Grand Marnier. You will also find sparkling Vignoles wines. The flavours lend themselves to white meats and pasta, but you could also drink it with a fruity dessert or cheese and biscuits. It is a late harvest wine.
Chambourcin
Chambourcin is grown in the southwestern area of Michigan and the grapes need an extra month of growing time. 
This wine is a dark red and is heavily concentrated. It has flavours of pomegranate and rich berries. While being fruity, it is also dry and full-bodied. It is aged in oak barrels which gives it a slight taste of oak.  It is a great wine to enjoy just on its own while you're relaxing with friends, but it's also delicious with red meats, lasagne, and a cheese board.
Seyval Blanc
Seyval Blanc is often used in wine blends, but it can be enjoyed as a wine in its own right.  It has aromas of citrus, peach and grass, as well as melon undertones. Sometimes it is blended with champagne to give an extra little kick. It is a good wine to enjoy with appetisers and white meats, as well as vegetarian dishes.
Vidal Blanc
Like Seyval Blanc, Vidal Blanc is often used in blends. However, it is also produced as a wine in its own right. It is a white wine, sweet, rich, and full-bodied. It has aromas of grapefruits and pineapples. It is often served as a dessert wine. 
Chancellor
We come to another hybrid wine and this one is red with cherry and raspberry flavours. These flavours aren't overpowering and the wine would go well with pork. The grapes for this wine grow in the southwest region of Michigan so they are not subject to the coldest conditions.
Marechal Foch
The grapes that produce this wine are found all over Michigan. The grapes are small and are a blue-black colour. They taste of sweet cherries and they produce low-tannin Burgundy wines such as Nouveau and port. The wine is light red in colour and pairs well with pork, white meats, and vegetarian dishes. 
Chardonel
This is another hybrid grape variety and is a cross between Chardonnay and Seyval. It is similar to Chardonnay with a citrus taste and perhaps a hint of vanilla and oak. It is a dry white wine and pairs well with cheese.
Traminette
This wine is similar to Gewurztraminer, but a little more spicy. It is highly acidic and sweet with an aroma of melon and orange peel. It would go well with a Christmas dessert such as Christmas pudding or mince pies.
Five Interesting Facts About Michigan Wine
Wine Events That You Should Attend
It's not uncommon for states that produce a lot of wine also have wine events to promote their products.  Michigan is no different.
In May, you can visit the Blossom Days two-day event. Here, the cherry and grape blossoms are blessed in anticipation of the coming season.
Also in May, there is The Great Lakes Wine Festival. Here you will be able to taste wine produced the previous year, together with the food the wines pair with. 
In September, there is the Paw Paw and Harvest Festival. You can taste wine at this event, but there are also activities for the whole family to enjoy.
Michigan's Ice Wine
Ice wine is a speciality of Michigan and it is produced in the harsh winters the state experiences. It is produced in an unusual way.  The grapes are picked when water is frozen inside them, although not when the sugar has frozen. It isn't the easiest wine to produce so it has limited availability, but it is worth buying a bottle if you can get hold of one. You will notice that it tastes honey-like and is probably a wine that can be drunk on its own without a food pairing.
One of the Largest Grape-Growing States in the US
Michigan is the fourth largest grape-growing state in the US with 13,700 acres of vineyards.  3,050 acres are dedicated to growing grapes specifically for making wine. In fact, Michigan produces 2.7 million gallons of wine each year which is a pretty big deal.
The Importance of the Great Lakes
Most of the vineyards are up to 25 miles away from Lake Michigan and this glacial soil produces excellent wine. The lake doesn't give off very cold air which could destroy the grapes, but in fact, it helps to protect the vineyards from very cold air.
A Long Harvest Season
In the northern hemisphere, the harvest season for grapes usually lasts from August until October. However, in Michigan, it can last until well into November. This helps the Vinifera grapes to mature as they are late-ripening. 
The lake effect of snow and frost from Lake Michigan protects the grapes so the harvest season can go well into the frosts. 
Michigan Speciality Wines
Ice Wine
MIchigan's specialty wine is ice wine and they don't produce many bottles so be sure to be at the front of the queue. It's only made in a few select wineries because it is time consuming to make. The grapes have to be harvested at the right time, that is, when they are partially frozen. 
Fruit Wine
MIchigan also makes sweet fermented fruit wine which is also a novelty as is ice wine. The main fruits used are apples and cherries as they are prolific in Michigan.
Cherry wine is probably the favourite amongst customers. Michigan produces tart cherry wine, spicy cherry wine, and blends of cherries and wine grapes. These wines are best enjoyed on their own or with a fruity dessert.
The Six Best Wines To Be Had In Michigan Now
St Julian Wine Company Solera Cream Sherry
This is an excellent wine to pair with a dessert or perhaps to have as a pre-dinner drink with nuts and canapes. 
This sherry has a sweet and full bodied taste which, yes, you can usually expect with a dessert wine.  However, it is extra special as it has aromas of pecan and butterscotch.  What a great accompaniment to pecan pie.
Mackinaw Trail Winery Blueberry
You shouldn't miss out on trying a fruit wine if you visit the state of Michigan. Like ice wine, it is a speciality of the state. We have found  that this blueberry wine from the Mackinaw Trail Winery is one of the best. 
The wine is red rather than blue, but you will definitely taste the blueberries. It is very sweet and would be a great accompaniment to a fruity dessert. Because it is so sweet, it is best drunk slightly chilled rather than at room temperature.
Verterra Winery 2016 Dry Riesling
Dry white wine is probably preferred by more people than sweet white wine.  People who don't drink a lot will probably swerve towards a dry white wine rather than a dark red. This dry Riesling is one of the best. You will taste apple, peach, and pear, with a hint of honey and spice. There is a touch of sweetness, but it is generally dry. It will pair well with white meat, fish, and pasta dishes.
Chateau Fontaine  2016 Laughing Waters Dry Rose
Some people prefer rose to either white wine or red. It is  middle of the road, but rose is a decent variety in its own right. You can even purchase it as a sparkling wine which is great for a special occasion. 
This dry rose tastes of cherries, raspberries, and strawberries. You can drink it either chilled or at room temperature. However, if it isn't served cold you will taste more of the fruit flavours. 
This wine pairs well with most meats, though perhaps not steak or beef. It is also a great wine to accompany vegetarian dishes, pizza, and pasta.
Walloon Lake Winery North Arm Noir
If you enjoy a glass of red, you will love this wine. The Walloon Lake Winery Arm Noir was actually voted the best dry red wine in Michigan at the 2017 Michigan Wine Competition.
It is aged in oak and has hints of blackcurrant so isn't too overpowering. It is a great accompaniment to steak and lamb.
Leelanau Cellars Canned Wines
Perhaps you have never thought of drinking wine from a can.  However, don't dismiss the idea. Leelanau Cellars produce canned wines in red, white and rose varieties. Some people think that bottles of wine are just reserved for dinner parties, but perhaps canned wine will make wine more accessible for daily enjoyment. Why not take a few cans of  wine to a barbecue instead of beer/? Leelanau Cellars canned wines are of high quality so you won't be skimping on quality.
Frequently Asked Questions About Michigan Wines
Why is the ice wine produced in Michigan special?
Ice wine is unique and is difficult to produce so you won't find that many bottles on sale. The price is high, but it is well worth it to get such a special wine.
Ice wine is generally drunk as a dessert wine and it is a great accompaniment to both desserts and a cheese board.  It is produced from grapes that have been frozen on the vine and not after it has been fermented.  MIchigan is the ideal place for this to happen as it gets cold early in the autumn.
In What Way Would You Drink Ice Wine?
There are different ways of drinking ice wine and it really is up to personal choice. Some people like to drink it chilled at a temperature of around 50 degrees Fahrenheit. Others enjoy it at room temperature of 70 degrees Fahrenheit. However, it can also be sipped warm as you would drink a mulled wine. This can be delicious on a cold winter's night or during the Christmas season.  
How Many Regions That Produce Wine Are There in Michigan?
There are five regions in MIchigan that produce wine. These are Fennville, Lake Michigan Shore, Leelanau Peninsula, Old Mission Peninsula, and Tip of the Mitt. They produce a variety of wine such as Cabernet Franc, Chambourcin, Merlot, Pinot Grigio, Merlot, Riesling, PInit Blanc, and Cabernet Sauvignon.
Summary
Perhaps you've never thought of going to visit Michigan. Maybe you've just gone to see Lake Michigan for a relaxing day out. However, if you love wine, you shouldn't ignore Michigan. Go online and book a couple of winery tours and spend the day exploring the wines of Michigan. You will find that their wines are exceptional and you will also discover unusual varieties like ice wine and fruit wine.
You have five regions in Michigan to choose from. Look them up on the internet and decide which area produces your favourites or explore other regions to try different wines to what you are used to. You will be in good company as Michigan welcomes millions of visitors every year searching for that perfect bottle of wine. 
Most of the popular varieties of wine are produced in Michigan as well as the unusual ones like ice wines and fruit wines. You might not find comparable wines in other states. Michigan is famous for the specialty wines it produces.
The harvest season is longer in MIchigan than many other states. It can go on until November so you have the opportunity to visit the wineries well into the autumn. 
To sum up, Michigan is a great addition to your wine tour list. You will taste some unique wines that you might not taste elsewhere.