California wines are some of the best in the world and they have a good reputation. In this article, we are going to tell you why they are excellent wines and give you an A  – Z guide on the brands and varieties.
As an example of how well respected California wine is, we can just look at New York where the culture of wine bars has grown. Not only can people enjoy wine, but they can meet friends, make new friends, and enjoy the local area. In the heart of Brooklyn, you will find the Coast and Valley wine bar that has a large selection of California wines. They often add new brands and vintages from California and people that go there are introduced to a whole new world of wine. 
These wine bars often serve bistro-type food and the waiters will tell customers which wines pair best with the food. 
California wines are often branded as 'natural wines'. This means that the grapes come from an organic orchard and the wine is free from additives and preservatives. In this day and age, this is what people are looking for. Wine bars will market this fact and it has helped to make them a success.  
So why do wine bars in New York and indeed in other parts of the world serve California wines? The reason is simple. These wines are of high quality and in very high demand.
What are the Reasons Why California Wine is so Popular?
These wines are popular because there are so many varieties and brands to choose from. You can easily be spoiled for choice.
Just under 90% of white wine in the US is produced in California so the state has really captured the market even though wine is produced in other states. 
In 2017, sales of California were astronomical. They reached $35 billion which was a growth of 3% over the previous year. In addition, California wine sales rose by 15% and look to keep on rising.  However, part of this may be because more people are reaching the legal drinking age. Still, this is not a negative point. It is a good thing that younger people are interested in California wines. 
What are the Reasons Why So Much Wine is Produced in California?
California is a large area of land. It is almost as big as France so there is plenty of room to plant vineyards. 
There are so many geographical features in California, as for example, the Sierra Nevada Mountains, the Mojave Desert, beaches, cities, and farmland. The soil types are different and the climate varies in these places so there is a choice of where to successfully plant your vines. Not all areas are good for growing grapes, but plenty are.
Factors Needed for Producing Grapes
Temperature:

The climate needs to be warm, but not too hot. It also doesn't need to be cold as vineyards can be destroyed by frost. The best latitude for growing grapes is between 30 and 50. Here it is not too cold or too hot. Luckily, California falls between these latitudes. Here the grapes can mature slowly which is the best way for them to grow. 

Rain:

Vines need an adequate amount of rain to grow and thrive. If there is too little rain, they won't grow successfully. If there is too much, the vineyards will become waterlogged and the vines will die. However, some vineyards in California are in dry areas, but they have been successfully irrigated.

Sunlight:

You need sunlight for grapes to grow.

Soil:

Grapes can be grown in different soils but soil that is too moist and rich isn't good for them. Vines need to grow in soil that drains easily. The soil needs to have the right minerality and fertility as well. 
These criteria are matched in many areas of California unlike a lot of the rest of the US, so a lot of good wine is produced in this state. 
There are a number of wine regions in California. The most well-known are Napa and Sonoma. However, grapes for winemaking are grown in other parts of the state, including Marin Counties on the north coast, the Bay Area and Monterey County, the Sierra Foothills, and Central Valley. 
What Else is Significant About California Wines?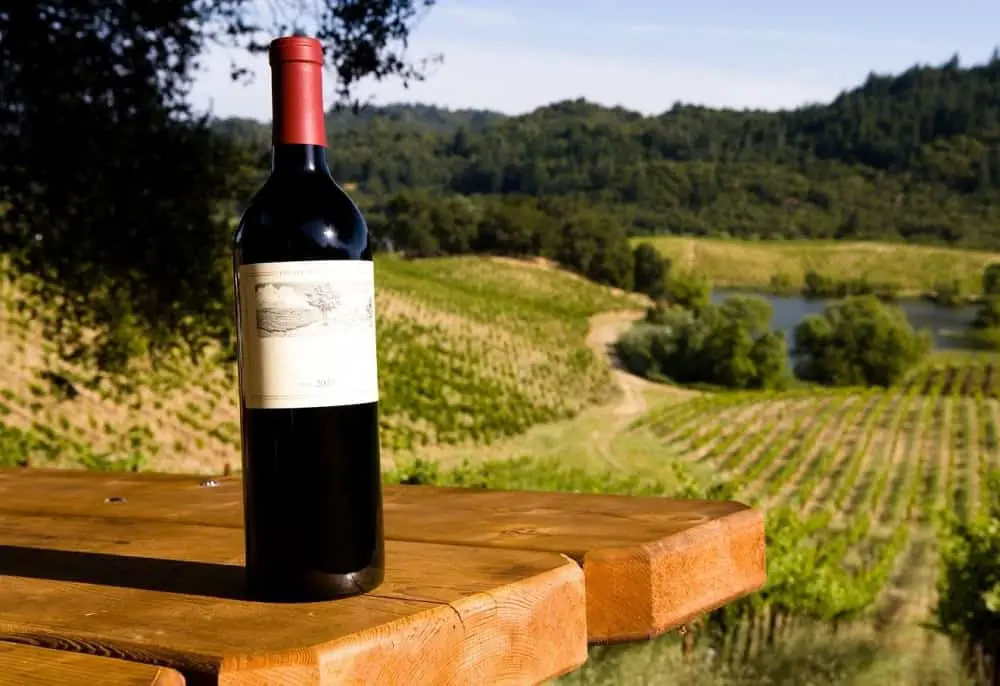 California does have a good climate and soil type for growing grapes, but there are even more things in their favour. Here are some of them"
Excellent marketing.

Many of the winemakers in California are good at marketing their products. They connect wines to different lifestyles and cultures. They give ideas for what food to pair the wine with as well. Basically, most of the wineries have good marketing skills.

Signature taste.

 California wines are known for powerful fruit flavours and aromas. 

Availability.

Wineries in California produce a lot of wine. They know that they produce most of the wine in the US and they work at satisfying the needs of the rest of the country as well as other parts of the world.  They make sure that they have different prices of wine so that they can satisfy as many people as possible. You will also find as you read on, that they produce a lot of varieties of wine.

High Standards.

Since the 1970s winemakers from California have worked hard at building up a good reputation with high standards even in their more reasonably priced wine. Because of this reputation, California wines are extremely popular. These wines are considered to have quality and unique notes. 
In addition, many winemakers in California produce wine that is sustainable and environmentally friendly. 
A – Z Guide to California Wines
Perhaps you are still feeling a little unsure about Californian wines. Well, we are now going to give you a guide to different varieties produced in California. Hopefully, this will help you to choose the wine you like the best/
Andrew Murray, Alcane Bouschet
The vineyards belonging to Andrew Murray are situated in Los Olivos and they produce wine of a high quality but which is not expensive. For example, their top wine is just $35. It was produced in 2013 and is called Roasted Slope Vineyard Santa Ynez Valley. You will taste boysenberry and there are spicy aromas. 
These vineyards grow a red grape variety called Alcane Bouschet which has been grown in California since the 19th century. It has medium acidity, tannins, and a full body. It is excellent served with steak or roast lamb.
Bouchaine
Bouchaine is the oldest vineyard in Napa Valley. Here they produce an excellent Pinot Noir, a light red wine that is best served with pork or a cheeseboard.
Barbera
Barbera is a red wine produced in Santa Barbara, Central Valley, and the Sierra Foothills. It is also grown in other parts of the world such as Italy and Australia. The wine, although red, is low in tannins and is highly acidic. You will get tastes of blackberry, strawberry, plum, and cherry. There are also aromas of lavender, nutmeg, and vanilla. 
Cabernet Sauvignon
Many wineries produce Cabernet Sauvignon and it is a popular wine to be enjoyed with red meat. It is a red wine that has a reasonably high level of tannins, as well as a full body and low acidity. Sometimes it is blended with Merlot, another rich dark red wine, to make a Bordeaux blend. This wine has become very popular both in the US and all over the world. It is great to enjoy with a juicy steak or at a barbecue.
Chardonnay
Chardonnay has become very popular the world over and since the 1980s it has been produced in bulk in California. This has led to experts saying that you should pay at least $10 for a bottle of Chardonnay as otherwise, they might not be as good. Obviously, you expect to get a better wine if you pay more so don't be sucked in by mass-produced Chardonnay.
Experts are also telling you not to buy Chardonnay that has been matured in an oak barrel as you may get too much of a taste of the oak. Reasonably priced California Chardonnay, say around $15, is rich and buttery and would go well with a cheeseboard.
Chenin Blanc
Chenin Blanc, like Chardonnay, originated in France, a country that produces excellent wines and has a long history of wine production. Chenin Blanc grapes are not only used for normal white wine. They also make sparkling wine and dessert wine out of these grapes.
It is a full-bodied wine and has fruity tastes of apple and quince. It would pair well with a fruit dessert like apple crumble. The sparkling variety goes well with light appetisers such as oysters or prawn cocktail. It is also a good accompaniment to salads.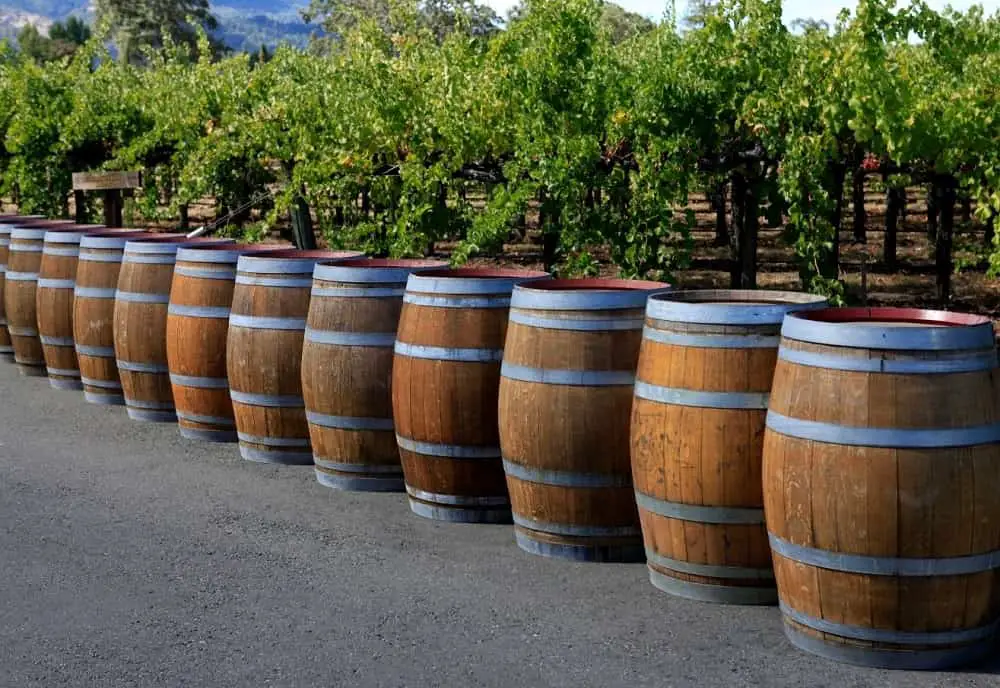 Cliff Lodge Vineyard
This vineyard specialises in growing grapes to make Sauvignon Blanc. The vineyards are based in Napa Valley, one of the prominent areas for wine production in California. Sauvignon Blanc pairs well with chicken and fish.
Dolcetto
Dolcetto is a dry deep red wine that goes well with steak and roast lamb. It tastes of black cherries and liquorice and you finish with a hint of almond. You could even drink it with a cheese board instead of port.
Edna Valley Vineyard
Edna Valley Vineyard is a great place to go for a tasting. They produce both red and white wines and you can purchase the wine after the tasting. It is based in San Luis in Obispo. You can even take out a subscription with the winery.
If you do, you will get their wine delivered straight to your door. You will have the chance to try out new wines and see if they match your palate. It is a great experience and a reasonably priced one. While you are at the winery, you can choose to buy any of their reserve wine.
Fableist Wine Company
This company is based in Paso Robles and is one of the top wineries in California. However, their wines are reasonably priced at under $40. They are still of high quality which makes them a company to get to know. They produce many different wines including Malbec, Chardonnay, and Pinot Noir.
Gamay
Gamay is a light-bodied red wine that is similar to Pinot Noir. Wine experts would tell you to choose Pinot Noir over Gamay, but it is more expensive. Gamay is more affordable so is a good alternative if you are on a budget. It goes well with pork.
Gewurztraminer
You may not be able to pronounce the name, but it is a good choice of wine. It is a white wine that is produced from grapes that prefer a colder climate. It is slightly sweet but has a hint of dryness as well. It has a low alcohol level so is good for those who want to keep their alcohol consumption down.
This white wine also works well as a dessert wine, especially with fruit-based desserts. It also surprisingly pairs well with Asian dishes. Red wine is usually too heavy to drink with Thai or Indian food but not this one. As if it was made for Asian food, it smells of lychees.
Hall Wines
This brand is well respected and is based in Napa Valley. They have received excellent certifications and high customer ratings. They have five organic vineyards so are working to save the environment. 
Napa Valley
Napa Valley is probably the most well-known wine-producing area.  It is based just north of San Francisco. So many different wines, both red and white, are produced here. It is a great place to visit as not only will you be offered wine tastings at the different wineries, but you can take hot air balloon rides, shop til you drop, go fishing, and take a cruise. You are able to buy most varieties of wine here.
Opus One
This winery is based in Oakville. They age all their wine in oak barrels for about 20 months. You don't have to drink this wine straight away. It can be left in the cellar for a little longer to mature. Every year, they sell new vintage wines which are a pleasure to drink. Recently, they released Overture which is a Bordeaux blend that goes well with red meat. 
Pinot Blanc
This wine is sometimes mixed up with Chardonnay, but it is less buttery. It tastes of apple and citrus and there is a floral aroma. It is full-bodied and it can either be sweet or dry or somewhere in-between. The grapes used to make this wine are a genetic mutation of the grapes used to make Pinot Noir. It pairs well with pasta in a creamy sauce and risotto, as well as seafood, especially lobster and crab.
Pinot Gris
Pinot Gris is often known as Pinot Grigio. The aromas you will get when you pour yourself a glass are almond, honeysuckle, and spice. The taste is a mixture of fruits: nectarine, peach, pear, lemon, apple, and lime. Because of the high acidity, it goes well with seafood.
Pinot Noir
Pinot Noir is one of the most popular red wines out there. It is light-bodied so goes well with pork, risotto, and pasta. The grapes used to make this wine have been cultivated for 1000 years. It tastes of cherries and raspberries, with an aroma of vanilla and hibiscus.
Quintessa Vineyard
This vineyard is in Saint Helena and has been given a distinction by Wine Spectator. Sauvignon Blanc, Carmenere, Petit Verdot, Cabernet Franc, Merlot, and Cabernet Sauvignon are produced here.
Riesling
This wine is usually dry, although it can also be produced as a sweet wine that can be drunk with a fruity dessert. It is an acidic wine that tastes of apricot, pineapple, lemon, and lime. 
Roussanne
Here is another white wine, but it is a golden yellow colour. It tastes like pears, honey and green tea. You can often find it blended with another white wine, Marsanne.
Sauvignon Blanc
Here we have another wine that can be confused with Chardonnay, but it has higher acidity,  a lighter body, and it is more fruity. You will taste lime, peach, passionfruit, and green apple. Like Riesling, it can be either sweet or dry. The dry version would go well with seafood, while the sweet version would suit a fruity dessert.
Shafer Vineyards
These vineyards are in the famous Napa Valley. They offer signature wines, but you can only buy from them if you are on their mailing list. A bonus with these wines is Shafer Wines practice sustainable farming and growing. Their Cabernet Sauvignon is to die for. It has ripe tannins, a delicious aroma of spice and a taste of berries. 
Syrah
This is a special wine that is a delight to pair with steak and other red meats. It is a full-bodied red wine that has a spicy peppery aftertaste. If you take your first sip of this wine, you will be hit with savoury olives and sweeter berries making it an unusual taste, but after a couple of sips, you will be hooked.
Tablas Creek Vineyard
If you visit this vineyard in Paso Robles, you will find that they have a large tasting room and you are welcome to taste the wines at a small cost. You can also take a tour and see how the wine is produced. They produce blends based on the ones made in the Rhone vineyards. They are environmentally friendly and have organic vineyards. They make fruity red wines with a full body as well as limited release wines.
Tempranillo
Surprisingly you get a taste of leather with this wine so it's not suitable for vegetarians. However, there is also a delicious taste of cherries. It is a dry wine with a medium body and pairs well with red meats and a cheeseboard. It is often blended with Carrigan or Grenache, making it a little more full-bodied.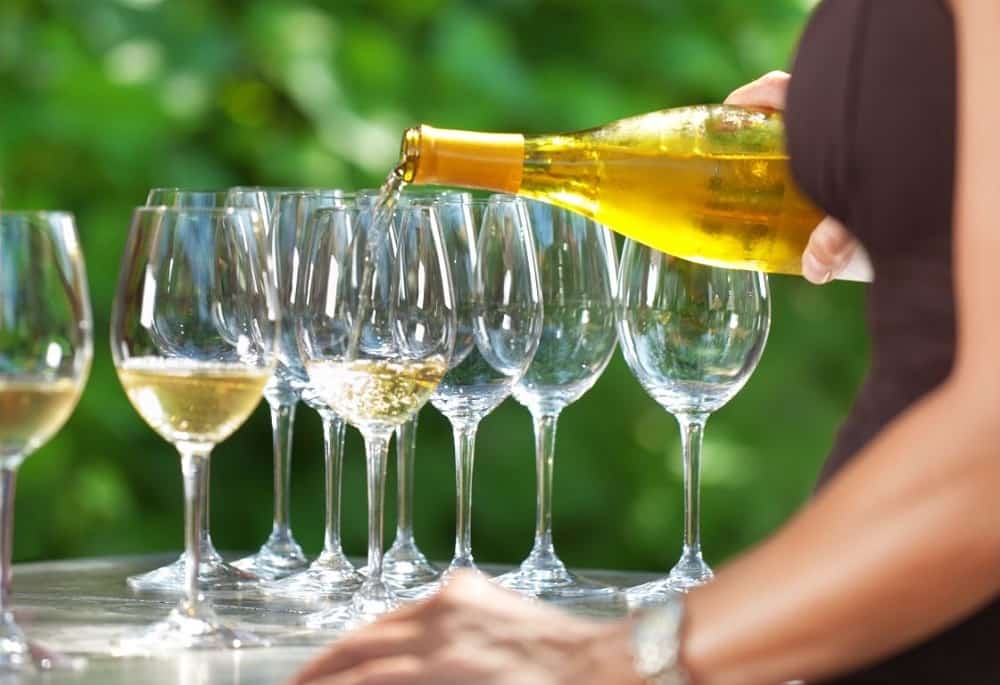 Viognier
Like Chardonnay, Viognier is full-bodied, but it has very different aromas and tastes. It has an aroma of rose petals and tangerine, while it tastes of bitter citrus making it a good accompaniment to seafood. It has an oily finish but is still softer than Chardonnay. It goes well with food from the Middle East and Northern Africa.
Zinfandel
This is a popular red wine from California. It is grown in 10% of the vineyards in the state. It is high in alcohol although the white version of Zinfandel is much lower in alcohol. However, we will keep looking at the red variety.
It is high in acidity and tannins, so you will have a lingering taste in your mouth after drinking. It is usually dry and has a smoky finish. You will taste boysenberry, plum, cherry, and black pepper. It is an interesting wine that pairs well with red meat.
Frequently Asked Questions
Which is the best Californian wine?
There are so many to choose from as the quality is high. We are choosing a few wines that we think are excellent: Chardonnay, Sauvignon Blanc, Zinfandel, Syrah, Pinot Noir, Merlot, and Cabernet Sauvignon.
Where is Napa Valley?
Napa Valley is 50 miles northwest of San Francisco. There are more than 400 wineries here and you can book a tasting tour with many of them.
What is the most expensive wine produced in California vineyards?
While a lot of wines from California are sold at a reasonable price, say from $10 to $50, the Screaming Eagle Sauvignon Blanc is $5923. Be careful not to spill it!