Bordeaux Undiscovered together with Stratford Racecourse wanted to recognize the hard work of the unseen stable staff behind the winners at Stratford at the end of each racing season. As long-term sponsors of the racecourse (and as ardent horse racing fans!) we know only too well the enormous amount of work and dedication that goes on backstage to make a winner.
Points were awarded to horses that finished 1st, 2nd, 3rd and 4th, as well as points for 'Best, Turned Out'. Bordeaux Undiscovered often give prizes during the race season as well as sponsoring a whole race card at Stratford but as Nick says:
'It's always the owners and the trainer that get the recognition on the day when the yard has a winner, so we wanted to highlight the efforts of the team behind the scenes by creating this award'.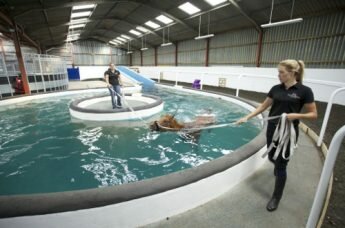 The talented trainer David Dennis was first past the post this year, earning him the position of leading trainer at Stratford. He topped the trainers list by accumulating the most winning points at all the meetings in 2016 and we traveled to his stables at David Dennis Racing just outside the village of Hanley Swan to present our award to his team.
Backed by his hard-working staff, David's yard (which trains both flat and jump horses) is a relatively new venture that has firmly placed itself on the racing map since it was established. David began his racing career as a professional jockey, riding over 240 winners to victory during his 10 years in the saddle. After retiring from race riding in 2011, David set up his own pre-training yard before gaining a dual license to train in September 2013. He achieved his first winner within a month – Princess Caetani at Chepstow on the flat.
We would like to congratulate David's team for their sterling hard work throughout last season and we are looking forward to seeing his team have further success in 2017. At least now the unsung heroes of David Dennis' yard have received the recognition they deserve! Best of luck guys for this coming season. Bordeaux-Undiscovered will be rooting for you!
Stratford Leading Trainer – 2016 Season