I am not a packaging expert but it doesn't take much to clock the impo
rtance of making your wine relevant to its potential consumers. We have had both Lafite and Mouton embellish the packaging (read bottle) for the 2008 vintage in order to appeal to the Chinese market.
Lafite's 08 features an embossed red character for "eight," an auspicious number in Chinese folklore.
Mouton's 08 label has been
 designed by Chinese artist Xu Lei. Subsequently prices for both chateaux's 08 vintage shot up thanks to demand from China. Then we had Decanter's article How to succeed in China: get personal and put a boat or a dragon on your label in which Jeannie Cho Lee pointed out that:
"Chateaux like Beychevelle have succeeded because of their easy-to-remember and familiar label: the boat on the label closely resembles Chinese dragon 
boats."
Quite a few chateaux have heraldic animals on their crests and some have these on their labels (I can't think of one with a prominent dragon on it off hand) – the three Leovilles all have lions in one shape or another . . . even if Leoville Poyferre's does look rather wolf like. Will these evoke images of the Chinese Lions that guard the entrances in the Forbidden City?
So does this mean a serious redesign is in order for Bordeaux's Grand Cru
Classés? I wonder if we will start to see a shift in emphasis in label design in the future where engravings of chateaux are replaced by mythical beasts, kings and coronets? You might think I am exaggerating but check out this article in a Korean Newspaper re three new arrivals.
All three new wines have labels that Koreans can relate to despite hailing from Australia, Chile . . . and Bordeaux.
The Australian wine, Katnook Founders Block, has 
cartoon rabbits on its label in honour of the upcoming Year of the Rabbit. The label was designed by Korean painter Huh Young-man, who created "Shikgaek," a comic book series about Korean food.
The Chilean wine, Isla Negra, is named after an island 81 miles off Chile which – due to its similarity in size and geography – bears a resemblance to the Dokdo Islets east of the Korean Peninsula.
What's more the Korean importer of this wine will donate 300 won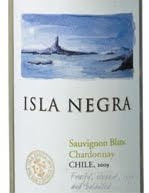 per each bottle sold to the Voluntary Agency Network of Korea, an NGO supporting Korea's right to the Dokdo Islets, which Japan also claims.
These islets are also known as the Liancourt Rocks (after a French whaling ship – Le Liancourt – was wrecked there in 1849) and Takeshima (by the Japanese). The islets are currently administered by South Korea, which has its Coast Guard stationed there but the sovereignty is disputed by Japan.
The Bordeaux wine is called Sungnyemun after the historic gate which is the National Treasures Number 1 of South Korea. 
Sungnyemun (or sometimes known as Namdaemun) is located in the heart of Seoul,
the capital of South Korea and translates as "Gate of Exalted Ceremonies". It is the southern gate of the original walls surrounding Seoul during the Joseon Dynasty and is the oldest wooden structure in Seoul, dating back to 1395.
It was originally used to greet foreign emissaries, control access to the capital city, and keep out Korean tigers, which have long been gone from the area. The wooden portion atop the gate was severely damaged by arson in 2008 causing a national outrage.
The wine Sungnyemun is made by Chateau Garreau which lies between the AOCs of Bourg and Blaye. According to an agreem
ent signed last October between Chateau Garreau, the winery, and Kooksoondang, the Korean brewery and distributor, each party will contribute 500 won to Korea's National Trust for Cultural Heritage Fund for every bottle of Sungnyemun sold.
Apparently Sungnyemun is sold as Grande Porte du Sud in France (I haven't heard of it – have you?) and Francois Guez, the chateau owner who developed the wine, said he chose the name because he was moved by Koreans' reaction to seeing the gate severely damaged by fire in 2008.
Since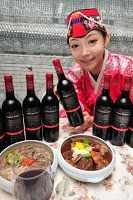 its release in 2008 in France, the wine has topped red wine sales in 80 Korean restaurants nationwide (Sungnyemun was blended to suit the soy-sauce based Korean cuisine). This new label is said to be very popular in Korea, accompanying the will of the Koreans for the recovery of their cuisine and their heritage.
So, do you think I am exaggerating and will I be eating my words in 10 years time? I wonder . . .