Muscadine wine comes from a species of grapes that can only be found in the United States. The grape does not grow here naturally. Hence, throughout the years of experimentation and wine trading, they were all imported. 
Every American should have a taste of Muscadine since it is the sole wine native to America. Nevertheless, its reputation is not the best, to say the least. It is widely misunderstood because of its legendary history. 
This type of wine is a superfruit packed with intense flavors. That's because it is produced from the humid and warm environments of the deep south such as Florida, Georgia, Mississippi, and the Carolinas. Not only is this classic American wine a delight to sip, but learning about it is fun as well.
About Muscadine
Vitis rotundifolia grape is the only grape indigenous to the US where Muscadine wines come from. You may deem it as the country's national grape while Muscadine as its unofficial national wine. If Champagne is to France and Rhine is to Germany, it can be said that Muscadine is to the United States. Surely, this will catch on sooner than later.
Due to the warm and humid weather of the south, it's the perfect place for growing Vitis rotundifolia. The moist heat in Florida, Georgia, Mississippi, and the Carolinas encourages their growth, making them a great setting to the vineyards.
Nonetheless, you will be able to find these grapes as far west as Oklahoma and Texas (see also best wine in Texas) or as far north as Delaware. The heat makes the grape varietal flourish. Likewise, unlike the majority of other varieties of grapes used by vintners in making wine, chilling them requires very minimal time. 
The unique Vitis rotundifolia grape also functions as a superfood. Thanks to its thick skin, antioxidants content, high ellagic acids, and a lot of other polyphenols, it has the ability to renew your cells and provide you with energy. Moreover, its thick skin protects the grape and also acts as a storehouse for all the elements beneficial to your health.
Nevertheless, chewing the grape can be tough because of how thick its skin is. That's why those who relish its flavor often pierce the skin first and then suck out all the delicious juice inside. And because it gives the wine the same flavor and presents health benefits minus the additional chewing, it is an excellent choice for winemaking.
Muscadine wine is even more uncommon since it's the sole wine out there that comes from a superfood. As a plant, Muscadine grapes provide wildlife a great shelter and source of food. Because of the thickness of its skin, eating one is similar to eating a plum. It has an acquired taste that the majority of people don't really mind at all. 
In its true form, you can find Muscadine grape all over the southern states. Rather than the usual 38 chromosomes, this grape contains 40. For this reason and the fact that it is immensely different from other types of grapes, taxonomists even recommended granting it with its own genus. Although you can breed this grape with other grape varietals to produce hybrids, they are often fruitless. 
The color of Vitis rotundifolia ranges from bronze to gold to nearly black. Moreover, there are times when they will remain green all through their process of ripening before they change in color. Hence, the result in the variation of wine colors from the grape is quite wide and is not always consistent. The wines they can produce can be white or medium-bodied reds with flavors like rich red fruit to banana and white flowers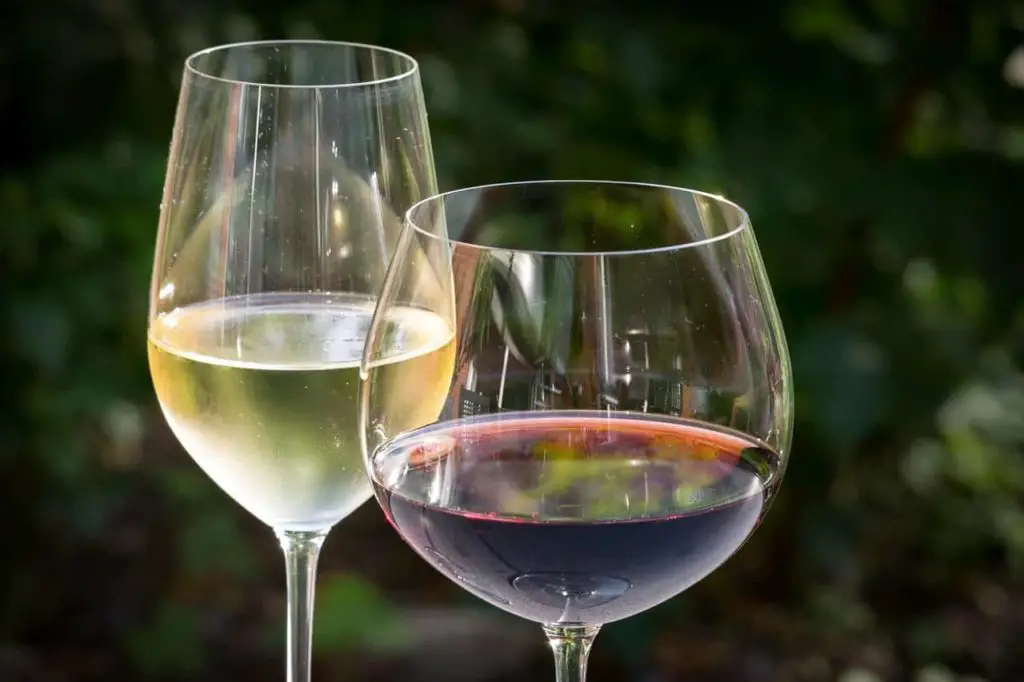 The size of this grape variety can increase quickly and can grow as big as a golf ball. Usually, a single vine can produce around 100 lbs of grapes which results in harvesting by hand. Furthermore, their sugar content is naturally low. So to increase the wine's alcohol content, winemakers typically add sugar. Stilly, you can seldom find dry varieties.
Since the Vitis rotundifolia is a hardy grape, it is can withstand diseases and damages caused by pests. One of the most common insects that feed on grapevines and pass fungal infections that kill the roots of the vine is phylloxera. However, Muscadine has adapted nicely to its surroundings beforehand, managing to produce a natural repellant.
Muscadine History
The history of Muscadine wines dates as far back as the 1500s. Although winemaking using Muscadine grapes began around St. Augustine, Florida, Scuppernong is the oldest wine. This was discovered in Manteo, North Carolina in 1584.
Despite having no knowledge about grape fermentation, they notice that the Roanoke Island variety has excellent potential. Therefore, they took home with them some clippings of the Scuppernong. Sadly, these clippings did not survive the cold England weather since the Scuppernong only grows in warm climates.
It is still unknown how the Scuppernong was transformed into wine. Nevertheless, some theories were established. Some say that the English settlers may have brought their methods from overseas. Meanwhile, others believe that the Native Americans come together to form their own process of fermentation 
But regardless of how it occurred, the Roanoke Island Scuppernong is very well alive and healthy. It was given the name Mothervine and residents of North Carolina, along with Muscadine wine lovers everywhere, embraced it.
The Waterside Theatre on Roanoke Island celebrates the Scuppernong each year with The Lost Colony. This symphonic drama is written by the Pulitzer Prize-winning writer, Paul Green. North Carolina treasures both Green and the Scuppernong. 
A lot of people recognize Sir Walter Raleigh and his men in the discovery of the vine even though this is yet to be proven. Nonetheless, there are those who believe that it was John White accompanied by a group of settlers who planted the vine in the first place.
Throughout the years, the property of the Mothervine has been passed on several times. It has been handed over to the Baum family for many generations before it was purchased in 1957 by the Wilsons, who still care for it to date.
Muscadine Flavor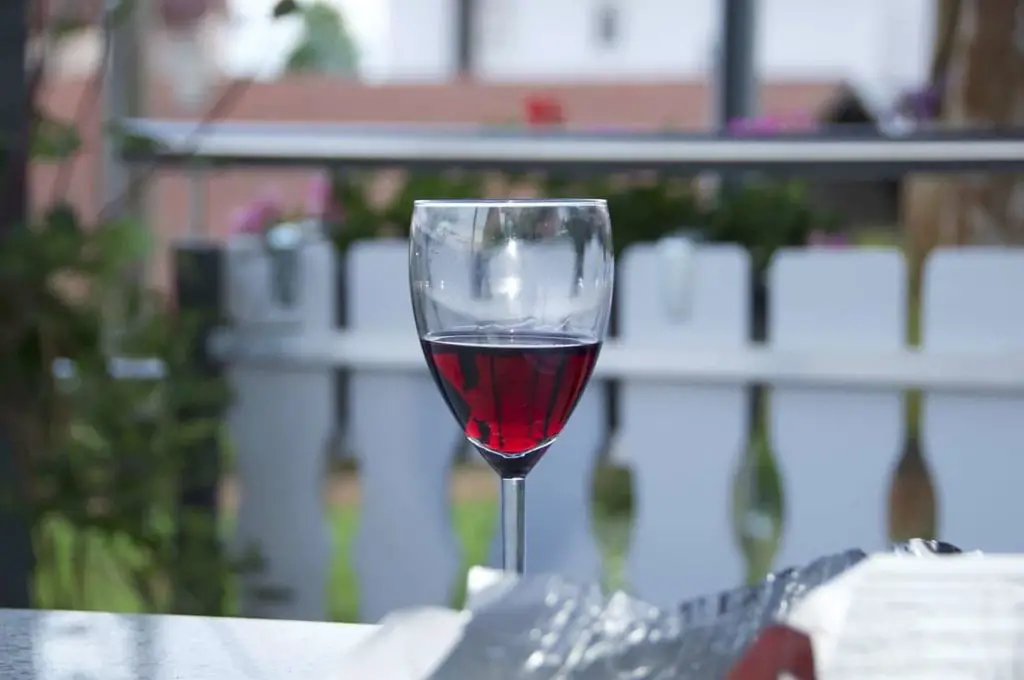 Typically, Muscadine wine is sweet. Still, that is not due to the natural sweetness of the fruit itself. The reason for that is the extra sugar added by the winemakers during the wine's fermentation stage. The Muscadine grape does not possess enough natural sugars. Hence, there are dry varieties of Muscadine wine available in some places.
The taste of Muscadine wine is an acquired one. Its aromas are powerful, which may offend people with sensitive noses or those who don't like its strong properties. The primary flavors of the wine include ripe banana, lime peel, bruised apple, cranberry, and rubber cement.
This combination of flavors is quite intense along with an overpowering scent of overripe, brown bananas. Likewise, you'll notice subtle hints of lime, cranberry, and melon. Moreover, these wines are medium-bodied and may also contain notes of honeysuckle or strawberry.
When drinking it, you can feel Muscadine wine's astringency near to the finish and along the sides of your mouth. Its finish also includes dried fruit, rubber cement, saline, and pine cone. All of these elements make the wine acidic and bitter which not all wine drinkers will enjoy. 
The dominant flavor in the wine is fruit. So if you have a sweet tooth, the intense flavor of the Muscadine one is something you will definitely enjoy. It has that candied sweetness similar to candied yams, sweet tea, and other southern traditions.
The tastes of the red and white Muscadine are slightly different. Still, both are medium-bodied, acidic, bitter, and very sweet. While the strawberry and cranberry flavors are stronger in the reds, white exhibits bruised apple, floral, and banana taste. But both white and red have hints of rubber cement, lime, salt, and pine cones.
To best enjoy a glass of Muscadine wine, you should drink it young and chilled. Since they oxidize fast, you must drink Muscadine wine immediately. This is one of those wines that are a rare find. What's more, sourcing them out is especially challenging because its production is limited in the country's small area.
Food Pairings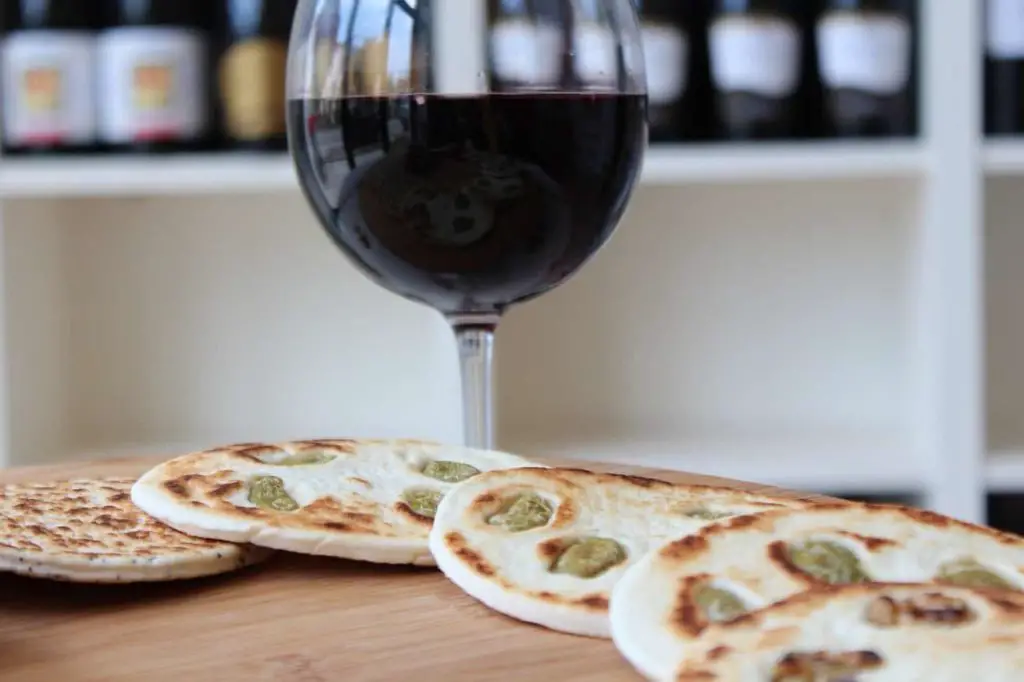 The sweet flavor of Muscadine wine pairs nicely with BBQ and spicy foods. If you want to experience a true Southern tradition, consider pairing it with brisket, ribs, or smoked pulled pork. Likewise, sausage and pork chops go well with this unique bottle of wine.
Usually, red wines do not go well with white meats, such as chicken and fish. However, a sweet red Muscadine wine will. Along with that, you can also pair it with desserts if you want to relish a remarkably sweet experience. You can also enjoy Muscadine as a digestif since it is already sweet on its own.
Trying Muscadin
A word of warning to novice practitioners of wines, Muscadine wine will not suit everyone's tastebuds. As we've confirmed in the first part of this article, its flavor is quite unique that demands an acquired taste. This wine can ravish your senses and may almost turn you off instantly by the mere scent of its strong aroma. 
Nonetheless, you do have some options if you are still interested to try it. But keep in mind that because its production is limited, it is hard to find quality Muscadine wine. So if you can't find something you like right away, our advice is to keep on trying until you do.
Duplin Winery Hatteras Red
Hatteras in North Carolina is known for its rich history and superb fishing, as well as pristine and remote beaches. But aside from these, the village is also known for its special Muscadine with a strong blackberry flavor. It is best enjoyed as an after-meal treat.
Lakeridge Winery & Vineyards Southern Red
The Clermont, Florida winery is not only home to the yearly Summerfest Grape Stomp Festival. It is also where the Muscadine wine with a blend of strong berry flavors, sweet-tart, and a dry finish is produced.
Lakeridge Southern White Muscadine
Lakeridge Winery also offers a budget-friendly bottle of white dessert wine that's sweet and light.
Chateau Elan Duncan Creek Muscadine
Georgia's Chateau Elan Muscadine wine is sweet, light, and features a classic and crisp taste. This one is made from 100% Muscadine grapes cultivated in Georgia.
San Sebastian Vintner's Red Muscadine
This red wine is balanced and features intense fruit flavors thanks to the Muscadine grapes native to St. Augustine, Florida, the place said to be where Muscadine wine's production originated.
Frequently Asked Questions
Is Muscadine wine the same as Moscato?
The Muscadine grape is very different from other varieties like Moscato and Muscat. This wine is inherent to the US and has a profile that tends to be quite sweet. 
Are muscadines good for diabetics?
In comparison to most red grapes, the flavor of Muscadine grapes is sweet and its sugar level is higher. Hence, if you have diabetes, it is advisable to be cautious with the amount of Muscadine you eat.
Can you eat the skin of a muscadine?
This grape variety is thicker in comparison to other grapes. Although a lot of people prefer squeezing them, Muscadine's skin is edible.
Drinking Muscadine
Thanks to the commercial production of Muscadine wine, there is something for everyone even if it has an acquired taste. Southerners claim that commercially produced Muscadine is not the classic type. Regardless of this, these strains have gone through a breeding and cultivation process to produce Muscadine wines with various flavors. 
The indigenous grape is historic and fascinating. Still, it is not yet fully known. Nevertheless, people living in the south treasure it, resulting in the production of unique yet affordable wines. Supporting the research of a low-value crop is difficult but more and more people are experimenting with the Muscadine grape slowly, including other thrilling things they can create with it. 
The sweet, aromatic, and rich Muscadine wine is a must if you're keen on trying the only wine made from a superfruit. It is one of the southern traditions that all wine lovers need to discover a little more of.