Wine clubs have become very popular in recent years. They give you a chance to try out new wines on a regular basis and you will often be getting wine at a more reasonable price than if you bought it in the supermarket or off-licence. 
In this article, we are going to take a look at the Firstleaf Wine Club so that you can decide if it is the club for you. 
An Overview of the Subscription
The first thing you need to look at is what the club offers. I think you will appreciate that Firstleaf has a lot going for it.
Before getting your first box of wine, you take a quiz so that Firstleaf can see your wine preferences.

The first box is very reasonably priced at $39.95. The subsequent boxes cost $79.99, which is still reasonably priced for a box of six bottles of decent wine. 

After drinking the wine, you can go to their website and rate the wines. This helps the company tailor the next box to your tastes.
Pros of Firstleaf
It is easy to navigate the website.

There is a fun quiz to start you off.

The price of the first box is excellent.

Delivery is quick, just a few days, depending on where you live. In addition, you can change the delivery date if you need to.

The rating system helps you to get wines you like.
Cons of Firstleaf
The quality of the wine varies.

The rating system is too simple.

You can't buy any of the wines in the supermarket. They are exclusive to Firstleaf.

If you don't cancel, you will automatically get the next box.
A Recommendation
This wine club is great for people new to wine. It introduces them to new flavours and aromas. They can expand their knowledge with each box. However, if you are a wine expert, you might find the club too simple. On the other hand, it might still be interesting to try out wines you can't get in shops. 
What is the Firstleaf Wine Club?
If you subscribe to Firstleaf, you will receive a box of six bottles of wine each month. You don't choose the wines, they do. However, they analyse your tastes from the initial quiz and the reviews you post when you have drunk the wine. With each subsequent box, you should get nearer to the tastes that you like.
The History of Firstleaf
The company was founded by Phillip James and aims to cut the middleman out of selling wine. Prices are higher if you go to a shop or off-licence because the seller has to make money. This makes it more difficult for you to purchase a reasonably priced bottle of wine. 
The winemakers working for Firstleaf taste over 10,000 bottles of wine a year and only select a small percentage of these for Firstleaf. It can be as low as 2%, but they are looking for the best in the price range.
Firstleaf has won 1223 awards for the wines they offer, so they seem to be doing a good job.
How to Start with Firstleaf
To join Firstleaf, all you have to do is take a fun quiz that will tell the company what you like to drink. They can then tailor-make the box to your taste. There are 13 questions for you to answer. They could ask you if you like sweet wine or how many bottles of wine you drink in a month. They will ask you what flavours you like. Do you like fruity wine, do you prefer white over red, and is acidic wine to your taste? There is a question that asks you if you like butter. If you say yes, you will no doubt get Chardonnay as that has a buttery taste.
Once you have filled in the quiz, you pay your subscription and their choice of wine according to your quiz answers is sent to you. 
Thoughts on Getting Started From a Wine Expert
The quiz is detailed so you should get the flavours of wine you prefer. It is a fun way to start a relationship with a club. If you're new to wine, this is a good way to start your wine journey. However, while the first box may be interesting for wine experts, they might not want to continue the relationship as they already have good knowledge about wine. 
Thoughts on Getting Started from a Newbie
The quiz is great for those who are new to wine. It assesses your tastes and presents you with a box of six bottles of wine which you should enjoy. Take your time answering the quiz to ensure that you get flavours you like. 
Wine Suggestions
When you have finished the quiz, you are given six wine options. You will see a photo of the bottle as well as details such as tasting notes. They will also tell you where the wine has come from, the retail and the club price (here you can see how much you are saving). They will also tell you if the wine has won any awards. You do have to give them your email address to get your results. This means that you will be on their mailing list so even if you don't sign up, you are still going to receive emails from them. You could be worn down to taking a subscription!
If you don't like the wine suggested you can choose a different box. There is the Old World Tour, California Classics, Refreshing Whites, Big Reds, Founders Favourites, and Award-Winning Wines. There's bound to be a wine that you are excited to try. The good thing is that all these boxes cost just $39.95 for your introductory offer.
If you're still not sure if you want to join, why not buy a bottle or two from the website and see how you get on. 
Thoughts about the Wine Selections from a Wine Expert
The wine expert was impressed as Firstleaf understood the preference for white wine. However, a Chardonnay was added and he didn't like wine aged in an oak barrel. However, he was impressed that they chose a Syrah as that is a red he does like.
Thoughts on the Wine Suggestions from a Newbie
The newbie was interested to try the wines but admitted he knew little about wines so this was going to be a learning experience. 
As it is, if you are experienced with wine, you will still have an opportunity to try out new wines. Firstleaf only sells wines that you can't buy in the shops. If you are a newbie, you will be given the opportunity to learn about wine and to find out what you like and dislike. 
The Signing Up Process.
This is so easy. Once you've decided what box you want, just press 'Go to Check Out'. Put in your delivery and payment details and you're all set to go. 
Prices
You really are getting a bargain, especially in your introductory box. Firstleaf states that the bottles of wine retail at between $15 and $30 if you buy them singly. This means that with the introductory offer, you will be getting wine at around seven dollars a bottle. With subsequent boxes, you will be paying around $13 a bottle. It's a bargain either way.
Of course, as we have said, you can't buy these wines from the store so the prices are arbitrary. However, you can purchase single bottles and these are sold at the price Firstleaf believes that they should be priced at.
The First Box
The service is good. More often than not, the box of wine arrives within a week of ordering. The only real problem is that you have to be at home to sign for the box. They won't deliver if you're not there and will charge $20. This is a little harsh as who can be at home all day, particularly if they work? An alternative would be to have the wine delivered to your workplace but then you have to carry the box to your car or public transport and believe me, it's heavy,
We know you'll be excited to receive your first box and even more to see that each bottle has its own card. This is especially useful for the newbies out there. It gives the name of the wine, the year it was produced, the region it comes from, tasting notes, the profile, what to pair the wine with, and the alcohol level.
The tasting notes are useful for beginners. They tell you about the history of the wine and the varietals. When it comes to profile, you will learn how acidic the wine is, if it is sweet or dry, what fruit flavours it has, and what the tannin level is. You will also get a photo of the bottle and a fun fact about the wine.
Thoughts About the First Box from a Wine Expert
It felt unbelievable how quickly the wine arrived and we were able to taste it. The cards were a great touch as well as they gave us essential information there and then. However much of an expert you are, you can still learn more and these are wines which we haven't had an opportunity to try before.
However, we found that the pictures on the front of the cards were unnecessary. One said that it was a great wine to enjoy on a Spanish beach. The chances that we will be able to enjoy the wine in Spain is remote.
Thoughts on the First Box from a Newbie
We loved the cards as they told us more about the wine and what to eat with it. Six bottles were the perfect amount for a month. Having said that, we can always go and order more on the website. The introductory price of $39.95 is certainly a winner. You couldn't get wines of this quality at such a low price in the supermarket or off-licence. However, we wished we were in Spain on a warm summer's night enjoying the wine. 
Rating the Wines
After you have tried the wines, you have the opportunity to rate them on the website. We advise you to do this as what you get in your second box relies on this. By rating the wines, you should keep getting wines more to your taste with each box that comes. Unfortunately, however, you just get the opportunity to rate a thumbs up or a thumbs down. You can add notes, but we're not sure that these go into the algorithm. 
As you review your wines, your second box is being prepared for you. A nice touch is that when you see what you will be getting in your next box, you can change bottles to ones more to your liking. You can change up to three bottles. If you want to change more, you have to contact Firstleaf directly to make more changes.
How to Adjust Your Account
It's easy to change your delivery preferences. If you decide that you want more red wine than white, just go into your account and make the appropriate changes. You can also change how often you get a box, your payment methods, and your delivery address. 
What do I do if I Have a Question?
This is simple. Firstleaf has a wine concierge available to answer any questions you have.
Thoughts on Rating the Wine from a Wine Expert
The rating system seems a bit simple as all you do is give a thumbs up or a thumbs down. However, you are also given the opportunity to add notes and if the company looks at these you are more likely to have the next box tailored to your likes. Only receiving the next box will tell if your preferences have been taken into account. 
Thoughts on Rating the Wine from a Newbie
It's an easy to use system and we are excited about receiving the next box. We think that the ratings go into a more complex algorithm where all likes and dislikes are assessed.
Rescheduling or Cancelling a Box
It is simple to reschedule or cancel a box. All you have to do is go into your account page and change the delivery date. You can reschedule it for any amount of time which is good as you may want to ensure that you are at home to receive your box. You don't have to worry that you are going to be charged twice as long as you reschedule or cancel in time. You will get an email before you are charged so once this happens, you will know that you can't cancel or reschedule your delivery. If you do cancel a box after this time you will be charged a $20 restocking fee. 
Charges go through and boxes are shipped even if you don't review your wines so be careful. You should review your wines in good time so that you get a box of wine that is tailored to your preferences. 
Putting your Subscription on Hold or Cancelling it
You can cancel your subscription at any time without any charge. However,  if a box has already been sent to you, you will have to pay for it.
The only way you can hold your subscription is by putting your next delivery date months in advance.
If you cancel your subscription and then decide to join again, you won't get the introductory offer for a second time, which is fair enough. Otherwise, you could continually be cancelling and joining. 
If you have cancelled, you can rejoin by signing into the website using the same email and password.
Firstleaf First Box Review
Here is a review of the six bottles of wine we received as our introductory offer.
Corsage Chardonnay
This Chardonnay is oaked, but it is still light-bodied and light on the butter. You will get tastes of honey apple and tropical fruit, especially bananas. It pairs well with vegetable risotto and pasta, as well as chicken and fish pate.
Erste White Pinot Grigio
This is another light-bodied wine that tastes of citrus and apples. The fruit flavours are strong and the wine pairs well with trout or another light fish.
Tifosi Vino Bianco
This wine is rich and creamy and has a dominant taste of ripe pear. There are also hints of minerals, lime and cardamom. Roast chicken is the perfect accompaniment to this wine as well as pasta and risotto.
Comarca Verdejo
This is a Spanish wine and unfortunately is a little dull. You can just about taste minerals and lime, but there are no exciting fruit flavours. It is too boring to sip on its own. You really need food, such as chicken, fish, or rich creamy pasta. This is a thumbs down wine.
Beraka White Wine Blend
This wine is a blend of Semillon, Chardonnay, and Pinot Grigio. The Semillon and Pinot Grigio take away any taste of oak from the Chardonnay. The aroma and flavours you will get are grass, lemon, and flowers. The Chardonnay gives it a bit more body. It is good with chicken and fish and is a great accompaniment to appetizers.
Azaleas Syrah
At last, we come to a red wine. This wine has few tannins so is easy to drink. It tastes of vanilla, blackberries, and raspberries. In fact, it tastes a bit like port, although it doesn't have the same sweetness as a port. It goes well with steak and roast lamb.
Thoughts After Trying Out the First Box from a Wine Expert
Six wines for under $40 is a bargain and it was great to try out different wines. There were certainly wines we had never tried before. However, not all of the wines were of high quality. We don't know if we would want to carry on paying almost $80 for a box every month. However, we have the option of less frequent deliveries so getting a box every five to six months would be a viable option.  
Let's now vote the wines on a scale of 1 to 10.
Quality – 5

Value for money on the first box – 10

Customer service – 8

Chance of you ordering again from Firstleaf – 5
Thoughts After Trying Out the First Box from a Newbie
This is a fantastic way to be introduced to wine and to learn about flavours, acidity, and sweetness. We weren't keen on some of the choices but are interested to see what the second box brings. It should be more tailored to our preferences. We do enjoy getting a surprise in our box as we don't know much about wine. The price of the first box was also a winner. $39.95 for six bottles of wine is amazing.
Let's now vote the wines on a scale of 1 -10.
Quality – 10

Value for money on the first box – 10

Customer service – 9

Chance of you ordering again from Firstleaf – 8
Box Number 2
Both the wine expert and the newbie decided to suss out box number 2 to see if their preferences 
had been taken into account. Did the rating system really work? It is interesting to note that with each rating the wine choices changed so they're definitely doing something right. However, it wasn't clear if the notes were being taken into account or if it was only the thumbs up or down that were being used. 
The wine experts were a little disappointed with the red wine choice. It first chose Zinfandel but then moved to a Petite Sirah. They preferred the pepper and cinnamon notes you get with a Zinfandel or a Syrah. 
It is interesting to note that while Petite Sirah and Syrah sound the same they actually are completely different and come from different grapes.  
If you want to sum up the choices, they are pretty accurate and it will get better with each box you receive. The more ratings you give, the greater the chance is of getting wines that you like.
One problem we have noticed is that if Firstleaf doesn't have the wine they have selected for you, they will send a different bottle. You are really at the mercy of their supplies.
The speed we received Box number 2 was equally as fast as Box number 1 which is great service. 
Thoughts on Box Number 2 from a Wine Expert
It's interesting to watch the choices change for your second box as you rate the wines from the first box. It's more fun rating the wines as you drink them rather than doing it all at once. If you rate them as you drink them you will see all the different changes happening.
We weren't so keen on the Petite Sirah however and wished that we had got a Zinfandel or a  Syrah. Perhaps it will be drinkable. The Pecorino sounds interesting as does the Vintio Branco from Portugal.
Thoughts on Box Number 2 from a Newbie
The algorithm decided that we liked acidic white wine so we were presented with acidic wine which was much better than the Chardonnay we got in the first box. However, there was one wine that was a little too acidic
We liked the Syrah in the first box but are a little worried about the Petite Sirah. On the other hand, we are looking forward to the Press Vinto as it sounds similar to the Albaino we had in the first box. 
Firstleaf Second Box Review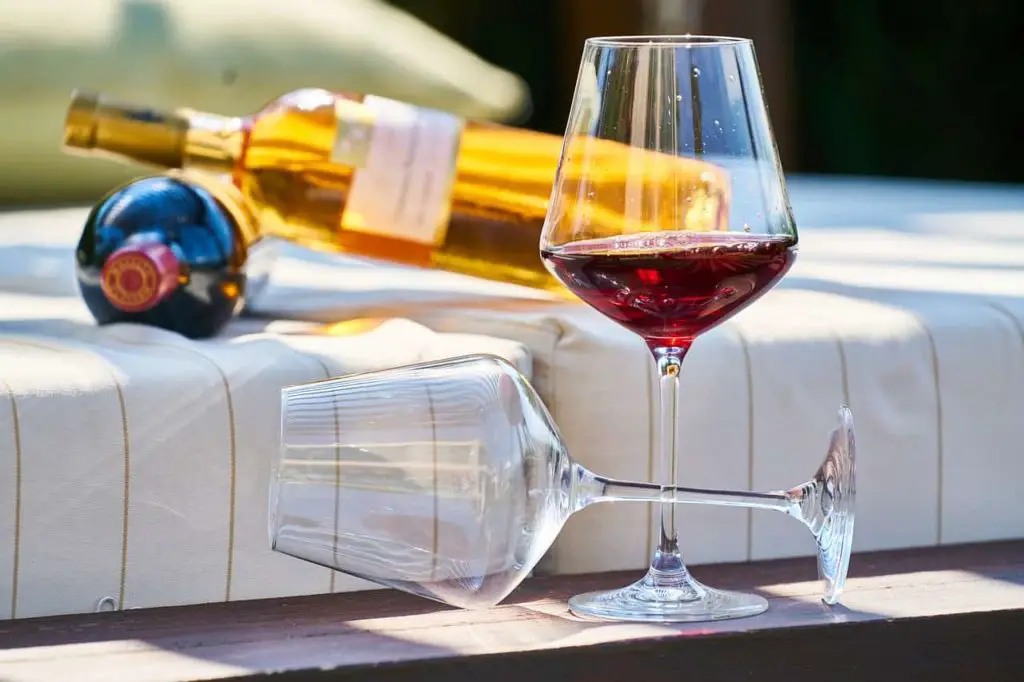 We'll now take a look at the wine that was sent in the second box.
International Press: Portugal  Vinto  Branco
This wine is a green wine. which only comes from the northwest of  Portugal.  Portuguese wines are classified by region as are most wines in Europe. To drink this wine, you will feel as if you are getting an exclusive wine that people outside Firstleaf will never get the opportunity to try. It is a light-bodied wine with a zippy characteristic. It is high on acidity so pairs well with seafood. Because it has a citrus flavour it can feel that you have a lemon on top of your shrimp or lobster. It also goes well with crab, oysters, and mussels.
Strata Blue Sauvignon Blanc
If you like Sauvignon Blanc, you will love this one. It is light and has tropical flavours. You will get a taste of the Caribbean with flavours ranging from pineapple to melon. You might also get a hint of peach and of lime. It is the perfect accompaniment to vegetarian dishes as well as seafood and fish. Try it with seabass or lobster. You could even have it with a light chicken dish or salmon pate. Try it with crudites and a creamy dip.
Tres Tigres Tristes Vinto Branco
This is another Portuguese wine. As you can see, Portugal produces some delicious wines. This wine is citrusy, with tastes of lemon, grapefruit, orange and lime. It does have a hint of tannins but is still light.  There are also hints of green apples and minerals. It is a great wine to have with a summer salad, seafood, and appetizers. Try it with a light salmon pate or shrimp cocktail.
March Hawk's Plunge Petite Sirah
This wine is medium-bodied and high in tannins so it rests heavily on the tongue because it is so thick. If you like red wine that is powerful, you will like this wine. Smelling this wine is a treat. You will get an aroma of blackberries, plums, and violets. If you have ever had a raspberry crumble, you will get a taste of this, crumble included. This wine goes well with red meat, especially a sirloin steak or roast lamb. 
Corolla Calyx Vermentino
Here we have another white wine packed with acidity and fruity flavours. It is light-bodied and has a taste of both lemon and lime. You might even get a taste of apple and pear. It tastes almost fizzy which will add an extra zing. It does also have a light butter taste that most Vermentinos have. It pairs well with any type of seafood and why not try it with risotto? It also goes well with pasta with a tomato sauce and any type of vegetarian dish. Serve it with ratatouille or even a cheeseboard. Soft cheeses are the best accompaniment.
Maiden's Delight Pecorino
Don't be confused. Pecorino wine and Pecorino cheese have nothing in common. Pecorino wine is high in acidity so should please those who enjoy eating seafood. However, this wine is also very floral with honeysuckle notes, as well as jasmine and gardenia. The flavours are peach and nectarine. These flavours amount to a pairing with risotto, pasta, fish, and chicken. 
Frequently Asked Questions About Firstleaf Wine Club
Is Firstleaf wine any good?
Yes, it is. The club sends you award-winning wine direct to your home. Of course, everybody has different tastes and you might not like all the choices that are sent. On the other hand, you may like all the wine that you receive. It is all a learning curve. And you may find out which wines you like the best. It is a pretty good wine club for newbies who want to learn more about wine. After receiving a few boxes you should know what wines you like the best and will then be able to shop in stores for your favourites, However, don't give up on the wine club as it will help you develop your wine knowledge. 
Is Firstleaf Only for Newbies?
No, it isn't. If you have been interested in wine for a long time, you will still be interested in discovering new wines and Firstleaf gives you this opportunity. You can't find any of their wine in the store, so this is a totally new experience. 
Is it a good idea to give the Firstleaf subscription as a gift?
Totally. The introductory pack is fun to explore and may easily persuade your friends to continue to Box number 2. The cards in the box are so much fun and give your friends an incentive to move on to the next box. They will learn so much from the cards about the wine so how can they not want to carry receiving the wine? 
Conclusion
This wine club is certainly one to be considered. The wine choice algorithm seems to work so you can be assured that you are going to receive wines that suit your preferences.  It has been proved that the algorithm changes with each wine you rate so each time you get a box, you should get more and more wines that suit you, 
While you receive just six bottles each time, you may feel that the company can't decipher what you want, but it has been proven that they can start the process. The more boxes you order the better chance you have of getting the wine you like. The only problem, and it is a slight one, is that Firstleaf may not have in stock the wine you prefer. However, this is only likely to happen with a bottle or two in your box.