The Sancet 2009 comes from the Côtes de 
Gascogne appellation which is located in Gascony, south west of Bordeaux. This is a regional Vin de Pays produced in the Armagnac region and falls under the Gers department.
This area is very well-known for its strong culinary tradition with duck and foie gras and the production of Armagnac (the oldest brandy in France).
The Côtes de Gascogne is unusual in that it mainly produces white wine: only 8% is red and 1% is rosé. Gascony's fine wines and warm hospitality go back a long way
. The Gallo-Roman mosaics at Séviac in Montréal du Gers bear witness to the fact that Gascony had vineyards as far back as the 5th century. In those days, the Adour and Baïse rivers 
were the most important routes for transporting wine to the Nordic countries.
This region tucked between the foot of the Pyrenees and the gateway to the Atlantic has always been a lush land of hillsides and valleys almost entirely devoted to the art of wine growing.
With its oceanic climate tempered by the Landes forests to the west, the Pyrenees to the south and just the right mix of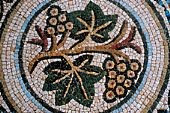 sunshine, rain and coolness the Gers provides ideal conditions to get the best from is vineyards. When fully mature the wines develop their own particular identity – a rich aromatic palette that is complex and seductive.
Domaines de Sancet lie in Saint-Martin-d'Armagnac on a sloping plateau of sandy soil and is owned by the mayor of the village, Alain Faget, who also makes Armagnac, Floc (a blend of grape juice matured with Armagnac, served as an aperitif in Gascony), liqueurs and wines under the Madirans and Pacherenc appellations
. Saint-M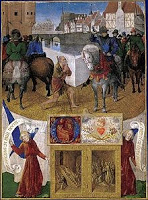 artin-d'Armagnac lies in the west of the Gers department, in the Bas Armagnac, south of the Canton of Nogaro. Nogaro takes it's name from the Latin Nugarolium, meaning "place planted walnut trees" and Saint-Martin-d'Armagnac owes its name to Saint Martin, Bishop of Tours.
The shrine of Saint Martin of Tours (316 – 397) was a famous stopping-point for pilgrims on the road to Santiago de Compostela.
He is a patron saint of France and of soldiers. Martin was named after Mars, god of war and his father was a senior officer (tribune) in the Imperial Horse Guard, a unit of the Roman army. While Martin was a soldier at Amiens he experienced the vision that became the most-repeated story about his life.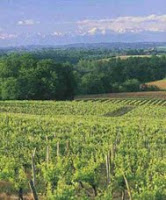 He was at the gates of the city of Amiens with his soldiers when he met a scantily dressed beggar. He impulsively cut his own military cloak in half and shared it with the beggar. That night Martin dreamed of Jesus wearing the half-cloak he had given away.
He heard Jesus say to the angels: "Here is Martin, the Roman soldier who is not baptised; he has clad me." Martin was so moved by his dream that he was baptised at the age of 18.
During the Middle Ages, the relic of St. Martin's cloak, conserved at the Marmoutier Abbey, near to Tours, one of the most sacred relics of the Frankish kings, would be carried
everywhere the king went, even into battle, as a holy relic upon which oaths were sworn The priest who cared for the cloak in its reliquary was called a cappellanu, and ultimately all priests who served the military were called cappellani.
The French translation is chapelains, from which the English word chaplain comes from. One of the many services a chaplain can provide is spir
itual and pastoral support for military service personnel by performing religious services at sea or in the battlefield.
Sancet is made with Colombard, Ugni Blanc, Gros Manseng and Sauvignon Blanc grapes. Colombard is traditionally grown in Gascony for distilling into Cognac and Armagnac. This typical Gascon variety lends a special fruity note to wine, a powerful and unique aroma with hints of citrus fruit, mango, pineapple or passion fruit.
It is an early fruiting variety which is used to provide backbone, due to its natural acidic character. Ugni Blanc is also known as Trebbiano and although fruity its high 
acidity makes it important in Armagnac production.
This variety brings a floral bouquet, as well as the vivacity and balance that is crucial in any wine. The Colombard/Ugni Blanc blend is the flagship of Côtes de Gascogne white wines. Gros Manseng produces intensely flavoured wines with high acidity, apricot and quince fruit along with spicy and floral notes.
This variety from the Béarn adds a special touch to the combination of Colombard and Ugni Blanc.
Sancet is beautifully balanced, bright, and refreshing with lush flavours of ripe pear, melon, guava, cucumber, apple and lemon. There is a light beeswax note which adds complexity, a hint of slight sweetness (this should not deter lovers of white wine) and a touch of minerality on the finish.
This is a well structured wine and is a food friendly wine. It pairs well with all fish dishes, seafood (particularly oysters and scallops), Mediterranean fayre such as Bouillabaisse or Paella, pork and poultry as well as Asian cuisine and strong cheeses.
They say that Gascons live the longest of all in France and Gascons attribute this to their daily dose of wine, duck fat and garlic. If all of this sounds rather rich and unhealthy, you might be surprised to learn that heart disease in Gascony is half the rate it is in the USA.
Game birds are also revered in Gascon kitchens – bécassier (woodcock), palombe (wood pigeon), pintade (guinea fowl) and ortolan (bunting) will crop-up on menus in many an auberge. There is a delicious Gascon recipe that will pair very well with the Sancet
:
Guinea Fowl with Stuffing and Sautéed Apples

1 guinea fowl
1 handful of walnuts
5 dried figs
5 prunes
50 g almonds
5 dried apricots
2 eggs
bread
goose fat (if you haven't got any you could use lard as an alternative)
salt , pepper
thyme
1 kg of apples
butter
sugar
Mix all the nuts coarsely together. Mix in the eggs, dried fruit, goose fat and bread and stuff the bird with this mixture. Brush with a little goose fat and sprinkle with thyme , salt and pepper. Place in a warm oven for 40 mins.
Carve the bird and put it back in the dish from the oven with the stuffing and let sit for 15 minutes before serving.
Cut the apples into quarters and sauté them in butter in a frying pan until browned. Serve with the guinea fowl accompanied by the stuffing.