Bordeaux makes some of the best Rosés in the world and Château Lamothe-Vincent Rosé is no 
exception. The Bordeaux Clairets – better known as Rosé – have been a favourite Bordelaise drink for centuries. In fact this is where our English word for Claret originated from.
Clairet is made by the saignée method which uses red grapes but only allows the juice to remain in contact with them for a short time. This way, the wine maker creates a pale red wine full of the aromas and flavours of the red grapes but with a totally different character.
Sales of Rosé have rocketed up 188% since 2005 to hit 49 million litres this year as more and more people discover the beauty of this wine. The Vincent family have been making wine since 1873 and has consistently produced distinctive, award winning wines.
The very name of the family has produced a few comments. The name of the patron saint of vine growers and wine makers is Saint Vincent.
They are heirs to traditional knowledge and are constantly building upon it. Bernard Vincent is involved in the professional and cultural wine life of Bordeaux and both Christophe and Fabien Vincent hold professional wine growing qualifications. The family motto is "the quest of expression"
 and their respect and love of the soil and its vines shines out in the wines they produce.
Château Lamothe-Vincent Rosé 2005 is a fabulous dry, deep, dark pomegranate pink and is bursting with fruit. It is made with two grapes – Cabernet Sauvignon which gives tannic backbone, or structure. This grape is very aromatic in young wines with heady aromas of blackcurrant.
Cabernet Franc is the other grape used and this provides acidity, fragrance and strawberry-like fruit qualities. Once the fruit has hit your taste buds the dryness follows through and the wine is elegant and refreshing. It's ideal for sipping on a summer's evening or drinking with fish and white meats.


The 80 hectare Château Lamothe-Vincent estate lies between Montignac and Castelvieil in the Entre Deux Mers and is surrounded by little Medieval villages, Romanesque churches, ancient bastides (walled towns) and fortified windmills.
The Entre Deux Mers is famous for its soft, fresh wines and is also one of the most historic parts of the entire Bordeaux region. The vineyards flow like intricate patchworks over the green, rolling countryside which is flanked either side by the Rivers of the Garonne and the Dordogne – which are large enough to be considered inland seas as they reach their estuaries.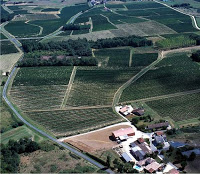 Château Lamothe-Vincent constantly strives to achieve the perfect mix of techniques – both old and new. The Vincent family believe that wine making should never be detrimental to the environment and have adopted a "back to nature" approach. Organic methods are used and they exercise a balanced ecological approach.
Natural predators (typhlodroma) are used to thwart the insects that attack the grapes such as caterpillars and red spiders. The grapes are grown along high surface and aerated trellises to allow greater exposure to the sun in order for better ripening of the grapes.


Leaves are plucked from the lower part of the vine to minimise the risk of rot by encouraging better ventilation and grape bunches are removed in July (green harvesting) to the remaining bunches ripen.
A variety of barrels are used at Château Lamothe-Vincent as specific wines require a different approach to oak. The slow oxidisation in oak barrels gives the wine a well-rounded, rich finish while still maintaining subtle presence of the fruit.
The type of oak influences the final wine, as does the volume of the barrel and the amount of time a wine spends in it. Oak aging is performed carefully so as not to camouflage the natural character of each of the wines.


So, Château Lamothe-Vincent experiments with barrel origin, barrel maker, toasting intensity, age of the barrel, time spent in barrel, temperature, intensity and time of oxidisation, malolactic fermentation in barrel (red wines), day of racking, maturing on less and so on, to bring out the best of each wine. In some cases, a combination of stainless steel and oak may be used to achieve the ideal balance between complexity and freshness.
My favourite recipe to go with Château Lamothe- Vincent Rosé is Tartare of Salmon – it's light, cool and delicious. The wine brings out the flavours beautifully – give it a try!
Tartare of Salmon
200g fresh Salmon fillets, skinned and cut into small cubes
1 tomato, diced,
1 onion, chopped
1 tbsp capers, chopped
1 tbsp chives, chopped
1 tbsp parsley, chopped
1 tbsp chervil, chopped
¼ cup black olives, stoned and chopped
1 tbsp ground coriander
2 tbsp olive oil
salt and pepper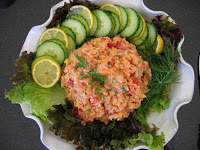 Mix the salmon, tomato, onion, capers, chives, parsley, chervil and black olives in a bowl. Season to taste with salt and pepper, sprinkle over coriander and moisten with olive oil. Place into molds and refrigerate. If you are not keen on raw fish then Smoked Salmon is just as good!
Images Courtesy of www.flickr.com