Could it be that wines sometimes take on the characteristics of their makers? Sometimes you come across one that does.
Chateau de Lauriole is made by Jean Michel Laplagne in the Isle Saint Georges, a long lost island in the River Garonne upstream of Bordeaux, near to the Pessac Leognan appellation.
The chateau is named after the Golden Oriole, a beautiful migrant bird that flits between the poplar trees that grow along the river.
Jean Michel Laplagne is an epicurean by nature. Not only does he love wine but he also farms a famous French gastronomic delight . . . snails. Jean Michel and his wife Muriel farm the snail Petit Gris (helix aspera muller) in their greenhouses and meadows around the vineyard.
'Petit Gris' means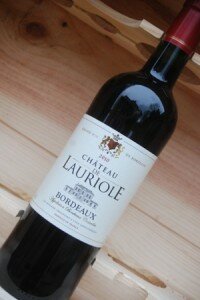 'Little Grey' and these snails are a delicacy in France. The snails are fed on radishes and white clover with corn and soy flour as a supplement to help build their shells. As you know, the French adore snails and eat 40,000 tons of them a year.
However only 5% come from France and the rest are imported. Jean Michel was brought up on snails simmering in his grandmother's pan and decided to farm them himself in 1989. He now produces over 500, 000 snails a year!
Jean Michel enjoys cooking and he sells his snails prepared in regional sauces and in the shell. His specialities are Escargot à la Bordelaise and Escargot aux Ceps (Porcini mushrooms). Both are cooked in Bordeaux wine.
To prepare Snails à la Bordelaise he first cooks the snails in a court bouillon with thyme, bay leaves, fennel, leeks, carrots, cloves, salt and pepper. The Bordelaise sauce is prepared with 
garlic, onion, shallots, bacon, chorizo, ham, tomatoes, a little red pepper and wine.
His Snails aux Ceps are made with sausage, bacon, ceps (porcini mushrooms), garlic, parsley and white wine.
He is always looking out for new dishes to try and is currently developing a third recipe, the Escargot Morilles (Snails with Morels).
As you can imagine, Chateau de Lauriole, being made by a gourmet, is a fantastic food friendly wine. It is a deliciously deep Claret with polished structure and brims with lovely flavours of blackcurrant, black cherry and blueberry edged by hints of mocha, herbs and graphite.
Classically clean and silky with good length; it is made from a blend of 80% Merlot 20% Cabernet Sauvignon. De Lauirole pairs beautifully with dark meats (duck, vension, rib of beef, rack of lamb, pigeon and kidneys) and dishes with rich sauces (red wine or creamy mushroom and pepper).
The locals recommend it with lamprey and it is fabulous with carpetbagger steak.
Jean Michel's vineyard lies on clay and limestone, which suits the Merlot in particular as it thrives on clay.
The little chateau sits in the hamlet of Boutric which is one of the oldest places in Isle Saint Georges. Boutric takes its name from Old German meaning 'a rich messenger' and was possibly the name of the landowner there.
It's not surprising that the Isle Saint Georges has been made a home for people from across Europe as it was once the crossroads of an ancient ford on the River Garonne on the great Roman road from Bordeaux to Narbonne.
Goods were exchanged here and the island soon became a market with several small harbours. Wine has played an important role here for thousands of years and fragments of wine amphorae are widely scattered across the site.
The old island is no longer visible as the river's meandering, a tendency to silt up and centuries of local drainage schemes have attached the island to the bank. It now lies 100 metres from the river.
But the vines are still grown, the Golden Oriole still sings in the poplars and the wine is still enjoyed by the locals. And now by us, thanks to its discovery!
We are pleased to say that we have Chateau de Lauriole available to buy from us here at Bordeaux-Undiscovered.  The vintage is 2010, a wonderful year, and it is priced at £7.99 as our introductory price to the UK.  To buy Chateau de Lauriole 2010  click here.