What makes a good vintage? The 
weather? Well, apparently comets do. I spotted Dwayne Perreault's blog on Comet Vintages over at Bordoverview and was fascinated. There is a legend amongst wine makers that comets create great vintages – and strangely enough it seems to be correct.
Comet Vintages are years during which a comet is visible to the naked eye (preferably, I presume, that of the vintner's) prior to harvest. Throughout the history of wine, winemakers have attributed successful vintages and ideal weather conditions to the unexplained effects caused by the comets.
Some of the most heralded vintages in the last couple of centuries have coincided with a notable appearance of a comet.
The 1811 Comet Vintage, coinciding with the appearance of the Great Comet of 1811 has perhaps the most notoriety. The 1811 Château d'Yquem has exhibited what wine experts like Robert Parker have described as exceptional longevity with Parker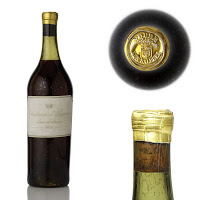 scoring the wine a perfect 100 points when tasted in 1996.
The 1811 Comet Vintage has had the most lasting notoriety. The comet that year was the Flaugergues Comet, named after the French astronomer Honoré Falugergues who first spotted the comet in March. The comet was visible for most of the growing season which saw optimal conditions for many of the world's major growing regions, but particularly in France.
After a string of bad vintages at the start of the 19th century, the 1811 vintage was a reversal of fortune in regions like Bordeaux, Cognac, Champagne and Sauternes. In Germany, the 1811 vintage was so successful that producers along the Rhine labelled their wines as "comet hock".
You may have heard of comet vintages via the film The Year of the Comet (1992), starring Timothy Daly, Penelope Ann Miller and Louis Jourdan. Peter Yates directed William Goldman's original screenplay.
It's a romantic comedy/adventure film about a Brit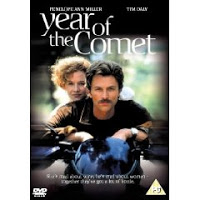 ish wine merchant's daughter obsessed with making it in her father's business. She is delighted when he sends her out on a routine business mission to a remote castle in Scotland.
What appears to be an average job cataloguing the stock of an ancient wine cellar becomes an opportunity of a lifetime when Maggie discovers a 150-year-old bottle of wine from a legendary year, believed to have once belonged to Napoleon: a bottle of Château Lafite, vintage 1811 . . .
So what years are considered to be Comet Vintages apart from 1811? The years 1826, 1839, 1845, 1852, 1858, 1861, 1985 and 1989 are noted as such. The detective
 in me was intrigued as we had a bright comet in February this year which was visible to the naked eye – Comet Lulin.
This was an unusual comet in that it was green – the colour coming from a combination of gases that make up its local atmosphere, primarily cyanogen and diatomic carbon, which both appear as a green glow when illuminated by sunlight in the vacuum of space.
What's more, the comet's orbit was in nearly the same plane as Earth's, but the comet was travelling in the opposite direction which caused Lulin to appear to move unusually fast and display a rare phenomenon giving it the nickname of the Comet With Two Tails.
Now if that isn't a portent for a Comet Vintage I don't know what is. Interstingly the only other green two tailed comet seen recently was one in 2005 . . . a vintage hailed as exceptional . . .
I began to wonder if any recent vintages were Comet Vintages and 
this is what I found out:
1982 Comet 1982 – also the year when Halley's Comet was spotted on its return to our inner solar system (last seen 1910), it was visible to the naked eye in 1986
1990 Comet Austin – originally exceptionally bright but dimmed as it approached the sun

1996 Comet Hyakutake – dubbed the Great Comet of 1996; its passage near the Earth was one of the closest cometary approaches of the previous 200 years and it glowed a blue colour
2000 Comet Linear – as the comet rounded the Sun it triggered a massive disruption of the comet's fragile icy core which broke into many well-defined bright fragments and disappeared
2005 Comet Machholz
 – another green, two tailed comet but despite its tiny size its coma is at least 3 times wider than Jupiter, the largest planet in our solar system.
2006/7 Comet McNaught – the Great Comet of 2007 and the brightest in 30 years . . . is this coincidental with 2007 being a fantastic year for the white wines of Sauternes?
2007 Comet Holmes– a comet that unexpectedly brightened with a surprise flare!
2008 Comet Tuttle – the first comet ever found that appeared to have formed when 2 comets collided and stuck together.
Not all of these comets were the stars of the show (no pun intended) and some were brighter than others.
Which leads me to wonder about the future. Is 2010 going to be a Comet Vintage? Comet Hartley is set to make a close approach to 
the Earth and could reach naked eye brightness. If it behaves similarly to previous returns it should be visible in the late summer/autumn – hopefully before harvest!
I am well aware that a lot of this may sound like mumbo jumbo but I agree with Dwayne Perreault in that this concept seems to be bio-dynamical in nature.
As he says "in a biodynamical world where the phases of the moon and alignment of the stars and planets play a role in viticulture, the idea of a celestial body like a comet having an influence on the grape harvest seems not so strange at all."

And if some of you think bio-dynamics is odd then read my blog Drinking Wine by Moonlight and you'll discover that Tesco and its rival Marks & Spencer, which sell about 1/3rd of all wine drunk in Britain, now invite critics to taste their ranges only at times when the bio-dynamic calendar suggests they will show at their best.
Marks & Spencer has gone a step further and is advising customers to avoid disappointment from the best bottles by making sure not to open them on "root" days. If you want to know what root days are check out my good friend Wilf's blog Wilf's Wine Press
!
As for me, well I will be drinking my wine by starlight . . . comet hunting.