Château Troplong Mondot Troplong Mondot is one of the biggest and most famous. The impressive château dates back to 1745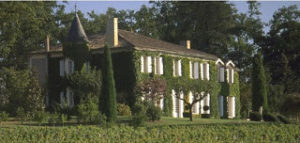 and was built by the Abbé de Séze and gained the name Troplong from Raymond Troplong, a previous owner, who was a former president of the French Senate.
Trolling was a famous jurist and a lover of art and literature – despite his political commitments he ran the chateau with great success and its wines were classed as the second finest in 1868.
Troplong Mondot was bought by the Valette family in 1936 and is now run by the very charming Christine Valette. Having met her on a few occasions she really is the perfect hostess always making you feel welcome with a big smile and lovely tradition Bordelaise cuisine.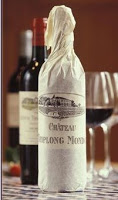 It's not been a widely known Château throughout history but Christine has certainly raised its profile. Michel Rolland has acted as consultant oenologist and since the 1990s the wines have just kept on improving.
The chateau sits at the top of Mondot, the escarpment to the east of Saint Emilion which gives magnificent views over the vineyards and the Dordogne, neighbouring Château Pavie (which was once part of the estate). Saint Émilion is the oldest wine area in Bordeaux region.
It's terroir has been recognised by the UNESCO organization (the United Nations Educational, Scientific and Cultural Organisation) and it is now a World Heritage site. Saint Émilion itself is a beautiful Roman village, sitting on a hillside overlooking field after field of vines over looking the Dordogne Valley.
Saint Émilion wines were not included in the 1855 Bordeaux Classification and have their own classification which was made in 1955. Unlike the 1855 classification, it is regularly revised. Château Ausone and Château Cheval Blanc are the only 2 wines currently classified as Premiers Grands Crus Classés A (First Great Growths category A). There are then 13 First Growths category B (Premiers Grands Crus Classés B) – of which Troplong Mondot is one.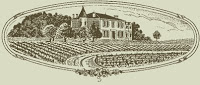 Saint Émilion covers a patchwork of soils which can be broken down into limestone plateaux, clay and limestone slopes, gravel terraces and sandy gravel plains. The clay and limestone suit the Merlot and the Cabernet Franc grape – Merlot is the most planted – and Cabernet Sauvignon is grown on the more gravelly soils.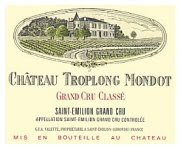 Due to the diversity of the soils there are many different styles of wines but in general Saint Émilion wines are considered to be the most robust in Bordeaux. They reach maturity more quickly than other red Bordeaux wines and age beautifully. Their flavours are of blackcurrant and blackberry, preserved fruit, toasted bread and truffles.
They are rich, warm wines and the high concentration of Merlot makes them velvety and round. They can also be complex, elegant and earthy.
The vineyards of Château Troplong Mondot cover 74 acres and lie on limestone and clay with patches of flint and some of the vines are over 90 years old. The grapes grown are 80% Merlot, 10% Cabernet Sauvignon and 10% Cabernet Franc.
Troplong Mondot's wines are full bodied, fruit driven and a bluish purple colour. They have notes of blackcurrant, coffee, earth, vanilla, pepper and plum. They are rich, dense, well structured and classic wines which age gracefully and should be cellared. If you are interested in buying Chateau Troplong Mondot's wines you can find them at www.interestinwine.com
This is a wine which most enthusiasts would cherish in their cellars and a wine which is worth following should your budget allow. It really is wonderful with Beef, Vension and Game dishes and should be savoured for the moment allowing the full richness of the wine to be appreciated – should you ever be fortunate enough to have a bottle with your meal.