Followers of Chateau Cheval Blanc may have noticed that the Grand Cru Classé chateau that was acquired by its owners (Bernard Arnault and Albert Frère, LVMH) in 2006, Chateau La Tour du Pin, seems to have disappeared.
Apparently the decision was made not to include the chateau in the 2012 Saint Emilion Classification.
Cheval Blanc has absorbed around 3.5 acres of the best of La Tour du Pin's vineyards and the remainder (18.5 acres) will be used to make a generic Saint Emilion.
La Tour du Pin was originally part of the great Figeac estate (as was Cheval Blanc once upon a time). Figeac is the largest estate in Saint Emilion and is also one of the oldest.
Down the centuries it has been sold a number of times and plots of its vines have gone to other chateaux which explains the numbe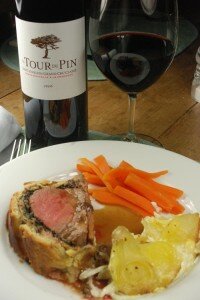 r of them which have added Figeac to their own name. In 1879 a 91 acre section of vines was purchased by a M. Corbière to form Chateau La Tour Figeac (now owned by the Rettenmaier family).
Two years later half the land was sold and further divided into the estates Chateau La Tour du Pin Figeac (Moueix) and Chateau La Tour du Pin Figeac (Giraud-Belivier). Both were classified Grand Cru Classé in 1955 – a position both held until 2012.
 It was the Chateau La Tour du Pin Figeac (Moueix) that was purchased by Cheval Blanc in 2006. The 'Figeac' part of its name was officially dropped in 2008.
La Tour du Pin lies between Cheval Blanc and Figeac at the edge of the Pomerol appellation. The soil was considered the more gravelly of the three La Tour properties, closer to the conditions of neighbours Figeac and Cheval Blanc.
The Grand vin was typically a blend of 70% Merlot and 30% Cabernet Franc, as was the estate's second wine, Clos La Fleur Figeac.
After it's acquisition in 2006 La Tour du Pin had undergone a quiet renaissance – the team at Cheval Blanc rejuvenating the vineyard with finely tuned plot management systems and soil analysis, using small vats to respect the diversity of the vineyard and controlling the vatting process on a case by case basis to bring out the potential of each grape variety, each type of soil and each type of vat.
It seemed that all boded well for La Tour du Pin with Robert Parker pointing out it's rise in quality and saying: "Pierre Lurton, the director of Cheval Blanc, has completely resurrected this estate since it was acquired by the owners of Cheval Blanc . . .Well worth a search of the marketplace as purchasers will get all the savoir faire of the Cheval Blanc wine making team combined with a very good vineyard that has been admirably resurrected."
I must admit that it's a shame that La Tour du Pin is no more – the wines were receiving higher points from Parker than they had under its previous owners. Chris Kissack has reported that the team were not sure it would keep its Grand Cru Classé status in the 2012 Saint Emilion Classification if it were to be submitted. The other possibility to consider is that the extra acreage would have proved beneficial to Cheval Blanc, enabling them to up the production of the Premier Cru. Either way as Chris points out the vintages of La Tour du Pin have now acquired rarity status.
If you are interested in trying the wine for yourself I have the 2006 vintage available at Bordeaux-Undiscoveredand the 2007 at Interest In Wine – it's a lovely wine and it's a pity there will be no more of it made.