Chateau Haut Brion has announced that they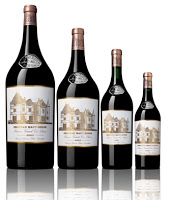 have changed their large bottle format for their Double Magnum (3 litre) and Imperial (6 litre) sizes.
Following the rebirth of white Chateau La Mission Haut Brion and the launch of Le Clarence de Haut Brion and La Clarté de Haut Brion, Domaine Clarence Dillon have made a further effort to maintain the consistency of its product presentation by using the same shaped bottles for all of its wines.
Starting from the 2009 vintage Double Magnum and Imperial Bottles of the wines will all be of the same Haut Brion shape as the current 75cl bottles and Magnums.
This shape is unique amongst the Bordeaux wines and is similar to bottle shapes used in 18th century Bordeaux. It was designed by Clarence Dillon and was used for the first time in 1960 to bottle the 1958 vintage.
Also starting from the 2009 vintage La Mission Haut Brion Double Magnums 
and Imperials will be embossed with the cross symbol. The château dates back beyond the 15th century but it owes its ancient reputation and name to the priests of the Mission of Saint Vincent de Paul who occupied the estate in 1654.
The cross symbol pays homage to these priests who built the foundation for La Mission Haut Brion.
Besides consolidating their branding Domaines Clarence Dillon are also ensuring that their bottles are easily identifiable and are protecting against counterfeiting.
Larger bottles are popular with Bordeaux collectors because the small amount of air in the bottle and the large volume of wine favours slow development and can develop more complexity of the wine when compared with smaller formats. These larger format bottles seem to be popular as gifts and for use at dinner parties and function
s as the host can ensure that his guests enjoy exactly the same quality wine, rather than risk variation with a large number of smaller bottles.
Most of the large format bottles are named after figures from the Old Testament. Whilst the reason for this remains a mystery, one theory was that as many of the early manufacturers of glass bottles were Jewish, they were given Biblical names. (If you are interested in learning more about these large bottles check out my blog Cheval Blanc 1947 Sets New World Record and Giant Sized Bottles).
Following on from my blo
g Bordeaux Becomes A Designer Label Rauzan Segla have released their new label for the 2009 vintage which celebrates the 350th birthday of the property.
Rauzan Segla is owned by the Wertheimer Group, best known as the owners of the perfume Chanel.
Karl Lagerfeld, who is the Creative Director of Chanel, has designed the label and it is surprisingly modern and colourful (photo credit: Drinks Business). The label is apparently a "one off" for 2009 only.