César Compadre has reported in the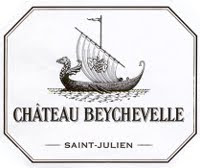 French newspaper Sud Ouest that Castel, the top French producer , has bought several chateaux in Bordeaux and 50% of Chateau Beychevelle. Castel was founded in 1949 and over the past 60 years, under the guidance of Pierre Castel,
current Founder and President, the status of the company has evolved from that of simple wine merchant in France and Africa to an internationally renowned business, whose products are sold in over 100 countries worldwide, including the principal emerging economies of China and Russia.
This is being lauded as quite a coup for Castel as the acquisition of Beychevelle marks their entry into the world of Bordeaux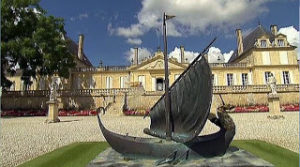 's Grand Cru Classé. Chateau Beychevelle is a Fourth Growth situated in Saint Julien and is proving to be a popular choice amongst Asian wine lovers.
(If you would like to learn more about Beychevelle check out my Blog Chateau Beychevelle and the Admiral of the French).
Prior to Castel's purchase of 50% of the chateau it was owned by the Grands Millésimes de France (GMF) who had a 53% stake, the Japanese group 

Suntory (37%), who also own nearby Château Lagrange, and the Belgian insurer Ethias (10%). The two insurers wanted to withdraw from the chateau and Castel bought the majority of the GMF stake.
Compadre reports that this is a strange balance in a business world more accustomed to the 51% / 49% split for example, but that Castel may look to acquire a greater holding from Suntory in the future.
Castel has also purchased the vineyard assets of MAAF Assurances (a mutual insurance company) which include the Châteaux Tour Saint Christophe (Saint Émilion), Tour Musset(Montagne Saint Émilion) and Haut Caplane (Sauternes). Castel acquired the Savour Clubfrom MAAF which sells wine by mail order in France through 12 sales outlets and in a few neighbouring countries

.
The Savour Club had been losing momentum (with a turnover of 40 million euros) and appears to have missed the Internet boat. As Compadre say this is far from brilliant business opportunity and is similar to Castel's purchase of Oddbins, the English retail
chain, which turned out to be a rueful investment. Job cuts are already on the cards at Savour Club.
It is thought that Castel had to purchase MAAF's wine assets as a prerequisite condition to obtaining Beychevelle (the MAAF, GMF and MMA insurance companies are united under a business entity called Covéa).
Last year Castel bought one of Bordeaux's oldest wine merchants, previously owned by Diageo: Baron &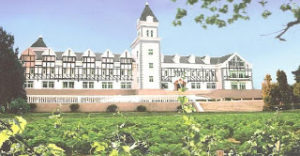 Guestier. The latter has been actively involved in selling French wines worldwide since 1725.
Selling wines in 130 countries, Baron & Guestier is well known through the development of a wide range of French wines.
In the 1990's, Changyu entered into ajoint venture with Castel and together they established the seaside Beiyujia Vineyard, which produces their Sino-French premium wines under the Chateau Changyu Castel label. Changyu is one of China's oldest wineries, set up in Yantai,
Shandong province, more than 100 years ago and now has a faux French chateau, the Chateau Changyu Castel, on its grounds.
With Beychevelle now the jewel in Castel's crown and with their contacts in China I would expect to see ever greater demand for this lovely Saint Julien wine.