Five teams of arch

itects and scenographers will be short listed from the 114 candidates who entered the Competition to design Bordeaux's Centre of Wine Culture and Tourism on December 17th, according to Bordeaux Wine News. The teams represent twelve different nationalities, spread over three continents: Europe, America and Asia.
The project has generated a passionate world wide interest with architects from Milan, Buenos Aires, New York and Paris competing.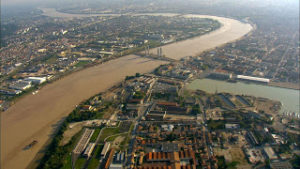 The Centre of Wine Culture and Tourism hopes to welcome more than 400,000 visitors per year, in a building occupying 10,000 square metres. Wine will be presented via a palate of ten different themes.
The Centre, which will be topped by a 30 metre-high gazebo offering a panoramic viewpoint, will also be a departure point for visits to the regions' vineyards.
The location of the Centre is opposite the Bassins à Flot (the Wet Docks), the "Quai des Vins", on the Forges site (old ironworks), and will include tasting rooms, an auditorium, exhibitions, lectures, boutiques, hotels, wine bars and themed resta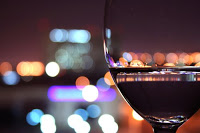 urants.
Tours, sensory workshops, shows, films, and presentations will be held for people of all ages and with all levels of wine knowledge. In addition, the Centre will have an area devoted to information and tourist promotion for the vineyards of Bordeaux and the Aquitaine region.
As yet the candidates have not yet put pencil to paper. They have simply sent in their CVs. Once the list of specifications has been defined, the teams will be visiting the site from January onwards. The structure will be built in an area of the city currently undergo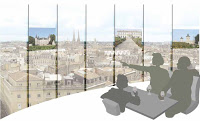 ing radical urban transformation.
Opposite the Centre, there will be a vertical-lift bridge linking the Bacalan (left bank) and Bastide (right bank) districts with two impressive supporting piles facing the centre's panoramic gazebo. The winning design team should be nominated during the month of May and the Centre's planned opening date is towards the end of 2014.
Bordeaux has been listed as a World Heritage Site by UNESCO since 2007 and furthermore, Bordeaux features the largest listed urban area (1,810 hectares) of any UN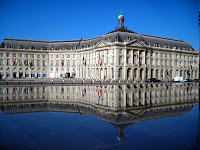 ESCO site.
Being full of architectural jewels such as the Grand Théâtre, Place de la Bourse, the renovated waterfront, and the reflecting pool in front of the Palais de la Bourse, the Centre is intended to be housed in a building in keeping with architecture symbolising both the city and Bordeaux wine.
Bordeaux hosts the Vinexpo Trade Fair, the Bordeaux Wine Festival and is a member of the Great Wine Capitals Network.
With Bordeaux attractin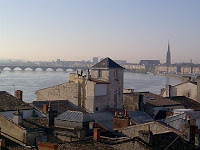 g increasing numbers of tourists, the Centre will be an emblematic new institution and a major international facility open to everyone. I can't wait to see what the new design will look like – and visit the Centre!
If you are interested in learning more the Centre of Wine Culture and Tourism's website is here, complete with downloadable booklets and the latest news.