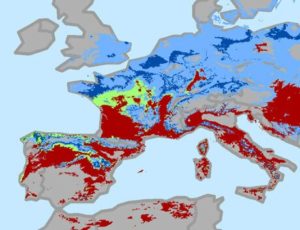 Bordeaux has its very own experimental testing ground but unlike Area 51 in the USA, Bodeaux's Parcelle 52 doesn't attract any conspiracy theories about aliens or little green men.
Parcelle 52 is an acre of land that has been planted with 52 grape varieties from around the world, in Gradignan, south of Bordeaux.
It's run by l'Institut des Sciences de la Vigne et du Vin de Bordeaux Aquitaine and research is being carried out there into how these different grape varieties cope in Bordeaux's climate.
The project is called Vitadapt and the research includes phenotyping (for example, recording the bud break, flowering and verasion times of each grape variety). Wine making from the grapes will not be attempted for another 2 – 3
years.
Last April the press was awash with the news published in the journal Proceedings of the National Academy of Sciences that thanks to climate change Bordeaux's wine producing areas could dry up by 2050.
If this proves to be true Bordeaux's grape varieties would not be able to thrive in such conditions. Of course such predictions are not infallible but there is a useful bioclimatic heat index that was developed for vineyards which is based on the temperatures that certain grapes can thrive in.
It's called the Huglin Index and it shows a less drastic prediction than April's headlines.
In this scenario Bordeaux will not be grapeless but will have to adapt to growing different grapes. If it gets too hot the grapes grown in Bordeaux nowadays would ripen prematurely and result in earlier harvests – which means that the grapes would not have time to develop properly and would contain too much sugar and not enough acidity.
Researchers at Vitadapt are interested in the maturation times of the grapes at Parcelle 52.
Parcelle 52 was planted in 2009 and there are 32 red grape varieties including 2 resistant hybrids and 20 white grape varieties including three resistant hybrids. They include some typical Bordeaux grape varieties and there are also some from other regions in France as well as Spain, Portugal, Greece, Georgia, Bulgaria, Italy, Switzerland and Germany. I thought it would be interesting to have a look at some of the varieties being grown in Parcelle 52.
Red Grapes
Mouvèdre – probably Spanish in origin but also grown in the Rhone and Provence
Castets – historically grown in the Aveyron, S W France but now nearly extinct
Morrastel – Spanish grape grown in Rioja, also in the Languedoc Roussillon
Prunelard – historically grown in Gaillac, S W France and considered to be the father of Malbec but now nearly extinct
Arinarnoa – a cross between Merlot and Petit Verdot, grown in the Languedoc Roussillon and Provence
Temparanillo – Spanish grape used in Rioja
Carignan – probably originated in Aragon, Spain and historically used in Rioja. Widely planted in S W France
Marselan – a cross between Cabernet Sauvignon and Grenache. Grown in Catalonia, Spain and also the Languedoc Roussillon and southern Rhone
Vinhao (Sousao) – Portuguese grape used in the making of Port and also grown in Spain
Tinto Cao – Portuguese grape used to make Port
Tourigna Nacional and Touringa Francesca – Portuguese grapes used to make Port and also red wines from the Douro and Dao
Grenache – probably originated in the Aragon region of Northern Spain but also grown in the Rhone and Southern France
Tannat – a Basque grape and grown near the Pyrenees, notably used in Madiran
Saperavi – a Georgian grape but also grown in Eastern Europe
Cornalin – A Swiss grape grown in the Valais region of Switzerland
Xynomavro – Greek grape from Macedonia, Greece
Sangiovese – Italian grape grown across Italy but also a few plantings in the Languedoc Roussillon
Agiorgiitiko – Greek grape widely planted throughout Greece
Nero d'Avola – Italian grape grown in Sicily
Mavrud – Bulgarian grape grown in Kara Thrace, Bulgaria
White Grapes
Roussanne – grown in the Rhone and also in the Languedoc Roussillon, Provence and Savoie.
Liliorila – a cross between Baroque and Chardonnay, grown in S W France and quite rare
Hibernal – a German cross between Seibel and Riesling
Assyrtiko – a Greek grape that originates from the island of Santorini
Rkatsiteli – a Georgian grape still grown in its ancestral home and also in Russia, Bulgaria and the Ukraine
Riesling – German grape grown in the Rhine and also in Alsace
Petite Arvine – A Swiss grape grown in Valais region of Switzerland
Chasselas – Possibly Swiss in origin and grown in the Valais region of Switzerland but also in the Loire
Although I won't be around to see it should Bordeaux warm up to the extent predicted in 2050 these are some of the grapes we could see being used in the wines.