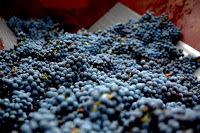 Reports are starting to emerge speculating on Bordeaux's 2010 grape harvest and I thought it would be a good idea to have a look at what is going on. So far I have read that yields will be low and that the grapes are apparently in excellent health.
A report from Decanter reported that June was the hottest for 35 years, and the first two weeks of July were the hottest since 1921 (Fiona Morrison MW of Le Pin reported on 9th July that it was 42°C in Pomerol), raising fears of another 2003.
The summer of 2003 set a record with an average temperature of 23.3°C. That same summer, there were 12 consecutive days when the maximum reached or exceeded 35°C.
The average summer seasonal temperature in Bordeaux is 19.51°C,
 but every summer in the decade beginning 2001 has exceeded this average.
Liv-ex are reporting that the growing season started with a very cold spring, leading to poor fruit set (and lower eventual volumes) in much of the region.
Jancis Robinson has reported that flowering saw a huge quantity of flowers, but the wet and cold weather during flowering resulted in millerandage (meaning shot berries – grape bunches which contain berries of greatly different size and, most important, different levels of maturity.
The condition causes lower quality in affected w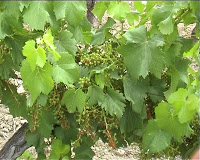 ines) and coulure (a failure of grapes to develop after flowering – Merlot is particularly susceptible to this). This is what is responsible for the lower yields being reported.
With the dry and hot weather in June and July water stress is already visible in the vineyards (irrigation of the vineyards is banned in Bordeaux), which is taken to be a good sign for the quality of 2010.
The water stress means that the vines will throw their energy into ripening their berries, rather than grow leaves. However if the vines are heat stressed the grapes ripen at unequal rates and only skilful picking spre
ad over time allows the wine makers to gather a mature crop.
Such seasonal headaches are becoming more commonplace in France, and many vintners are placing the blame on global warming.
In the past 30 years, harvest dates have moved up an average of 16 days because of unusually warm growing seasons.
Grapes are reaching their sugar ripeness before their aromas fully develop, alcohol levels are soaring and acid levels are dropping — forcing some winemakers to resort to chemistry in their cellars to produce a quaffable cuvée.
The temperature in Bordeaux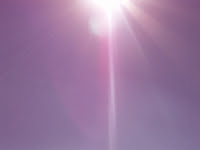 at the moment is about 24ºC and is predicted to get up into the 30s as the day progresses (unlike wet, cold and rainy Britain). According to the BBC's weather charts the record for temperatures in August is 37ºC.
A rainy September might spoil things but checking online on the long term forecast up to 9th September none seems to be forecast.
So does this mean that Bordeaux is going to have yet another vintage of the century? I can't see release prices dropping if 2010 is a good year – can you?