It rained all night and all day here in Bordeaux. Today I visited Chateau Malartic Lagraviere to taste the wines of the Pessac Leognan and Graves AOCs. Several wines were on show and having tasted all of them I am now convinced that 2013 will be a very good vintage for sweet Sauternes and the dry whites.
I retasted Chateau Les Carmes Haut Brion and reconfirmed my initial thoughts on how well it presented earlier in the week. Wines that deserve special mention as being the highlights of the tasting are:
Chateau Olivier
Chateau Olivier 58% Cabernet Sauvignon, 40% merlot, 2% Petit Verdot presented a nice colour and a good nose with plenty of expressive fruit. Well balanced in the mouth with a good structure of fruit, tannins and length.
Chateaux Pape Clement, Smith Haut Lafitte and Domaine de Chevalier Reds
Chateau Pape Clement (40% Merlot, 54.5% Cabernet Sauvignon and 5.5% Cabernet Franc) came over as a very nicely structured and balanced wine as did Chateau Smith Haut Lafitte (60% Cabernet Sauvignon, 34% Merlot, 5% Cabernet Franc, 1% Petit Verdot and Domaine de Chevalier (80% Cabernet Sauvignon, 15% Merlot and 5% Petit Verdot).
However their whites were the stars of the show.
Chateau Smith Haut Lafitte Blanc
A blend of 90% Sauvignon Blanc, 5% Semillon and 5% Sauvignon Gris this was fresh and clean on the palate with very good length. A lovely example.
Domaine de Chevalier Blanc
I thought the Dom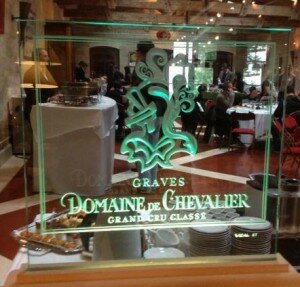 aine de Chevalier Blanc was excellent. It is a blend of 80% Sauvignon Blanc and 20% Semillon with a good crisp floral nose.
In the mouth it expressed fresh white fruit and had a very well balanced level of acidity. A wine that I am sure will go down well on a sunny summer's afternoon – it's delicious.
The lunch which Olivier Bernard put on was extremely good and there were several wines on display to try with your meal. I allowed myself a small glass of Chateau Mouton Rothschild 1984.
Chateau Haut Bailly
Having tasted Chateau Haut Bailly at Malartic Lagraviere I was also invited to taste it at the chateau. I'm pleased I did because there were two wines on offer, La Parde de Haut Bailly and the Grand Vin itself.
Whilst talking at the chateau they told me that during the harvest on the day that they had decided to pick the grapes (Oct 1st) the temperature rose quite dramatically but luckily they managed to double the harvesting team within two hours.
Chateau Haut Bailly is a blend of 64% Cabernet Sauvignon, 34% Merlot and 2% Cabernet Franc and is a clean clear crimson colour. It's very expressive on the nose with good layers of fruit and hints of spices. In the mouth the layers of fruit rea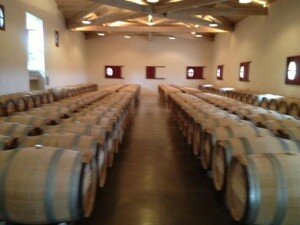 lly come alive offering good balanced structure and good length with hints of complexity.
Complexity has been sadly lacking in a lot of other wines in this vintage but Haut Bailly put in a lot of attention to detail, time and hard work to ensure that the juice was gently extracted from the grapes so perhaps this played a hand.
La Parde de Haut Bailly
La Parde de Haut Bailly (52% Cabernet Sauvignon, 46% Merlot, 2% Cabernet Franc) is a bright fresh crimson in the glass and in the mouth the fruit really expressed well with good balance and a good length.
I also tasted the Chateau Haut Bailly 2012 which is coming along very , very nicely and will be a beautiful wine when its ready to drink.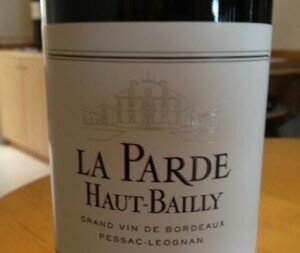 It was a relatively short day's tasting for me today as I had three further meetings in the afternoon.
The atmosphere over here is quite tense surrounding this vintage, knowing as we do the release price of a couple of chateaux.
As I have said before this is in general a mediocre vintage and should be treated as such in the market re pricing but I have my doubts.
I will summarise my thoughts and they will be available to read on Monday.