I was thinking about a question that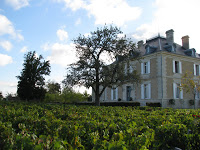 Peter May of The Pinotage Club asked me some time ago as to whether any of the Bordeaux chateaux used all 6 of the permitted red grape varieties in the blend. The 6 varieties are: Cabernet Sauvignon, Cabernet Franc, Merlot, Petit Verdot, Malbec and Carmenere.
Chateau Haut Bailly in Pessac Leognan has all 6 growing in its vineyards but I am not sure they are all used in the blend as the Carmenere and Malbec (all pre phylloxera – thanks to the forward thinking Alcide Bellot des Minières) are in tiny quantities.
I can not think of another chateau that actually grows all of the varieties let alone uses them in its blend! If you know of one please let me know.
Today Malbec is very seldom used in Bordeaux (although it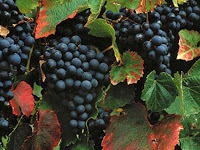 is famous for the inky black wines of Cahors) and Carmenere is very rare in Bordeaux. Examples of famous châteaux that use Carmenere are the Fifth Growth Château Clerc Milon and the Second Growth Château Brane Cantenac.
The First growth Château Cheval Blanc uses a tiny amount of Malbec in its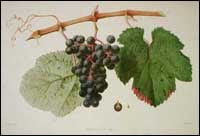 blend as do Chateau L'Enclos and Chateau Gruaud Larose. Both grapes have found new fame in the New World – Carmenere as Bordeaux's long lost grape in Chile and Malbec in Argentina.
However if you travel back in time to 1855 when the chateaux were being classified all the Grand Crus – they all had Malbec in their vineyards. In the late 18th and early 19th centuries, documents show that Malbec was probably the most planted grape in Bordeaux when it is thought that approximately 60% of Bordeaux's viney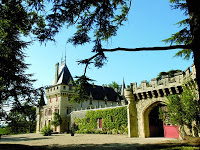 ards were planted with Malbec vines.
Hugh Johnson mentions in his book, The Story of Wine, that First Growth Château Lafite's vineyards were dominated by Malbec and that another First Growth, Château Latour, was mostly Malbec and Cabernet Sauvignon.
At one point Malbec was grown in 30 different departments of France, a legacy that is still present in the abundance of local synonyms for the variety.
It is known as Malbec in Bordeaux, Pressac in Libourne, Auxerrois in Quercy, Bouchal in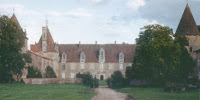 the South West and Cot in Cahors. Local lore has it that it became known as Pressac after Vassal Montviel of the Chateau de Pressac in Saint Emilion introduced it there between 1737 – 1747.
Many in the area did the same and the grape became known as Pressac Noir. Years later a Hungarian peasant by the name of Malbeck took the grape to the Medoc and it acquired the name Malbec.
However the plot thickens as there is also a Chateau Pressac in Poitou Charentes. Interestingly in 2009, a team of researchers at INRA Montpellier and the University of California at Davis discovered that a long lost grape "Magdeleine Noire des Charentes" was the mother of both Malbec and Merlot.
The story goes that Magdeleine Noire des Charentes was discovered growing in Brittany in 1992. The vine was growing on the hill Mont Ga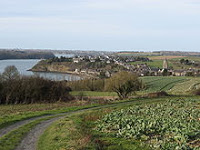 rrot by the banks of the River Rance near the monastery of Saint Suliac. The vineyard was abandoned in Brittany more than 200 years ago.
INRA Montpellier were contacted and after further investigation this grape was found in 4 villages in the Charentes, who called it "Magdeleine" – probably because of its early ripening on July 22nd, the feast day of St. Mary Magdalene.
It was christened Magdeleine Noire des Charentes (to mark it from other vines named Magdeleine) in 2008. A sample of cells of this variety was sent to the University of California at Davis specializing in genetic decoding. The result was unprecedented, because this variety was the mother of Merlot (interbreeding with Cabernet Franc) and Malbec (interbreeding with Prunelard).
Prunelard is another almost extinct traditional Gaillac variety which thankfully has been revived by Robert and Bernard Plageoles who own the Domaine Plageoles which is committed to using Gaillac's long lost varietals rather than better known and more accessible varietals.
Malbec is a thin-skinned grape with large berries that can be very susceptible to disease. It is sensitive to insects, mildew, grey rot and excoriosis, making it a tricky customer to grow if the conditions are not right.
It also reacts badly to abrupt variations in temperature and to frost. It needs plenty of warmth and sunshine to ripen properly. If conditions aren't ideal, it can produce an uneven crop. When conditions are right, it can result in ripe, concentrated grapes with an abundance of dark fruit flavours, evolving into a beautifully complex dark red or violet coloured wine.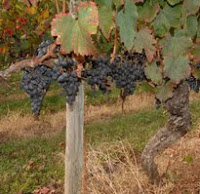 After the devastating frost of 1956 (which killed 75% 0f the crop), the Malbec grape was not replanted, being mostly replaced with Merlot.
Nowadays the Bordeaux appellation with the highest percentage of Malbec under vine is the Côtes de Bourg where the grape is continuing its expansion.
In recent years, Malbec has been making a quiet comeback thanks to the spice and colour it gives to blends. If Bordeaux becomes hotter due to climate change, then Malbec would have a chance to ripen more consistently – so you may start to see more Malbec in your claret in years to come!