Without a doubt, a 15-inch built-in wine cooler is an excellent addition to any kitchen and basement. This appliance may be very popular nowadays, especially among wine lovers, but the idea of built-in wine coolers has been around for some time. Did you know that built-in wine coolers have been utilized for preserving and entertaining for many years now?
Alison Finch, a writer of The Day, a local news outlet of Connecticut, took a look at the personality and charm of features you can find in older homes. Rather than modern hallways, she discovered features that many would find antiquated today. These include ice doors, adjoining doors, minimal closet space, and coal chute doors.
However, the one feature Finch discovered that remains popular among American homes is built-in wine coolers. These types of wine coolers were the focal feature in older homes, particularly in mansions that have a butler's pantry. This is especially true during the Victorian era. Nevertheless, you can also find it in middle-income homes with smaller areas where food and wine were prepared and served.
Whether you want to enjoy your wine in a modern way or have that timeless appeal, a 15-inch built-in wine cooler can be worthy of your investments. Particularly, if you like buying expensive white and red wines or Champagne.
in today's guide, we will help you decide whether you should opt for a freestanding or built-in wine cooler. Likewise, we've listed down our top picks for the best 15-inch built-in wine fridges suitable for your home and budget. So let's get started.
Built-in vs FreeStanding Wine Coolers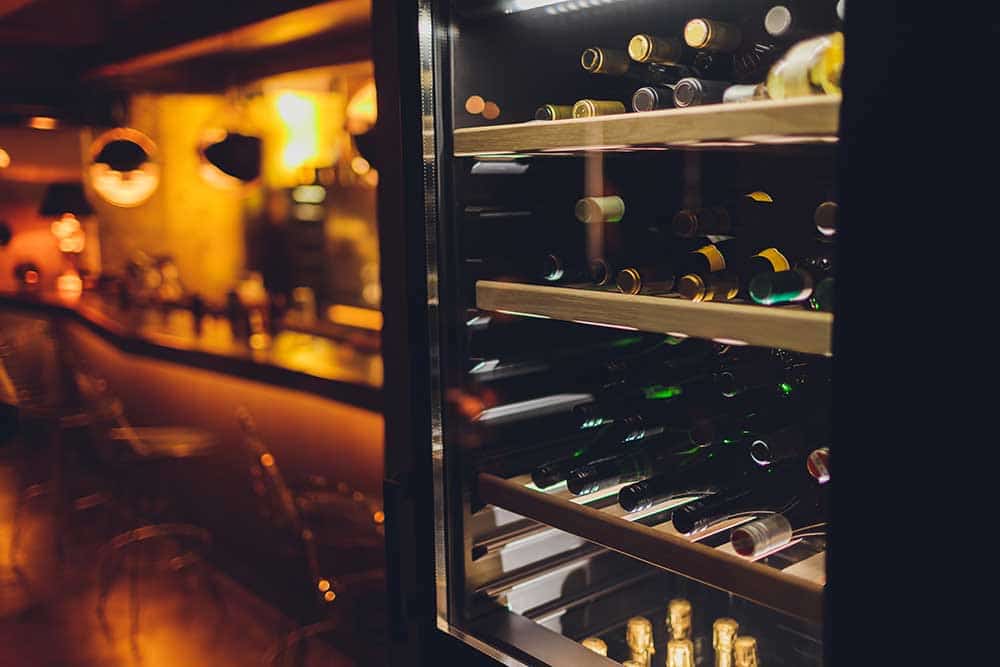 Before we dive into the list, let us first discuss what are the differences between a freestanding and built-in wine cooler, including their pros and cons you should be aware of.
Built-In Wine Coolers
You install built-in wine coolers directly under or into your counter or other units. They will appear as though they are a seamless part of your kitchen because of this, and you cannot easily move them. Built-in wine coolers are recommended for those who want to achieve a more polished look. Likewise, it's for anyone where both entertaining and serving with wine is essential.
Pros of Built-In Wine Coolers
A 15-inch built-in wine cooler can be truly presentation-worthy and an exceptional addition to kitchenettes. They are quite convenient and you can install one right beside your regular fridge, as well as other appliances and even beside utensils and plates. One of the potential main benefits of built-in wine coolers is saving space, particularly under-the-counter wine fridges.

Although built-in wine coolers may come with various cooling systems, they are typically equipped with air-cooled technology. Moreover, the air-cooling features a set of fans to provide the device with more powerful cooling. Cooling zones is another advantage worth noting. While the majority of freestanding coolers come with a single cooling zone, built-in fridges have dual cooling zones, which is ideal if you plan to refrigerate different kinds of wines.

Lastly. since you install them into cabinets or cupboards, built-in wine coolers tend to be sturdier. Also, if you place them strategically, they will be less prone to distress like vibrations that usually disturb the wine's composition.
Cons of Built-In Wine Coolers
Built-in wine coolers aren't the right fit for everyone-both figuratively and literally. For one, you have to have the proper space to install one. Often, they are expensive and not just by base price but you also have to factor in their installation costs. 

Along with this, the flexibility that built-in wine coolers offer is less in comparison to their freestanding counterpart. That means if you have any plans of moving or renovating your home, you will not be left with any practical option.

Furthermore, these wine coolers have more restricted storage space, especially if you will option for under-the-counter, compact units. Therefore, they may not be the best choice if you're planning to chill a lot of bottles of wine or other types of beverages at the same time.
Freestanding Wine Coolers
Most people are a fan of built-in wine coolers because of their upgraded features, on top of aesthetics and sturdiness. Nevertheless, freestanding wine coolers do come with several perks that you will appreciate. 
Freestanding coolers, also called fridges are stand-alone units that do not require installation. This type is especially favored by people who did not plan out their kitchenettes originally but want an uncomplicated way to chill their favorite wines without having to undergo a full renovation.
Pros of Freestanding Wine Coolers
The versatility and flexibility that freestanding wine coolers offer are far more than the built-in type. No matter what the size of your freestanding wine is, you will be able to switch it up easily without installation. 

So if you have plans to move down the road, you can take your wine fridge with you any time. Moreover, these wine coolers are more budget-friendly as well, from their base price and from not having to shell out for installation. If your space is a little challenging, it is going to present you with more freedom for more opportunities to get the features you want in a fridge than having to fit a 15-inch size for instance.
Cons of Freestanding Wine Coolers
One of the biggest drawbacks of freestanding coolers is that they may not be as sturdy as a built-in wine cooler. Also, it is more prone to distress. Although they tend to provide you with a larger capacity, they are also less likely to come with dual cooling zones. That means you may not be able to chill your white wine and red wine at the same time for the optimal temperature.

While it is not entirely true, freestanding wine fridges may be less energy efficient. Plus they are noisier than built-in coolers as well.
5 Top Picks: 15 Inch Built-In Wine Coolers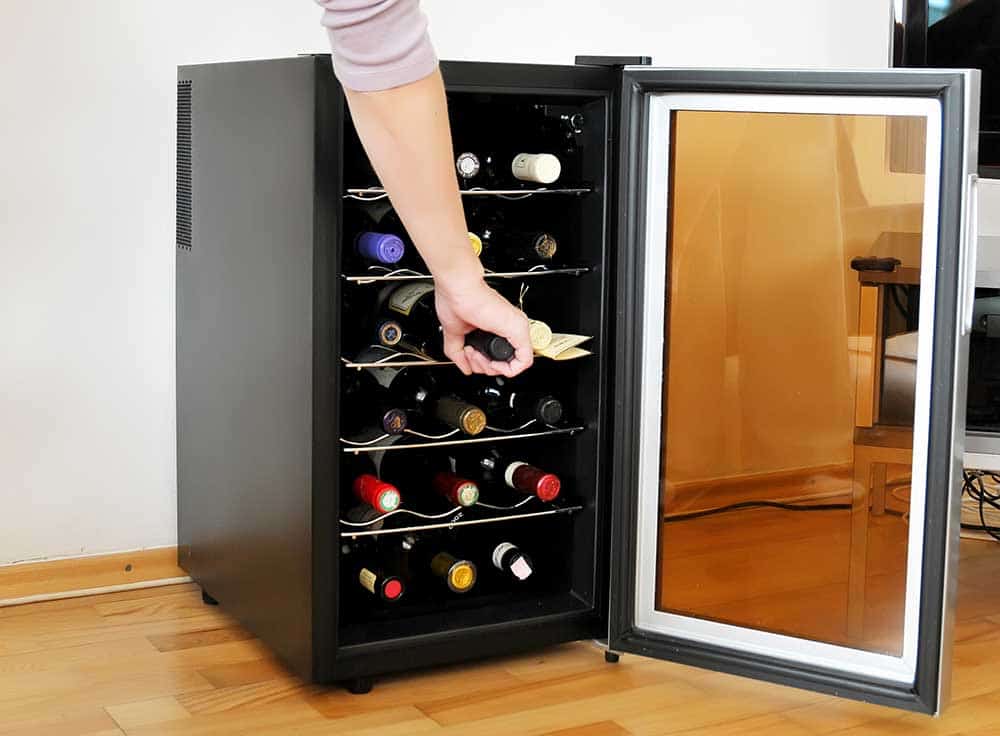 Now, let's take a look at the best 15-inch built-in wine coolers available in the market. The selection we have here is based on several factors. These include cooling control, humidity control, temperature zones, digital features, tech, features, design, price, and overall quality. 
Keep in mind though that we all have different preferences. So what may be best for you may not be for others and vice versa. With that said, here are the best 15-inch built-in coolers suitable for a wide range of budgets that you can purchase right at the comforts of your home.
The Kalamera 15 Inch Wine Cooler Refrigerator can hold up to 30 bottles of your favorite wine in different sizes. It is only when you have larger bottles, such as Champagne or Pinot. Still, it's a great choice for wine lovers that have different wines in their collection.
Moreover, the 15-inch wine cooler is a good choice if you're having a hard time deciding between a built-in or freestanding option. That's because you can install it as a wine fridge or leave it as a stand-alone.
When it comes to aesthetics, the Kalamera 15-inch wine fridge has a beautiful metallic finish, along with double-layered tempered glass doors. Aside from being attractive, these glass doors can help prevent temperature fluctuations and fogging as well. On top of that, it features a temporary memory function to ensure things are consistent. 
Therefore, in case of power interruption, you can restore the set temperature in the cooler once it is back on. This will keep your bottles from getting spoiled with the increasing temperatures.
However, it only has a single cooling unit, which is its biggest drawback. And you can find other units with one zone cooling unit at a much lower than its price of GBP433.
The BODEGA 15-inch wine cooler can provide your corks a comfortable home and can hold up to 31 standard-sized bottles of wine. Aside from having a quiet cooling system, one main advantage of this wine fridge is its nuanced compressor cooling system. This feature will not only make the unit run much quieter than most models, but it also enables it to focus on reducing vibrations that often disturb your wines. 
It has a generous enough temperature for both your reds and whites, ranging from 41 to 68F. Unlike our first pick, it is designed with a special shelf for large wine bottles, such as Champagne and Pinot Noir. You will also like its simple and space-saving yet stylish design that incorporates sturdy wooden shelves. 
It is also equipped with a built-in fan, carbon sensor, and an anti UV technology. While it does come with a dual temperature system, at a reasonable price of less than GBP400, it will provide short-term and long-term protection of the quality and taste of the wine, let you enjoy its true taste.
If you're looking for a slim wine cooler that can simultaneously store both your favorite red and white wines, the Avallon 15-Inch Built-In Wine Cooler is for you. Although its capacity of only 23 bottles is smaller, what it does offer will satisfy you. 
This dual-zone model allows you to store your wines at both storage and serving temperatures as well. Also, it has a left-hinged, double-paneled glass doo complemented by a layer of Argon gas that helps insulate and preserve your bottle collection. What's more, it is equipped with five sturdy wooded shelves with stainless steel trim that smoothly roll out as far as 95 percent.
You don't have to worry about uneven cooling and hot spots with this 15-inch built-in wine cooler since it comes with powerful circulation fans. This feature will work with the compressor to evenly distribute cool air throughout. 
The unit allows you to store multiple wine varietals at their perfect storing or serving temperature due to its upper zone temperature that ranges from 54 to 65F. Meanwhile, its lower zone temperature range of 40 to 54F. You'll also like the LED lighting that provides gentle interior lighting that will not harm your wine.
If you want a built-in wine fridge with a striking slim, modern design without the need to sacrifice features, we highly recommend the Avallon 23 Bottle 15-Inch Dual Zone Built-In Wine Cooler. But its handsome looks and amazing do come at a price. This unit retails at around GBP870.
While it may be inconvenient and a bit out of budget for most wine lovers to purchase a large wine cellar, a wine cooler is a more convenient and efficient alternative for storing your wine. The Aobosi 15-inch 30 Bottle Wine Refrigerator is equipped with a dual-zone system that imitates the traditional wine cellar with constant temperature and humidity. This creates an ideal environment for your wines to mature.
The entire wine fridge comes with a fashionable touch, which can match the decor of your home with ease. Thanks to the stainless steel front vent, you do not need to leave much room for heat dissipation when built-in under your counter. Meanwhile, the use of durable material and exceptional look makes it eye-catching and suitable for use in the living room, kitchen, home bar, and more.
With its dual storage zone and range of temperature, you don't need to stress about storing red and white wine under various conditions. This makes the Aobosi best 15-inch built-in wine cooler even more attractive. You can set the right temperature for the two zones separately. On the other hand, the blue LED light gives a soft visual touch and showcases your collection perfectly.
Moreover, this built-in wine cooler can also function as a freestanding fridge and will blend very well with the rest of your stainless steel appliances. Plus, there's a locking feature for safety and security. And it is reasonably priced at approximately GBP433.
If you love a good bargain and after a unit that combines quality with low price, Nictemaw 15-Inch Dual Zone Wine Cooler is definitely worth investing in. At a price of just GBP390, it comes with a lot of the benefits that pricier models offer.
This built-in wine cooler is designed with a dual-zone system, which you can set to your desired temperature for both zones. The adjustable temperature ranges from 41 to 55F for the upper zone and 55 to 65F for the lower zone. 
Moreover, setting up and monitoring the temperatures is easy on both zones with the help of its touch control panels that feature temperature memory functions and digital displays. That means this wine fridge will provide you with the ideal chilling temperatures and the best taste of your favorite wine all the time.
The combination of the damping and compressor system offers quiet cooling while circulation fans provide proper ventilation. This best 15-inch built-in wine cooler from Nictemaw also has ventilation in the front to keep it from overheating when used as an under-counter fridge.
With all these wonderful features to boot, as well as a large capacity and an excellent price tag, this may very well be the 15-inch built-in wine cooler that offers the best overall value.
Built-In Wine Cooler Red Flags
When shopping around for the best 15-inch built-in wine cooler, you want to ensure you're investing in a good unit. Although we really can't say that there are certain worst wine fridges, there are some red flags you need to look out for.
Ratings
Wine coolers that do not have any reviews or ratings are the first red flag you must look out for. Even though there are brands that are not so mainstream that may have fewer reviews, if they don't have kind of ratings, make sure to look somewhere else
However, on that same note, if a product has no other details but only 5-star ratings may also be a reason to question it. That is especially true if these are all from internal reviews.
Still, the most obvious red flag is poor ratings. So do not just look at the average. Make sure to check out if the low ratings correspond with serious concerns. These may include misleading product descriptions, shipping problems, or essential features not working.
Cooling Systems
Choosing between a dual or single-zone cooling system is a matter of preference. Nonetheless, if there is little t no information about the product;'s cooling system, consider taking a step back. 
Cooling systems must be advanced compressors, preferably with fans and additional ventilation. Without this, the temperature may not maintain its consistency in the entire wine cooler.
Lighting
LED lighting is one of the features to look for in the best 15-inch built-in wine cooler. If a unit does not have any information about the type of lights it uses or it has lights with a higher voltage instead, then think twice about buying it. 
Lights with a higher wattage generate more heat, which in turn, disrupt the quality of your wine collection.
Too Good to Be True
The last and final tip in spotting red flags is to be meticulous when reading the product information. If a model you're eyeing comes with a plethora of impressive features but has a super low price tag, you may want to do a little digging. Make sure to fully understand what those features are and how they compare with other units. 
The average price of built-in 15 inches wine coolers is about 400 to 500 pounds. There are even models that can go as high as 800 pounds or more. A built-in wine fridge of the same size that only costs two hundred pounds may have reasons why its cost is lower.
Frequently Asked Questions
Question: Can a freestanding wine cooler be built in?
Answer: Usually, freestanding wine coolers cannot be built-in. That is why it is vital to know the differences between freestanding and built-in coolers to find out which one is suitable for your needs.
There are some exceptions though. Some wine coolers meant as freestanding may not have vents fitted in built-in units. Without these added vents, the unit can overheat and disrupt the cooling system.
Question: How much does it cost to run a wine cooler?
Answer: The costs that come with running a wine cooler will mainly depend on a unit's cooling system. Some wine fridges utilize a cooling system, making them energy efficient.
These units are especially great as under-the-counter wine coolers since they can run a bit less hot and save you money in energy bills. Fortunately, even wine coolers not rated as energy efficient tend to be cost-effective. The average energy costs in the UK range from $GBP28 for small units to GBP72 for larger units for an entire year.
Question: Can you keep a wine cooler in the garage?
Answer: While a basement is a popular place to keep a built-in or freestanding wine cooler, a garage can be a tempting place to keep them.
Garages tend to be fairly protected from UV rays. However, garages are less than optimal for wine coolers of any kind for some reason. Temperature fluctuations are on top of that. Even a relatively moderate climate can mean trouble for your wine fridge. Air quality and exposure to fumes or chemicals are also a concern.
Question: Is a wine fridge cold enough for beer?
Answer: The good news is you can store both your favorite beer and new wine in a wine cooler to keep them fresh. This is especially true for dual-zone fridges. The optimal cooling temperature of beers ranges from 45 to 50 degrees F for light beers. Medium beers and ales range from 50 to 55 degrees while the temperature range for triple or barley wine and other bold beers is 55 to 60 degrees. 
Final Thoughts
When on the market for the best 15-inch built-in wine cooler, it is vital to understand its construction and cooling system. Likewise, you must know the features a model offers and makes sure these match your lifestyle.